Friday's Stronach 5 races unveiled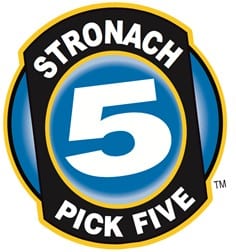 From a Stronach Group release
Friday's Stronach 5, a national wager featuring an industry-low 12-percent takeout, will kick off Friday at Santa Anita Park and go cross-country with stops at Gulfstream Park West, Laurel Park and Golden Gate Fields.
The sequence begins with Santa Anita's fourth race, a 5 ½ furlong event for 2-year-old fillies, before heading cross-country to Gulfstream West for a turf event with 16 3-year-olds entered to go a mile on the turf. After a stop in Maryland for Laurel's 10th race featuring fillies and mares going a mile, the sequence heads west for Santa Anita's fifth race, a mile turf event for fillies and mares, before concluding at Golden Gate Fields with a field of 10 juvenile claimers going 5 ½ furlongs on the all-weather surface.
Friday's Stronach 5 sequence
● Leg One – Santa Anita Fourth Race (nine horses, main), 4:53 ET, 1:53 PT
● Leg Two – Gulfstream West Ninth Race (16 horses, turf), 5:02 ET, 2:02 PT
● Leg Three – Laurel Park 10th Race (10 horses, main), 5:16 ET, 2:16 PT
● Leg Four – Santa Anita Fifth Race (10 horses, turf), 5:35 ET, 2:35 PT
● Leg Five – Golden Gate Fifth Race (10 horses, all-weather), 5:50 ET, 2:50 PT
Past performances for Friday's Stronach 5, which features two turf races and 52 entries, are available here.
The Stronach 5 Preview Show, hosted by Jason Blewitt and featuring Millie Ball, Ron Nicoletti, Stan Salter and Matt Dinerman is available here.
Five bettors won $15,765.50 on last week's Stronach 5.
The Stronach 5, hit Oct. 19 by one bettor who took home $88,286, has offered bettors a good return on investment. The national Pick 5 rewarded 14 bettors Sept. 28 with $9,888 while the Oct. 5 payoff was $1,161 with the highest payoff being $12. The Oct. 12 Stronach 5 returned $3,629 to 25 bettors with the highest payoff in the sequence being $14.
The minimum wager on the multi-race, multi-track Stronach 5 is $1. If there are no tickets with five winners, the entire pool will be carried over to the next Friday.
For the Stronach 5, if a change in racing surface is made after the wagering closes, each selection on any ticket will be considered a winning selection. If a betting interest is scratched, that selection will be substituted with the favorite in the win pool when wagering closes.
The Maryland Jockey Club serves as host of the Stronach 5.