Accelerate retains lead in NTRA Top Thoroughbred Poll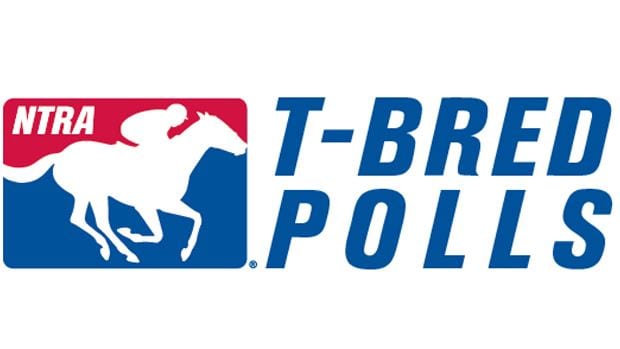 From a Nationl Thoroughbred Racing Association release
Hronis Racing's Accelerate retained his hold atop the NTRA Top 10 Thoroughbred Poll for a 2018 record eleventh consecutive week as all of the leading U.S.-based horses take aim at the Breeders' Cup World Championships this Friday and Saturday at Churchill Downs.
Accelerate, the favorite in Saturday's $6 million Breeders' Cup Classic, received nine first place votes and 329 points. Retired Triple Crown winner Justify was second in this week's Top 10 poll with 27 first place votes and 322 points. Earlier this year, Justify spent 10 weeks atop the NTRA Poll before being overtaken by Accelerate. Both horses are leading contenders for the Eclipse Award as Horse of the Year, pending the outcome of the Classic and several other Breeders' Cup races.
The NTRA Top Thoroughbred polls are the sport's most comprehensive surveys of experts. Every week eligible journalists and broadcasters cast votes for their top 10 horses, with points awarded on a 10-9-8-7-6-5-4-3-2-1 basis. All horses that have raced in the U.S., are in training in the U.S., or are known to be pointing to a major event in the U.S. are eligible for the NTRA Top Thoroughbred Poll, which continues until November 5, after the Breeders' Cup World Championships.
NTRA TOP THOROUGHBRED POLL
Accelerate
Justify
Mind Your Biscuits
Monomoy Girl
Catholic Boy
Yoshida
Imperial Hint
West Coast
Catalina Cruiser
Sistercharlie