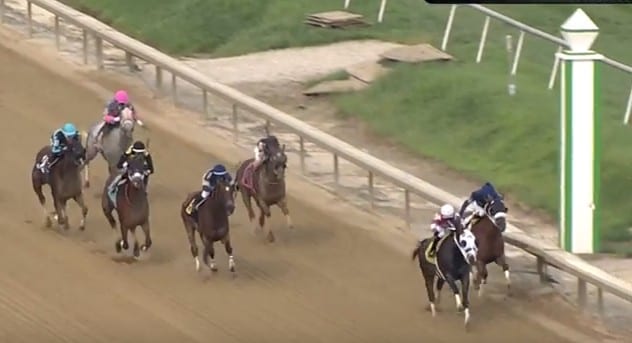 by Frank Vespe
At its monthly meeting Thursday afternoon, the Maryland Racing Commission held a hearing regarding the the ninth race at Laurel Park on August 16.
Here's your chance to play steward.
In the race the Jennifer Shannon trainee #4 Union Blues, with Luis Rodriguez in the irons, showed speed from the first jump of the six-furlong allowance contest, led the field around the bend, turned back a challenge, and seemed en route to the victory. But, under right-handed encouragement, he drifted down from the two-path towards the rail and shut off his rival, #2 Graves Island.
In the video below, Union Blues is #4 in the maroon and white colors and, as it begins, is dueling for the lead inside of a rival. Graves Island, #2 and in blue and white, is in third and on the rail.
Do you take Union Blues down?
Maryland's rules of the race read as follows:
"A. During the running of a race:
"(1) Unless caused wholly or partly by some other horse, a horse may not:
"(a) Carry another horse in or out;
"(b) Cross or weave in front of another horse without sufficient clearance;
"(c) Jostle another horse;
"(d) Intimidate another horse; or
"(e) Impede another horse; and
"(2) A jockey may not:
"(a) Strike another horse or jockey;
"(b) Ride in a careless manner; or
"(c) Unnecessarily cause the horse the jockey is riding to shorten its stride with a view toward claiming foul against another horse or jockey in the race."
It appears likely that Union Blues would have won the race with or without the apparent foul that he committed. According to testimony at the hearing, Rodriguez believed that he was clear of his rival, Mychel Sanchez, so that he caused no foul by coming over.
The stewards rejected that argument, however, believing that Union Blues did, in fact, interfere with his rival. As to the notion that his foul did not impact the outcome of the race, Maryland's rules notably do not include whether the foul affected the placing as a matter for the stewards to consider.
In this event, the stewards took down Union Blues and slapped the jockey, Luis Rodriguez, with a three-day suspension for careless riding. The Racing Commission upheld that decision Thursday.