Stronach 5 features tricky sequence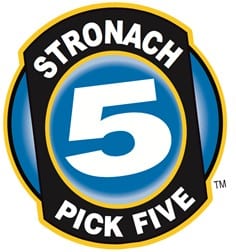 From a Stronach Group release
The Stronach 5, a national wager with a guaranteed $50,000 pool and industry-low 12-percent takeout, will go cross-country Friday with four turf races and 60 entries.
You can watch The Stronach 5 Preview Show, hosted by Jason Blewitt and featuring Michelle Yu, Ron Nicoletti, Stan Salter and Matt Dinerman, here, and check out past performances for the sequence here.
The Stronach 5, hit Oct. 19 by one bettor who took home $88,286, has offered bettors a good return on investment the first four weeks it has been offered. The national Pick 5 rewarded 14 bettors Sept. 28 with $9,888 while the Oct. 5 payoff was $1,161 with the highest payoff being $12. Friday the Stronach 5 returned $3,629 to 25 bettors with the highest payoff in the sequence being $14.
The sequence begins on the turf at Gulfstream Park West with maiden 2-year-olds going five furlongs on the turf. After a trip to Santa Anita to watch maiden fillies and mares going a mile on the turf, it is back to Gulfstream West for another five-furlong turf event, this one for 3-year-olds and up in an optional claimer.
Laurel's Kelso Turf Course will be featured in the fourth leg, a starter allowance at a mile on the turf that drew 16 (five on the also-eligible). The Stronach 5 ends at Golden Gate with 2-year-old maidens going a mile.
Friday's Stronach 5 sequence
● Leg One – Gulfstream West Seventh Race (14, 4 AE, turf) 4:30 ET, 1:30 PT
● Leg Two – Santa Anita Third Race (9 horses, turf) 5:03 ET, 2:03 PT
● Leg Three – Gulfstream West Eighth Race (11 horses, 1 AE, turf) 5:07 ET, 2:07 PT
● Leg Four – Laurel 10th Race (16 horses, 5 AE, turf) 5:24 ET, 2:24 PT
● Leg Five – Golden Gate Fifth Race (10 horses, all-weather) 5:53, 2:53
The minimum wager on the multi-race, multi-track Stronach 5 will be $1. If there are no tickets with five winners, the entire pool will be carried over to the next Friday.
For the Stronach 5, if a change in racing surface is made after the wagering closes, each selection on any ticket will be considered a winning selection. If a betting interest is scratched, that selection will be substituted with the favorite in the win pool when wagering closes.
The Maryland Jockey Club serves as host of the Stronach 5.