Whims paying off: Knicks Go bound for Breeders' Cup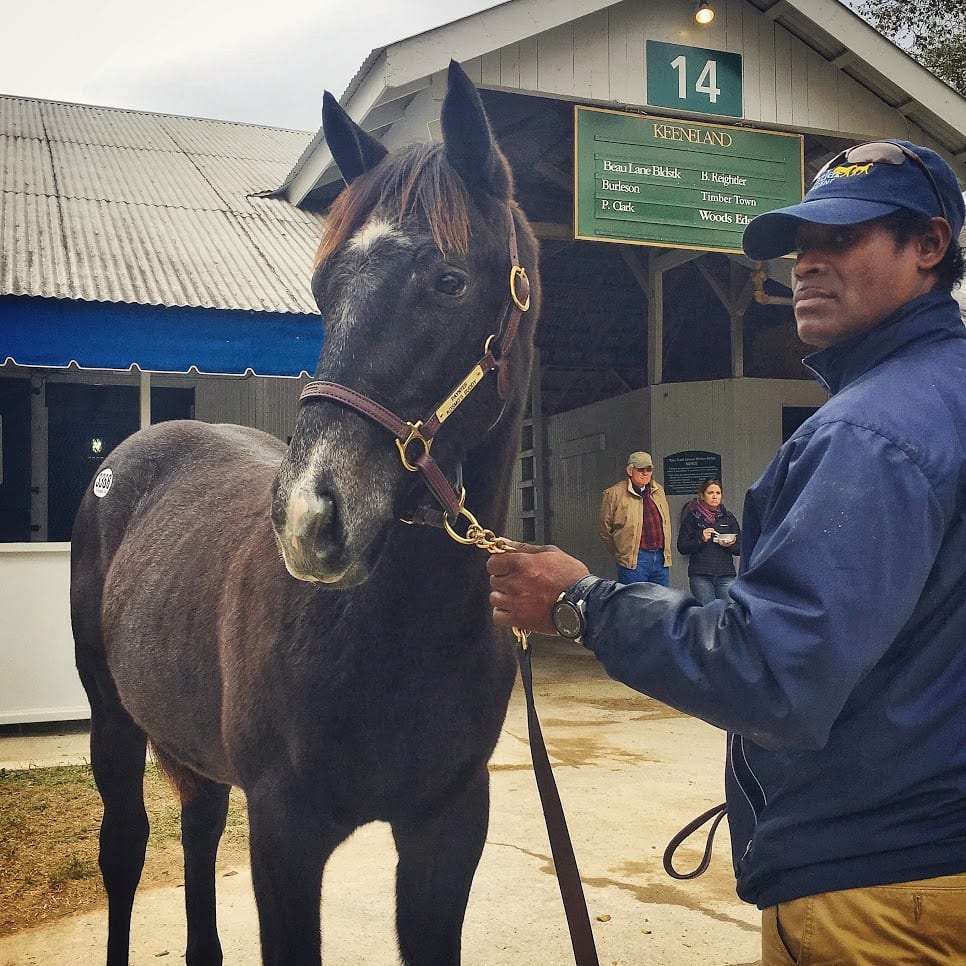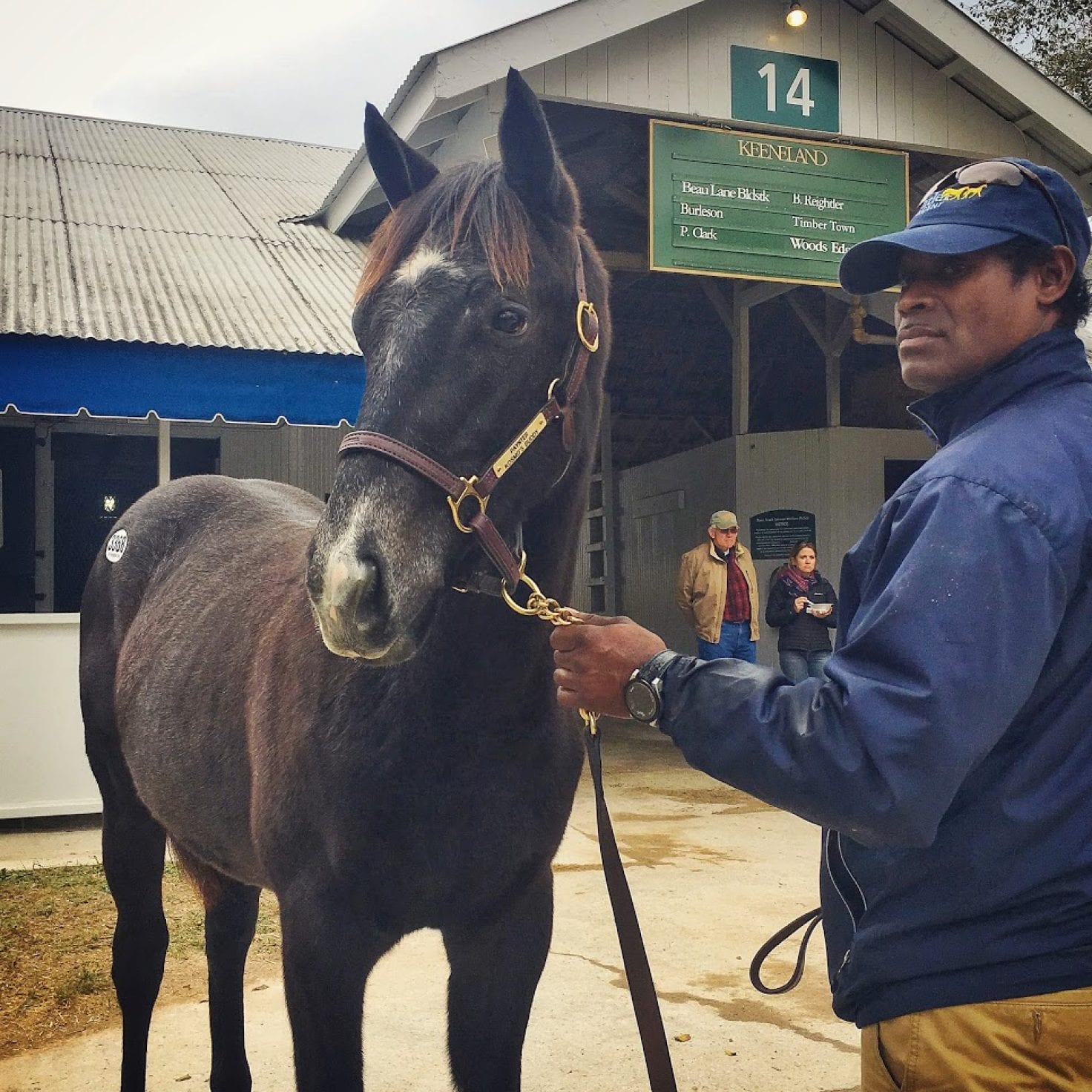 Knicks Go selling as a weanling. Photo courtesy of Sabrina Moore. by Teresa Genaro Despite having lived in Maryland and around horses for most of her life, Sabrina Moore knew little, if anything, about the breeding and sales side of the racing industry. She and her mother Angie rode horses and owned a couple of racers, but when she drove past a particularly busy Timonium Fair Grounds one day, she stopped to find out what was going on. Turns out it was a horse sale, so she and her mother decided to head inside and buy a horse for their trainer, Tim Keefe.
Not all of Sabrina and Angie's decisions have been so, shall we say, spur of the moment, but they may have been called whimsical; they may have been called perplexing; they may have been called unwise. Because who, really, who, without a background in the equine industry, would just decide to start a breeding and sales prep business, with little to no experience in either? But on October 6, the calls that Sabrina was getting were all congratulations, because she and her mother had bred a Grade 1 winner, the first from their GreenMount Farm in Reistertown, MD, just outside Baltimore. And now Knicks Go has been pre-entered in the Grade 1, $2 million Breeders' Cup Juvenile on November 2. Score one for whimsy.
Knicks Go was the longest shot in a 12-horse field for the Claiborne Breeders' Futurity on opening weekend of the fall meet. Trained by Ben Colebrook, ridden, by Albin Jiminez, Knicks Go went to the post at 70-1, and after breaking from post seven, go he did, right to the front, which is where he stayed to win the 1 1/16-miles races by 5 1/2 lengths. The win was also the first Grade 1 for Colebrook, Jiminez, and owner KRA Stud Farm. By Paynter out of the Outflanker mare Kosmo's Buddy, Knicks Go was sold as a weanling for $40,000 to Northface Bloodstock at the 2016 Keeneland November sale of breeding stock. Less than a year later, he was pinhooked for $87,000 at Keeneland's September yearling sale, which is when Korea Racing Authority purchased him. He broke his maiden at first asking, winning at Ellis Park by 3 1/4 lengths on Independence Day; stepping right up in the Sanford Stakes (G3) on opening weekend at Saratoga, the Maryland-bred finished fifth, followed by a third-place run in the listed Arlington-Washington Futurity in early September. Not exactly the path one might expect to a Grade 1, Breeders' Cup "Win and You're In" race at Keeneland, as Colebrook acknowledged. "Just got lucky," said Colebrook after the race. "The horse trains real well [at Keeneland], so that's kind of why we took a shot. Albin just stole it really. They didn't give [Knicks Go] any respect and he got out there and just got to gallop. I could see him on the backside, and his ears were just going. I could tell he was going to run big. But I didn't think he was going to run that big. It was just amazing."
The year before Moore sold Knicks Go at Keeneland, she had tried to sell Kosmo's Buddy, in foal to the colt, but the top bid of $37,000 failed to meet her reserve. But Moore was listening when she got a call earlier this year with an offer to purchase the mare privately. "I shot him a number," she said, "thinking he wouldn't go for it. But he said yes, so I guess the stars were aligning on that one. I guess it was meant to be." The buyer, through an agent, was June Park, who was starting a broodmare band and who was a fan of Outflanker. Sentimentally, the decision to sell was a hard one for Moore; pragmatically, it was a no-brainer in a business in which cash flow can be unpredictable and investments have to be made long before any expectation of a return. "I thought I'd never get rid of her," Moore reflected. "But that's how tough this business is: you start the year off with all this overhead, and you don't get any income until October, November, December. And then you start all over again with stud fees." Moore does have on the farm a half-sister to Knicks Go, a mare by Not for Love that is in foal to Great Notion, along with a half-brother weanling by Broken Vow. And in a couple of weeks, she, along with a lot of other breeders, will have an opportunity to buy Kosmo's Buddy, who, after Knicks Go's Futurity win, was supplemented to Fasig-Tipton's November sale, which will take place in Kentucky two days after the Breeders' Cup Juvenile at Churchill Downs.
A YOUNG KNICKS GO ON THE FARM
Kosmo's Buddy's racing successes took place a little closer to home: ten years ago this month, she won the Maryland Million Turf Sprint Handicap, just getting up to win by a nose against males. Two years later, Moore claimed her $40,000, retiring her after one race. "I learned a lot from her," said Moore. "She was amazing." She was bred to Paynter on the advice of longtime Maryland horseman Bill Reightler, who consigned Knicks Go for Moore at the Keeneland sale. "We wanted to breed to her to him his first year at stud, but we had to skip her that year," Moore explained. "So we went back the second year. We were aiming for the commercial market, and we thought he'd be popular. We got him on a discount that year." Which is one of the few financial incentives available to her as the breeder. She had thought she was eligible for a bonus from WinStar Farm, which stands Paynter, only to find out that she didn't qualify. Because Knicks Go's win came outside of Maryland, she wasn't eligible for any breeders' rewards. She did, however, receive a $10,000 bonus from the Breeders' Cup because she nominated him to the event as a foal. And while her phone has been ringing virtually non-stop since the Futurity, the callers have been people offering congratulations, not necessarily customers. "I don't think it will bring me business," she said frankly. "I just got kind of lucky. And if it weren't for Bill Reightler, he'd never have been born." She is no doubt selling herself short. Knicks Go wasn't the easiest young horse to handle, dragging off Moore's boyfriend, himself an accomplished horseman, one day during bath time, and she sports what she calls a "muscle separation dent" on her thigh from a kick when he was a baby. "He was always kind, but he was doing stupid baby stuff," she said. "If it was in his way, it didn't stop him." And it was she who raised him, she who prepped him, and she who bought the mare that would foal Paynter's first graded stakes winner. So she is perhaps being slightly modest when she defers credit, however well deserved, elsewhere. She doesn't hesitate to acknowledge conflicting emotions in the weeks after the win, describing herself as "excited, sick to my stomach, hyped," feelings that will no doubt be amplified if Knicks Go turns in another impressive performance at the Breeders' Cup. "It's such an unusual feeling," she said. "It hasn't totally sunk in."