Report of mares bred: In with the new… Midlantic stallions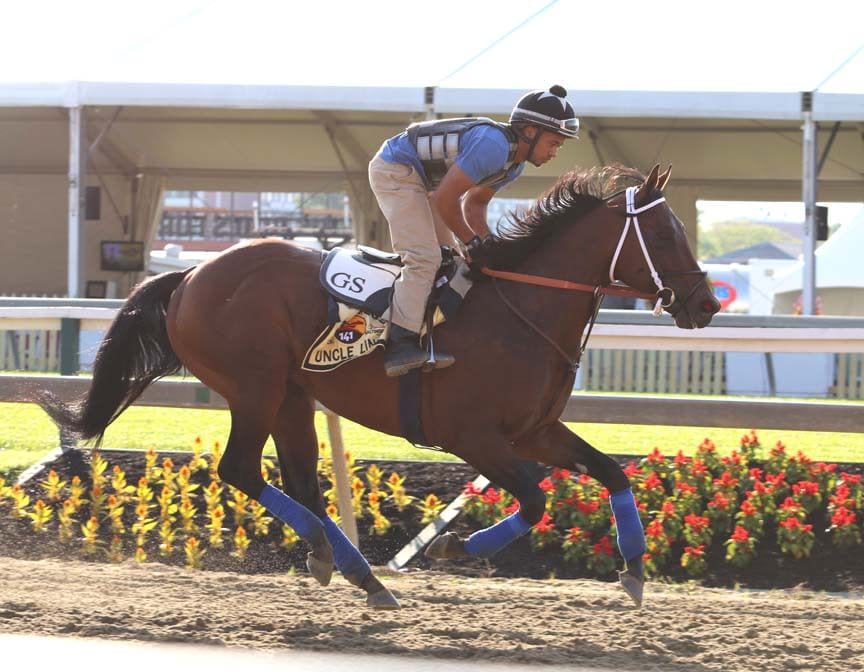 Uncle Lino before the 2016 Preakness. Photo by Laurie Asseo.
by Frank Vespe
It may not be out with the old, but it's definitely in with the new.
The new mid-Atlantic stallions, that is. When it comes to the number of mares bred, the new sires rule the roost, according to the Jockey Club's Report of Mares Bred.
The report, released October 22, breaks down the number of mares serviced by each stallion in North America. In all, the report found that 1,214 stallions covered 30,274 mares during 2018, although it is expected that another 3,000-4,000 reports are yet to be filed.
During 2018, the number of stallions fell by 9.5 percent from 2017; the number of mares bred also declined, by 5.0 percent from last year's 31,863 reported bred at this time a year ago.
Those are ominous developments for an industry still trying to find its footing after years of declining breeding and betting activity.
Regionally, Maryland and Pennsylvania tower over the other nearby states. Maryland has seen 30 stallions breed 867 mares to date in 2018, while Pennsylvania's 32 stallions bred 610 mares. In each state, that number represented an increase over the prior year, with Maryland's sire crops growing by 12.9 percent and Pennsylvania's up by 8.3 percent. Kentucky, with 0.3 percent growth to 17,322 mares bred, and California, with 5.3 percent growth to 2,482 mares bred, were the only other states in the top 10 to experience growth in 2018 versus the prior year.
Elsewhere in the Mid-Atlantic, West Virginia's 19 stallions bred 198 mares, third most in the region. Twenty-two mares were bred in Virginia, and just eight were bred in New Jersey.
Neither of the region's two busiest sires this year has yet had a runner. Uncle Lino, standing at Northview-PA with his first crop due to be yearlings January 1, covered 115 mares in 2018. That was the most in the region, and the second straight year he led the region after having covered 103 in 2017.
In second was Divining Rod, who covered 102 mares in 2018, his first year at stud. He stands at Country Life Farm in Maryland.
In all, eight of the top 10 stallions in the region by mares bred have not yet sired any runners. The lone exceptions are Great Notion and Jump Start.
The rest of the top five in Maryland by mares bred including Golden Lad (77), Great Notion (75), and Madefromlucky and Holy Boss with 69 each. The 18-year-old Great Notion is the only stallion in Maryland's top five to have runners on the ground.
In Pennsylvania, the rest of the top five included Peace and Justice (73), Jump Start (63), Red Vine (53), and Weigelia and Uptowncharlybrown with 49 each. Neither Peace and Justice nor Red Vine has any runners yet.
Longtime West Virginia leader Fiber Sonde has begun to slow down — he covered 25 mares this year, according to the report — which opens the door for others. Veteran local sire Limehouse surged to the front of the class, covering 37 mares, while newcomer Golden Years covered 35.
In Virginia, Friend or Foe and Cosa Vera covered seven mares each, while in New Jersey Duke of the City covered four.
| RANK | SIRE | MARES BRED | STATE |
| --- | --- | --- | --- |
| 1 | Uncle Lino | 115 | PA |
| 2 | Divining Rod | 102 | MD |
| 3 | Golden Lad | 77 | MD |
| 4 | Great Notion | 75 | MD |
| 5 | Peace and Justice | 73 | PA |
| 6 | Madefromlucky | 69 | MD |
| 7 | Holy Boss | 69 | MD |
| 8 | Jump Start | 63 | PA |
| 9 | Red Vine | 53 | PA |
| 10 | Mosler | 53 | MD |
| 11 | Weigelia | 49 | PA |
| 12 | Uptowncharlybrown | 49 | PA |
| 13 | Imagining | 40 | MD |
| 14 | Street Magician | 39 | MD |
| 15 | Limehouse | 37 | WV |
| 16 | Bourbon Courage | 37 | MD |
| 17 | Golden Years | 35 | WV |
| 18 | Blofeld | 35 | MD |
| 19 | Editorial | 32 | MD |
| 20 | Lord Shanakill | 30 | PA |
| 21 | Buffum | 29 | MD |
| 22 | Baltimore Bob | 27 | MD |
| 23 | Xixixi | 25 | PA |
| 24 | Talent Search | 25 | PA |
| 25 | Friesan Fire | 25 | MD |
| 26 | Fiber Sonde | 25 | WV |
| 27 | Dortmund | 25 | MD |
| 28 | Kobe's Back | 24 | MD |
| 29 | Freedom Child | 20 | MD |
| 30 | Bandbox | 20 | MD |
| 31 | Unfettered | 16 | PA |
| 32 | Bullsbay | 16 | PA |
| 33 | Alliance | 15 | MD |
| 34 | Gattopardo | 14 | WV |
| 35 | Weave It to Me | 13 | WV |
| 36 | Swiss Yodeler | 12 | WV |
| 37 | Mr. Sidney | 12 | WV |
| 38 | Barbados | 11 | MD |
| 39 | Redeemed | 10 | MD |
| 40 | The Lady's Groom | 9 | WV |
| 41 | Outflanker | 9 | MD |
| 42 | Last Gunfighter | 9 | PA |
| 43 | Crown of Thorns | 9 | PA |
| 44 | Royal Artillery | 8 | PA |
| 45 | Whistler Mtn Gold | 7 | PA |
| 46 | Siente El Trueno | 7 | WV |
| 47 | Rule by Night | 7 | PA |
| 48 | Petionville | 7 | MD |
| 49 | Medallist | 7 | PA |
| 50 | Il Villano | 7 | PA |
| 51 | Friend Or Foe | 7 | VA |
| 52 | Cosa Vera | 7 | VA |
| 53 | Almasty | 7 | PA |
| 54 | Mr. Prankster | 6 | WV |
| 55 | Emperor Tiberius | 6 | PA |
| 56 | Declan's Warrior | 6 | WV |
| 57 | True to the Moon | 5 | PA |
| 58 | Super Ninety Nine | 5 | MD |
| 59 | Ruler King | 5 | WV |
| 60 | Ballado's Gold | 5 | WV |
| 61 | Love Who | 4 | PA |
| 62 | Hangover Kid | 4 | MD |
| 63 | Duke of the City | 4 | NJ |
| 64 | Cage Fighter | 4 | MD |
| 65 | White Mercedes | 3 | PA |
| 66 | Runnintothealter | 3 | PA |
| 67 | Grand Reserve | 3 | WV |
| 68 | Got the Last Laugh | 3 | PA |
| 69 | Ghostly Minister | 3 | WV |
| 70 | Fun and Fancy Free | 3 | VA |
| 71 | Eclipticalspraline | 3 | PA |
| 72 | Andiron | 3 | PA |
| 73 | Perusal | 2 | VA |
| 74 | Our Entourage | 2 | WV |
| 75 | Musical Marque | 2 | VA |
| 76 | King Puma | 2 | NJ |
| 77 | Il Postino | 2 | NJ |
| 78 | During | 2 | WV |
| 79 | Victory Isle | 1 | PA |
| 80 | Sunny Sivils | 1 | PA |
| 81 | Scipion | 1 | MD |
| 82 | Saratoga Syndicate | 1 | WV |
| 83 | Road to Knowledge | 1 | PA |
| 84 | Officer of the Day | 1 | PA |
| 85 | Gunnerside | 1 | VA |
| 86 | Elusive Story | 1 | PA |
| 87 | Despite the Odds | 1 | MD |
| 88 | Cherokee's Boy | 1 | MD |
| 89 | Big Mike | 1 | WV |
| 90 | Aaron's Way | 1 | MD |