Jock Angel Serpa to ride in China racing festival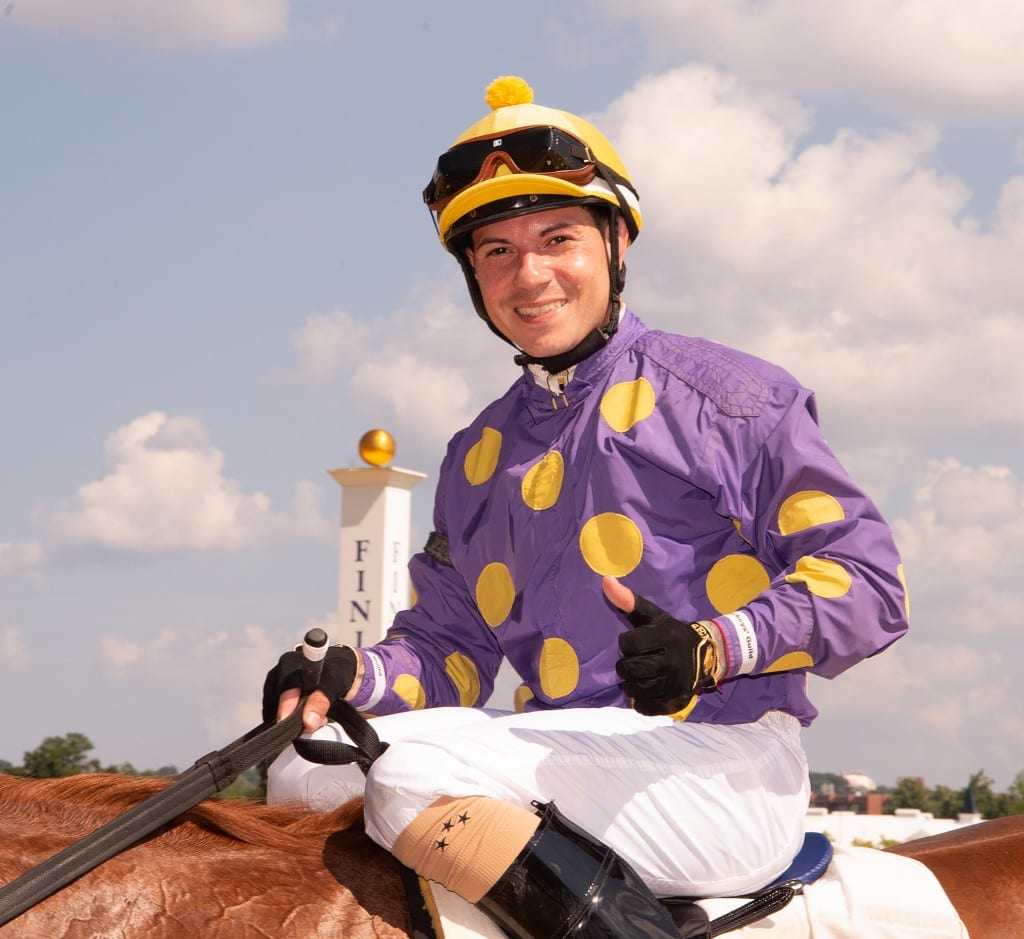 From a Maryland Jockey Club release
Journeyman rider Angel Serpa will be representing Laurel Park and the United States during the 16th China Wuhan International Horse Racing Festival at Orient Lucky City Wuhan International Racecourse.
Serpa, 30, is scheduled to leave Tuesday, Oct. 23 for the three-day festival which includes a draw ceremony Oct. 25 and races Oct. 26 and 27 before returning to the U.S. Oct. 31. Following the event, the Bayamon, Puerto Rico will remain at Laurel for the fall and winter meets.
Wuhan is the capital of central China's Hubei province with a population of nearly 11 million. One of the country's largest cities, it is located about 515 miles west of Shanghai.
"I can't wait to leave already. I'm so excited," Serpa said. "It's the first time I'm going to be there. Everyone wants to be able to go to something like this."
A delegate from China recently visited Laurel and asked Maryland Jockey Club President and General Manager Sal Sinatra if Laurel would be interested in recommending a rider to represent Laurel at the Festival. Serpa has won 721 races and more than $21 million purses since 2009 and was an Eclipse Award finalist for leading apprentice jockey in 2010.
"[Clerk of Scales] Frank Saumell contacted me and said I had a chance to go over there and it was a good opportunity, and I said, 'Yes,'" Serpa said. "Why would I say no? I got in touch with them and they took care of everything, so I'm good to go."
Married to Delaware Park's leading rider, Carol Cedeno, Serpa has wasted no time preparing himself for the trip from both a professional and personal standpoint.
"I've prepared my camera already to take a lot of pictures," Serpa said. "I've already started watching races. They run the opposite way there, not like we run races here, so I have to get comfortable with that. It's the first time I'm running like that. I've been riding for eight years, so I think I'm going to be all right."
Serpa missed six months after his mount, 3-year-old maiden filly Louise, flipped in the gate and broke his ankle Dec. 22, 2017 at Laurel Park. He returned June 29 and earned his first win back July 26, both at Laurel, and has also ridden at Belmont Park, Delaware, Penn National, Suffolk Downs and Timonium this year.
A graduate of the famed Escuela Vocacional Hipica in Canovanas, P.R., where he met his wife, Serpa won his first race in the U.S. aboard Pleasant Layla at Philadelphia Park, now Parx Racing, on June 13, 2009.
Serpa and fellow Laurel Park regular Forest Boyce were finalists when Canada-based Omar Moreno was voted the Eclipse Award as top apprentice. Serpa won 105 races and nearly $3.5 million in purses, ranking as the second-leading money-earning apprentice of 2010 behind Moreno.
Serpa has two career graded-stakes wins, in the 2012 Tampa Bay Stakes (G3) aboard Roman Tiger and the 2013 Eatontown Handicap (G3) with Laughing.
"Since I came back from the injury, I feel good," Serpa said. "It hurts a little bit when it's cold, but right now I'm feeling great and we keep going. Never give up."