Delaware Park: 7 moments that mattered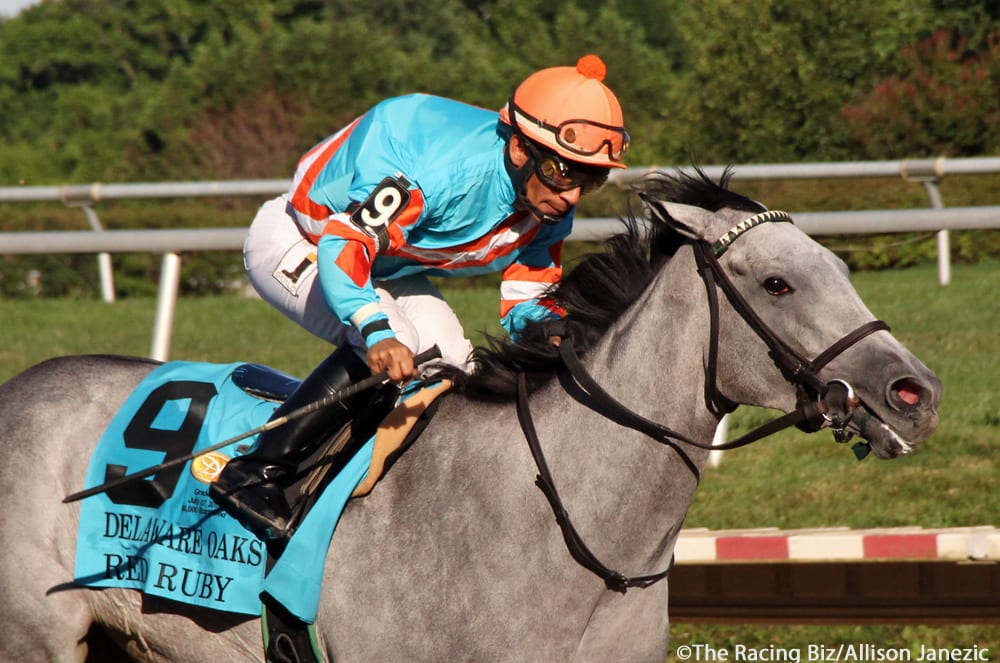 Red Ruby won the G3 Delaware Oaks. Photo by Allison Janezic.
by Doug McCoy
With Delaware Park's 2018 meeting in the books, here are seven key developments that stood above the norm during a diverse and interesting 81 days of racing.
1. BILL MOTT BRINGS ELATE BACK IN THE PINK
There was a lot of head-shaking going on when trainer Bill Mott announced that Elate would make her first start in some eight months in the $750,000, Grade 2 Delaware Handicap. After all it's no easy feat to attempt to win going 1 ¼ miles off such a long layoff, especially against graded competition.
But Mott didn't earn a berth in Racing's Hall of Fame by not knowing the capabilities of his runners or by plotting a course that wasn't in the best interest of his stars. Having looked at the available stakes and the time frame that would eventually lead to the 2018 Breeders' Cup, Mott felt making the DelCap Elate's first step toward the first weekend in November would give him a fresher and hopefully sharper mare down the line.
When jockey Jose Ortiz Jr. realized the DelCap was turning into a leisurely jog around the course he took matters into his own hands on the backstretch, shot Elate to the front, and once there the Juddmonte Farm runner's class was more than enough to lead the field home. Even though she tired a bit in the late stages Elate had enough in the tank to secure the win. Mott got what he wanted, which was a safe and stamina-producing building block for future appearances, and the fans got a chance to see yet another distaff star of championship quality race in Delaware Park's signature race.
2. WHERESHETOLDMETOGO'S SPRINT TO REMEMBER
While trainer Tony Pecoraro's crack sprinter Whereshetoldmetogo was only racing against allowance optional claiming company when he went to the post on June 9, the scintillating six furlongs he turned in that day ranks as one of the singular efforts of the meeting and one of the best sprints in the history of the track. With Jeremy Rose aboard Whereshetoldmetogo smoked his field that afternoon, covering the six panels in a blistering 1:08.62 while winning off by more than 10 lengths. The 3-year-old El Padrino colt also covered the final quarter mile in an unbelievable :23.74 over a track where final quarters under 24 seconds are few and far between. Whereshetoldmetogo showed that race was no fluke, coming back to win Concern and Star de Naskra Stakes at Laurel in his next two outings before running second in his latest start, the Grade 3 Gallant Bob Stakes at Parx.
3. GLORIOUS EMPIRE'S ROMP A SIGNAL OF THINGS TO COME
Glorious Empire had a lackluster sixth in the Henry Clark Stakes at Pimlico to show for 2018 when he started in an allowance/optional claiming route on the turf at Delaware on June 28. but the Holy Roman Emperor gelding had always been a horse of some ability who had had to overcome issues through much of his career. Glorious Empire faced a field that included several stakes-level competitors that afternoon, but he simply raced his challengers into the ground, going to the front after six furlongs then romping home by four widening lengths while finishing full of run. He sped through the final furlong of that nine furlong test in under 12 seconds, and veteran observers came away from that race thinking if he could stay sound, Glorious Empire could well have a productive summer.
And did he ever! Shipped to Saratoga by trainer Chuck Lawrence, Glorious Empire dead-heated with Channel Maker in the Grade 2 Bowling Green then came back to show that effort was no fluke by wiring the Grade 1 Sword Dancer over a field that included several of the top American turf horses in training.
And it was that race on June 28 at Delaware Park that signaled good things were ahead for Glorious Empire.
4. SUAREZ' TURNAROUND A REMARKABLE TALE
In the jockey and trainer ranks, you'd have to go a long way to find a more noteworthy meeting than the one enjoyed by Angel Suarez. A gifted and humble young man, Suarez' career, and indeed, his life, were nearly cut short with one bad decision several years ago, a decision that left the former contender for the country's leading apprentice struggling just to stay in racing. But a partnership with agent John Hellencamp and a move to Delaware Park jumpstarted Suarez' career again. Suarez completed the meet with 70 wins and over $1.2 million in purse earnings, both figures easily good for second at the meet behind another championship season from Carol Cedeno.
5. GUTIERREZ A LATE SEASON SURPRISE
Reylu Gutierrez didn't arrive in the Mid-Atlantic from Florida until early September but he's made up for lost time since being here. Gutierrez won with 11 of his 43 mounts and finished second on 10 others, meaning he finished one-two on just about half the mounts he rode, quite an accomplishment, and looks to have a bright future ahead of him. Johan Rosado led the local apprentices with 20 wins from 91 starters, and he also looks like a young man with a future.
6. PECORARO JUST KEEPS WINNING
Longtime Delaware Park supporter Anthony Pecoraro's stellar showing again this year again shows why he's been one of the top horsemen in the region for a number of years. With a stable dominated by young horses, Pecoraro won 26 of 80 starts for a dazzling 33% winning percentage, and this followed a 2017 meeting where he also won at better than a 30% clip while winning 21 races and finishing one race back of co-champions Ness and Scott Lake. Jamie Ness cruised to the training title again this year, winning 41 races and 27 percent of the time. He's also had a meeting worth applauding
7. SPORTS BETTING ARRIVES
And perhaps the most noteworthy event of the meeting came in June when legalized sports betting became a reality at Delaware Park. While parlay cards have been around for several years now and have been popular, the ability to be on single games and on different sports has brought sports bettors to Stanton like never before. While there's a good bit of debate about how this affects the track and horse racing as a whole, the added revenue can certainly help the purse structure and solidify the future for a place that has provided the fans with thrills and excitement for 81 years now.
And finally…
On a personal note this writer would like to wish our former partner Mitch Allen the best in his future endeavors. Mitch has been a chartcaller for more than four decades, first with the Daily Racing Form and later with Equibase. He's always been a thorough, conscientious professional who strived to give the fan and bettor and clear and concise review of every horse in every race he observed. We've known Mitch since 1975 and he sets a standard that will be hard to challenge.
And he's been a good and trusted friend. The best of the luck to you for a prosperous future.