Talk Show Man rallies to take MD Million Turf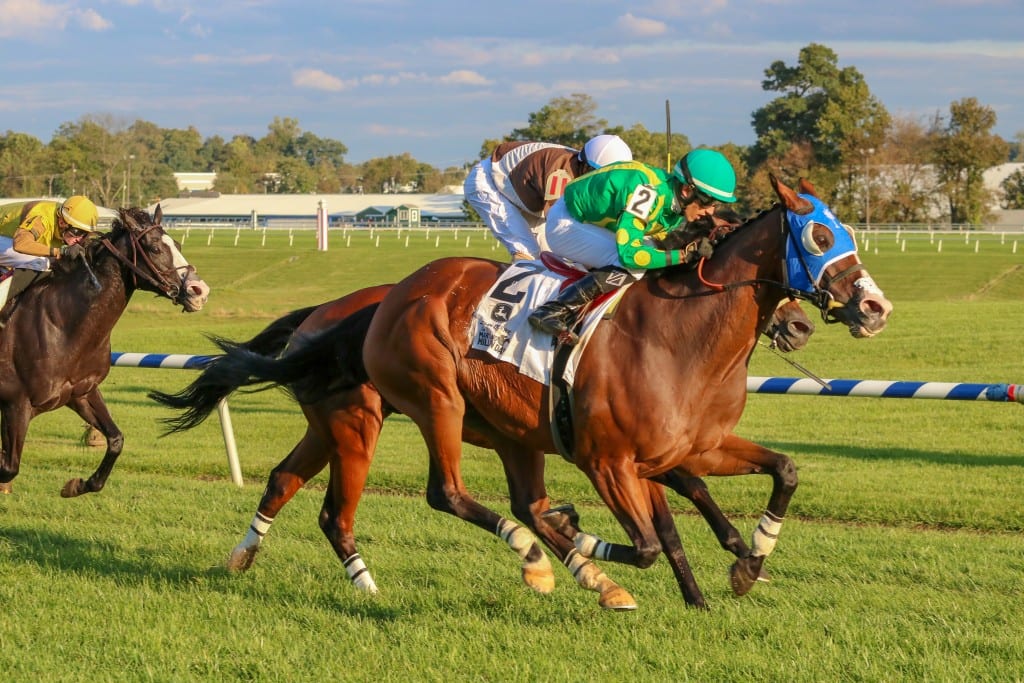 HOW IT HAPPENED
Talk Show Man, taken to rate within range and to the inside of a rival, angled five wide gathering momentum into the stretch, closed determinedly under stout handling forged ahead of Phlash Phelps in deep stretch then held firm. Phlash Phelps broke a step slow, edged up four wide into the first turn and garnered a stalking spot, came under around the final turn, closed in to gain a short lead nearing the sixteenth pole, kept on gamely but just could not withstand the winner's charge. Grandiflora cleared early and set the pace towards the fence, dueled to the inside of No Bull Addition from the half mile marker, ceded to that one past the five sixteenths, battled back to reclaim the lead near the eighth pole then gave way grudgingly.
Running time for the 6 furlongs was 1:51.28.
Photo of Talk Show Man by Dottie Miller.

QUOTABLE
"He wasn't right after the long layoff so we just sent him back home, turned out him and he kind of took care of himself. We planned on running in the Find (turf stakes) but it came off (the turf) so we ran him in the 6 furlongs (Laurel Dash) to get him ready for here."
— Trainer Hamilton Smith
"He's a nice horse, he always tries. I rode him the last couple years but he keeps getting better and better. When I took him to the outside (in mid-stretch) I knew it was over. He's got a bigger heart when he's on the outside. The Jenkins horse (Phlash Phelps) is a nice horse, but he gave me every he got."
— Jockey Jevian Toledo
When asked if Talk Show Man could return to try for a fourth Maryland Million Turf title, "I would defer to Talk Show Man as he will tell us whether or not he wants to do this."
— Owner Dr. Michael J. Harrison
FACTS AND FIGURES
Winner paid: $8.00 – $3.40 – $2.80
Winning time: 1:51.28
Margins: One-half-length back to Phlash Phelps and another one-and-three-quarter lengths to Grandiflora
Winner's record: 36-8-2-7, purse earnings of $459,556
CONNECTIONS
Owner: Michael J. Harrison
Breeder: Michael J. Harrison, DVM (MD)
Pedigree: Great Notion-Marker Me Special, by Haymaker
Jockey: Jevian Toledo
HOW WE 'CAPPED IT
 #2 – Talk Show Man (3-1): This old guy tries to reclaim the MM Turf title which he won in '14; love that he got a paid workout going 6f in $100k stakes, making a late move which sets him up nicely for the added distance; jock J. Toledo opted to ride him versus #4 or #5 
#11 – Phlash Phelps (8-5): May be on the downside of a fine career which includes winning this event in '16 and '15; couldn't catch a break as last two efforts came off the turf; has never raced on a turf course listed other than "firm" which may be the case today 
#4 – Grandiflora (12-1): Blinkers come off once again; versatile runner at any distance though 0 for 6 at one-mile, has placed third and fourth in this contest the past two years; first time T. McCarthy will be aboard 
#5 – Daniel Le Deux (8-1): Game turf runner as had a nice '18 turf campaign so far (4:1-2-1) but gets toughest test of career in here; don't be fooled, speed figures from all Lrl turf races on Oct. 4th seem a bit inflated
IN YOUR STABLE MAIL
Daniel Le Deux was acting up a bit just prior to the gates being sprung, was off slowly and never recovered.