Lewisfield sizzles in MD Million Sprint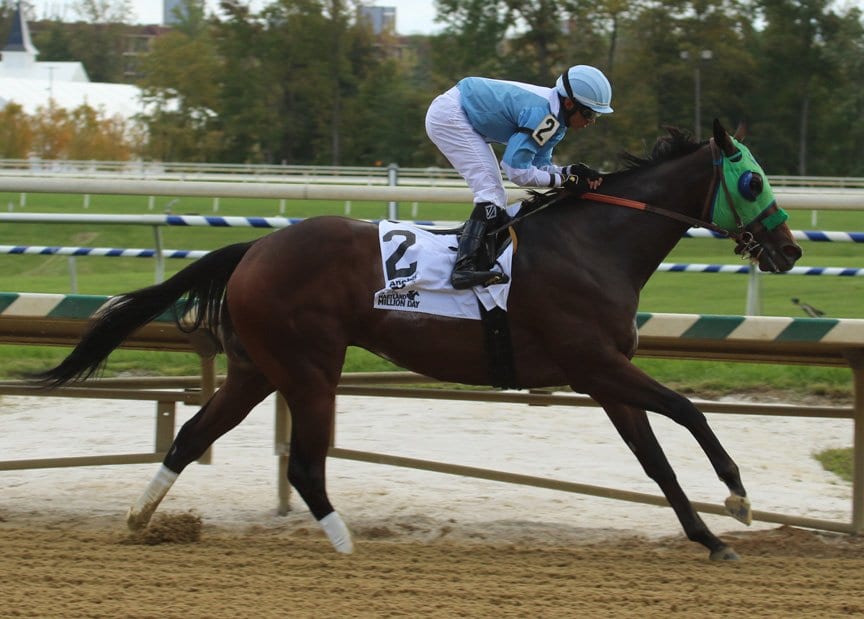 HOW IT HAPPENED
Lewisfield keen to go lapped outside Greatbullsoffire, moved clear without asking near the quarter pole, eagerly widened after being shaken up past the three sixteenths, was kept to a solid drive to about the sixteenth marker then cruised home in the final seventy yards. Greatbullsoffire chased the pace three to four wide and continued willingly to gain the place. Stolen Love settled off the pace, angled out mid turn, came four wide for the drive and rallied mildly.
Running time for the 6 furlongs was 1:09.08.
Photo of Lewisfield by Laurie Asseo.
QUOTABLE
"I didn't want the 1 (#1 – Onemoregreattime) to get away from me. He (Lewisfield) is such a nice horse. I just tapped him twice and he put me in a good position. Then I tapped him again and he took off.
"
— Jockey Jevian Toledo
When asked why the rider switch? "Sometimes you just can't hit the same nail on the head. You need to try something different. (Arnoldo) Bocachica is a great rider, he does great for me with this horse but it just hasn't clicked the last couple times, so you have to change things up to do the right thing for the horse."
— Trainer Jeff Runco
FACTS AND FIGURES
Winner paid: $2.40 – $2.10 – $2.10
Winning time: 1:09.08
Margins: Eight-and three-quarter-lengths back to Greatbullsoffire and another two-and-one-half lengths to Stolen Love
Winner's record: 13-5-3-2, purse earnings of $300,467
CONNECTIONS
Owner: Linda L. Zang
Breeder: Linda Zang (MD)
Pedigree: Great Notion-Smart Crowd, by Crowd Pleaser
Jockey: Jevian Toledo
HOW WE 'CAPPED IT
#2 – Lewisfield (1-2): His speed figures tower over foes in here but leery of this "Lock" as regular rider won't be aboard yet listed on a bunch of claimers at CT tonight; a need the lead to win type of runner will get challenged early to either side of him, but class should prevail
#6 – Greatbullsoffire (15-1): Not the same colt he was at age 2 but connections still believe he has talent to compete at this level; adds blinkers in third start following a one-year layoff
#1 – Onemoregreattime (6-1): Candidate to get it done in gate-to-wire fashion if prohibitive favorite doesn't bring his A-Game; needs the Lrl oval to be kind to early speed as he's short on stamina going 6 furlongs
IN YOUR STABLE MAIL
Onemoregreattime sped to the front, set a pressured pace towards the rail, ceded command past the five sixteenths, could not keep pace with the winner into the lane, kept trying past the furlong grounds then faded. One cannot blame him after fractions of 21.70 for the first quarter and 44.27 for the half.