It's Crabcakes, of course in MD Million Distaff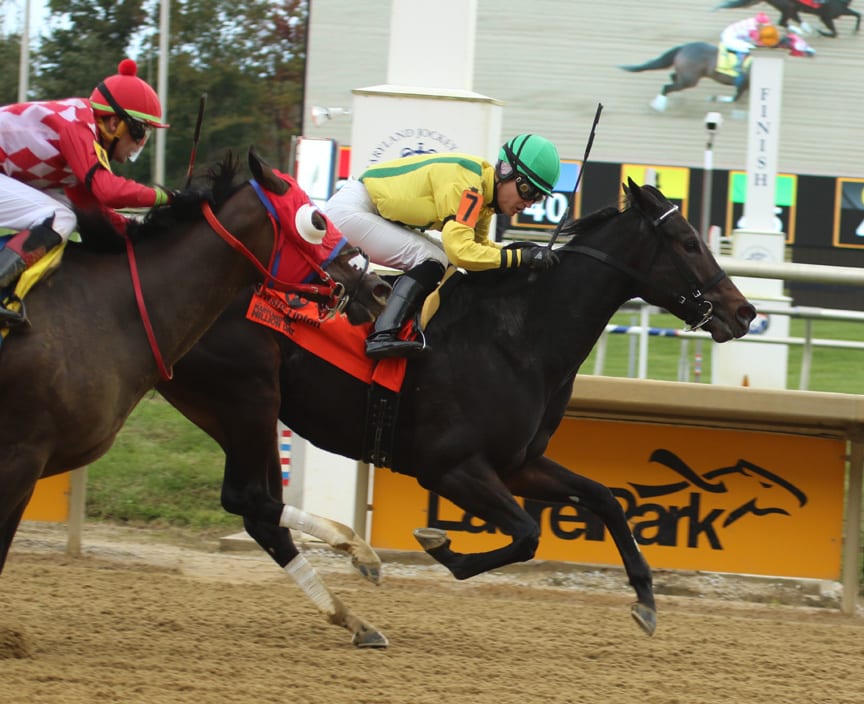 HOW IT HAPPENED
Crabcakes came away alertly then was content to prompt the pace outside of Wowwhatabrat, took over without much asking mid-turn, dug in when confronted from her outside leaving the quarter pole, spurted clear after being shaken up, kept on under right handed rousing through the final furlong and had enough left to hold off My Magician.
Running time for the 7 furlongs was 1:22.85.
Photo of Crabcakes by Laurie Asseo.
QUOTABLE
"They pushed me pretty good on early. I really had to ask her when she was challenged (by #4 – My Magician entering the stretch) but she put her head down and dug in. Going 7 (furlongs) that's really stretching her but she's awesome. Crabcakes and football! That's what Maryland does, right?!
"
— Jockey Forest Boyce
"………………"
— Trainer Bernard Houghton
FACTS AND FIGURES
Winner paid: $2.80 – $2.10 – $2.10
Winning time: 1:22.85
Margins: One-half length back to My Magician and another two-and-one-half lengths to Anna's Bandit
Winner's record: 15-9-4-1, purse earnings of $423,532
CONNECTIONS
Owner: Morgan's Ford Farm
Breeder: Buckingham Farm (MD)
Pedigree: Great Notion-Aunt Elaine, by Charismatic
Jockey: Forest Boyce
HOW WE 'CAPPED IT
#7 – Crabcakes (3-5): Appears to be a Free Space for horizontal wagers as she should mirror her victory in this event last year when 1-5 choice; she'll likely stalk the early speed of the #3 and be in hand turning for home
#4 – My Magician (8-1): Runner-up to top pick last year with a furious rally in the stretch; third race after layoff as she faced tough ones in her last two; lack of a hot early pace will hurt chances to upset
#6 – Anna' Bandit (4-1): Would have loved this one to be a serious challenger to the favorite but to ask a filly for a top effort coming off a race just 7 days ago is not a "Go To" angle for this Capper
#2 – Cee Bee Gee Bee (12-1): Dull effort in restricted stakes that was loaded with talent in first start for trainer C. Lynch who may have been able to tighten the screws leading up to this one
IN YOUR STABLE MAIL
Third-place finisher Anna's Bandit made a huge late move along the rail and just ran out of real estate. A big effort from a filly who had just race 7 days ago.