A determined Saratoga Bob captures MD Million Classic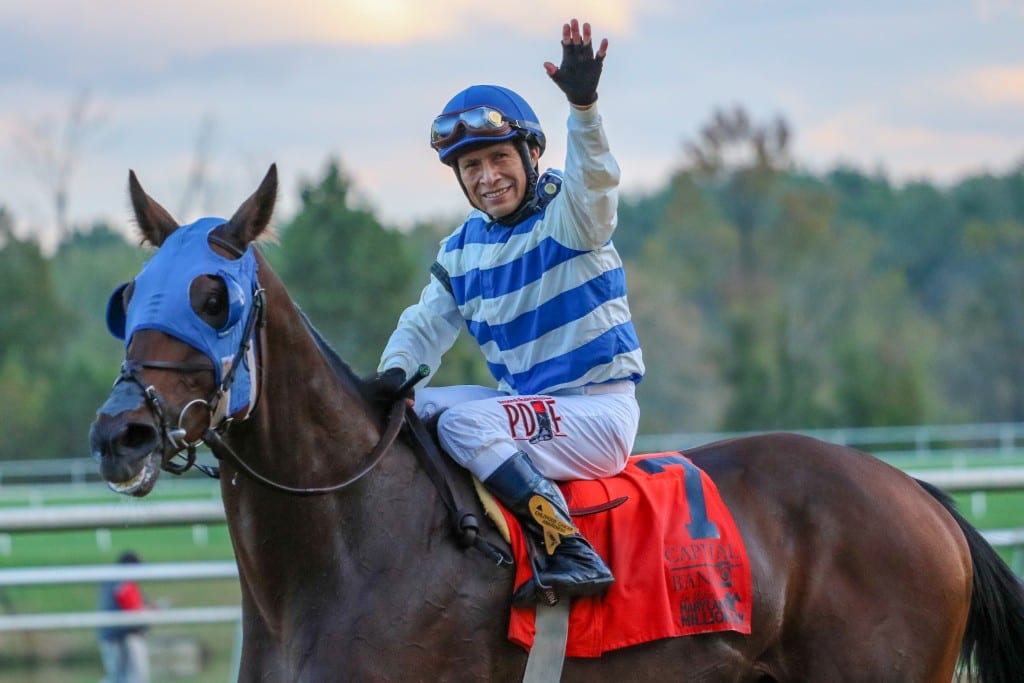 HOW IT HAPPENED
Saratoga Bob came away in good order and relaxed two wide just off the leader, moved to engage after a half mile, dueled on a slim lead past the three furlong marker, was headed while battling between foes in mid stretch, fought back under right handed rousing to go clear in deep stretch then had enough left to fend off Dothat Dance who settled off the pace while saving ground, edged closer midway on the final turn, eased out and edged up behind rivals nearing the eighth pole, altered out for a clear run soon after, straightened away and finished gamely to gain. Clubman relaxed off the pace while saving ground, gained leaving the far turn, eased out past the five sixteenths, rallied four wide under a drive and gained a slim outside the dueling leaders in mid stretch then hung through the final seventy yards.
Running time for the 1 1/8 miles was 1:51.28.
Photo of Saratoga Bob by Dottie Miller.
QUOTABLE
"I told (jockey) Edgar (Prado), "You figure this out! Well, see how they come out of there because there isn't a lot of speed in the race." He can ride them a lot better than I can. Nobody's done it better than him. It was exciting. He (Saratoga Bob) ran so game. They kept coming at him and he just kept trying." 
— Trainer Katy Voss 
 "The horse broke good, he was sharp and at first I thought he was too keen, but he settled in behind the leader (Pal Cal)… in the stretch the horse to my outside (Clubman) came to me was drifting a bit but he (Saratoga Bob) then took off."
On winning a record 18th MD Million race, "I've been blessed to have the opportunity to have success right here earlier in my career and to come back and win… this is the cream on the top of the cake."

— Jockey Edgar Prado
FACTS AND FIGURES
Winner paid: $9.00 – $4.60 – $3.00
Winning time: 1:51.28
Margins: One-half-lengths back to Dothat Dance and another three-quarter lengths to Clubman
Winner's record: 9-3-3-2, purse earnings of $184,715
CONNECTIONS
Owner: Wayne Harrison, Robert Manfuso & K M Voss
Breeder: Robert Manfuso & Katharine M Voss (MD)
Pedigree: Friesan Fire-Lucky Dance, by Kafwain
Jockey: Edgar Prado
HOW WE 'CAPPED IT
#1 – Crouchelli (10-1): $$$ LONGSHOT $$$ Cross-entered in MM Turf but belongs here; though just 1 for 10 lifetime, this 3-year-old seems to get better with every outing and the further he's asked to run; one thing for certain, he'll come flying wide in the latter stages if the pace is an honest one 
#4 – Flash McCaul (6-1): The pride of Country Life Farm makes fourth MM Day start as he was sixth in this event last year and fifth in '16; third start after an 8-month layoff usually results in a peak performance 
#9 – Admiral Blue (7-2): Most experienced at this distance (8:1-1-1) but that one win came on a "good" track; perception is he's been facing better at NYRA tracks; will be dangerous if early speed has been holding throughout the day 
#3 – Clubman (9-2): Uncharacteristically took the early lead in latest start and just missed winning it; came off the pace in '17 MM Classic to be fourth behind a tougher group than these 
IN YOUR STABLE MAIL
Legend's Hope broke a step slow, steadied soon after, was taken well wide midway through the backstretch, gained some in upper stretch then flattened out.