Capuano: Maryland Million what "racing is all about"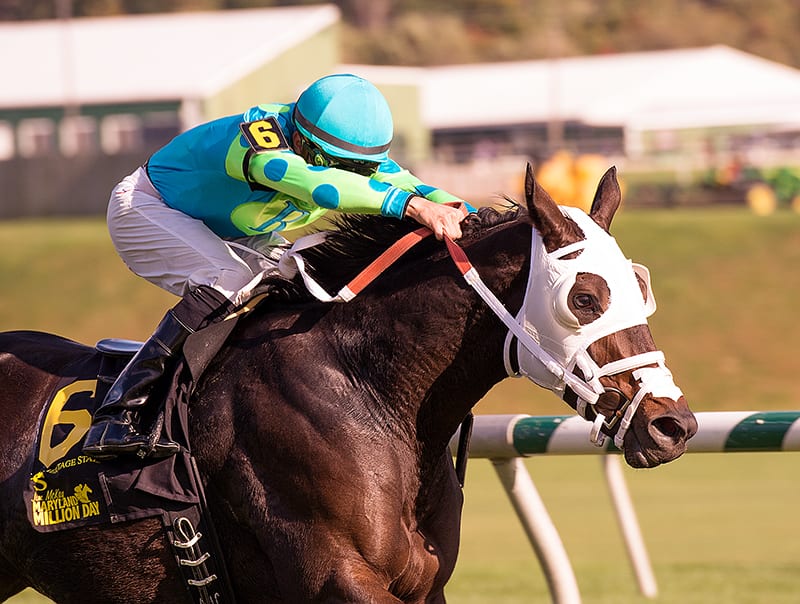 Monster Sleeping's 2015 Ladies win gave trainer Dale Capuano the all-time wins lead among Maryland Million trainers.  Photo by the Maryland Jockey Club.
by Ted Black
Trainer Dale Capuano has had an impact on many of the previous editions of Maryland MIllion Day. Capuano has saddled the most Million winners of any trainers, but he also watched one of his most talented trainees suffer three consecutive Million setbacks at the hands of the one of the best state-bred sprinters ever produced.
This Saturday afternoon the fate of Capuano's entire day will be condensed to a pair of runners who will compete in races less than 40 minutes apart.
Capuano, whose 11 wins on Maryland Million Day are the most in the history of the event that marks its 33rd renewal on Saturday afternoon at Laurel Park, will not have one of his customary busy days at the track. Capuano, who has saddled over
3,400 winners in his career and boasts 31 training titles at the Maryland tracks, will saddle recent acquisition Cannon's Roar in the Maryland Million Turf Starter Handicap at nine furlongs on the grass then head right back to the paddock to give jockey Daniel Centeno a leg up aboard Visual Effect in the Maryland Million Starter at seven furlongs on the main track.
Cannon's Roar, a four-year old son of Orientate that Capuano claimed for $16,000 for Taking Risks Stable, LLC, from trainer Dorothy Worton and Wasabi Ventures in his most recent start on August 18 at Laurel, has primarily been a sprint specialist through the early stages of his career. Unraced at age two, Cannon's Roar finished second once and third twice in six winless starts at age three, but he sports a modest 2-3-1 slate and $48,000 banked from nine starts this year.
"We claimed him thinking that this would be the best spot for him," Capuano said. "He's never tried to go that far before, but he's been training good and he's training like the distance won't be an issue for him. He's only had those two starts on the turf and he won one of them and then was third on the day we took him. I think he's going to do well on the grass. Now the only question on Saturday is whether he will want the extra distance."
Visual Effect, a five-year-old Pollard's Vision gelding that Capuano trains for Louis J Ulman, will also attempt something slightly different this weekend although not entirely new. Since Capuano claimed Visual Effect for Ulman last March 23 for $10,000, the Pollard's Vision gelding has been second three times and third once in eight winless outings, equally divided among turf and dirt starts. But Visual Effect has primarily been going long in those events and will cut back to the one-turn sprint distance of seven panels on Saturday afternoon in another Maryland Million starter.
"He's run pretty well for us in most of those starts going long, but we'll cut him back to seven furlongs on Saturday and see how he does," Capuano said. "He raced well in the last one-turn mile race [on July 27] and really this looked like the best spot for him. He's always been one of those horses that tries hard each time out. It's just a matter of finding the right spot for him."
Capuano overtook Hall of Fame trainer King T. Leatherbury for the outright lead in Maryland Million wins for trainers in 2015, when Monster Sleeping logged her second win in three years in the Maryland Million Ladies.
But two of his biggest stars had the misfortune of running into some rough customers on Million day. Heros Reward, who earned over $1.3 million in his career, mostly for Capuano, finished second, third, and fifth in three Million tries, finishing behind the great Ben's Cat in the Turf Sprint in two of those years. And In the Curl, a 26-time winner in an eight-year career that began in 1986, ran second to national Hall of Fame member Safely Kept in three consecutive runnings of the Distaff, including a hard-fought half-length defeat in 1991.
"Maryland Million Day has always been special to the owners, breeders and trainers that race horses year-round in Maryland," Capuano said. "It's the second-biggest day in Maryland racing behind only the Preakness, but it's a chance for the local horses and local trainers and local breeders to shine and race for good purses. Right now it definitely feels like Maryland racing is headed back up in the right direction, and it's starting to show in the bigger purses and the larger fields. Maryland Million Day has been a big part of everything racing is all about in Maryland for the last 30-plus years."