Maryland Million: Trombetta hoping to have lucky seven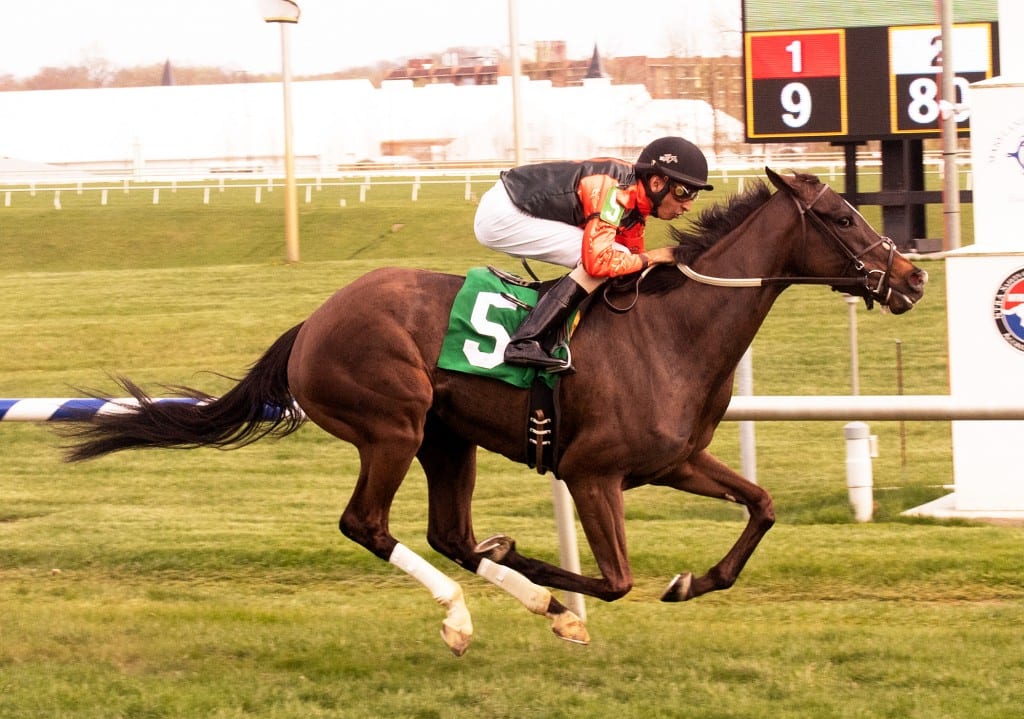 My Sistersledge. Photo by Jim McCue, Maryland Jockey Club.
by Ted Black
A dozen years after he saddled his first Maryland Million winner, trainer Mike Trombetta will have a full contingent of runners in on Saturday for the 33rd renewal of the Maryland Million. One of those, My Sistersledge, will be favored to repeat as champ in the grassy Maryland Million Ladies.
Trombetta will head into Saturday's card only four wins shy of the 1,700 mark, and his runners have earned over $54 million along the way. He is one of two local trainers on Saturday to have saddled the favorite for a prior running of the Kentucky Derby – Gary Capuano being the other – when Sweetnortherrnsaint faded as the choice in the 2006 edition of the Derby won by the ill-fated Barbaro.
More to the point, Trombetta has won seven Maryland Million races, his first with Spectacular Malibu in 2006, and his most recent last fall with My Sistersledge in the $125,000 Maryland Million Ladies on the grass, a title she will seek to defend this weekend.
"She's coming into the race great," Trombetta said of My Sistersledge, who is listed as the 7-5 morning line favorite from post nine in the nine-furlong Ladies for owner-breeders John and Cheryl Banner. "She really didn't seem to care for that firm turf course in Gulfstream Park last winter, but she's been back on her game since we started running her back at Laurel in the spring. She had a nice series of works in September, and I could not pass on that last race even though it came off the turf."
Since returning from her venture in Florida, My Sistersledge has won three times in five outings, with two of those victories occurring in route races on the grass, the third having been in an allowance that was taken off the turf. Although not her preferred footing, My Sistersledge cruised to a six-length victory in that main track affair and looms the solid choice to successfully defend her title in the Ladies this Saturday despite the outside post draw. Julian Pimentel will ride.
Her stablemate, Magician's Vanity drew the rail for owner-breeder R. Larry Johnson in the Ladies and is listed at 8-1 under Trevor McCarthy while seeking her first win in over 18 months.
Trombetta recorded his first Maryland Million triumph in 2006 with Spectacular Malibu in the Lassie for two-year-old fillies, and he has since won that event with Doing Great and My Magician. This year he will send out Better Yet in the Lassie, listed at 10-1 in the morning line from the rail under Julien Pimentel.
Better Yet took four tries to break her maiden but did so in eye-opening fashion, registering a 16-length victory in a one-turn mile over the sloppy Laurel surface on September 9. The juvenile daughter of Super Ninety Nine, bred by Country Life Farm and purchased as an early yearling for $20,000 by Three Diamonds Farm from the Fasig-Tipton mixed sale in January 2017, Better Yet could give Trombetta his fourth tally in this event.
"She's really been doing good since that last race," Trombetta said, referring to a pair of bullet workouts over the Laurel strip on Oct. 1 and 8. "She had made one start on the turf [at Belmont Park] before we got her, so we tried her on the turf going long the first time out and she just didn't seem to have the best trip that day. We were going to try her on the turf again last month, but the race came off the grass and we stayed in and she ran a big race. But now we're cutting her back to six furlongs for this race on Saturday, so I'm not sure if she'll like that as much."
Trombetta will also seek to garner the other race for juveniles on the program when he sends out Sky Magician in the $100,000 Maryland Million Nursery for two-year-olds traveling six furlongs on the main track. A freshman son of Street Magician owned and bred by Johnson, Sky Magician has been second in each of his first two starts under regular pilot Horacio Karamanos, and he is listed at 4-1 on the morning line, only slightly higher than 3-1 choice Scrap Copper, a gritty debut winner who was second in the Laurel Futurity on the lawn in his most recent outing for trainer Hamilton Smith.
Not long after the Lassie, Trombetta will saddle Somekindofmagician in the $125,000 Maryland Million Turf and then Flash McCaul in the $150,000 Maryland Million Classic at nine furlongs on the main track and then stick around for Oddseverinurfavor in a maiden $40,000 claiming event on the grass to close out the card. Amid the busy day of navigating through the crowds to the paddock – and perhaps the winner's circle – Trombetta is pleased to have a full slate of runners set to compete on the day designed to showcase the abilities of Maryland-sired horses and their conditioners.
In all, Trombetta is scheduled to send out seven runners on Maryland Million day.
"This is undoubtedly the second-biggest day of the year for Maryland racing behind the Preakness, and this is the day when all the local owners, breeders, trainers and their horses have the chance to be in the spotlight," Trombetta said. "Maryland Million Day has always meant a lot to anyone who races horses in Maryland. It's a great chance for anyone who owns or breeds in the state to show off their product, and hopefully with purses going up we'll continue to see more stallions move back into Maryland."
MARYLAND MILLION LADIES ENTRIES
1. Magician's Vanity (VA) (8/1) — M J Trombetta/T McCarthy
2. Hot Friesia (MD) (20/1) — A W Merryman/J Toledo
3. My Vixen (VA) (20/1) — G Capuano/V R Carrasco
4. Love's Legend (MD) (6/1) — E Maher/H Karamanos
5. Complete St. (VA) (5/1) — L E Boucher/F Boyce
6. Penitence (PA) (15/1) — J E Sheppard/S Russell
7. Saint Main Event (PA) (9/2) — J C Servis/J A Vargas, Jr.
8. Forgiving (PA) (12/1) — J E Sheppard/A Wolfsont
9. My Sistersledge (MD) (7/5) — M J Trombetta/J Pimentel
Also eligibles
10. Ghoul's Night Out (MD) (6/1) — H A Smith/A Cintron
11. Irish Access (MD) (7/2) — T L Keefe/F Lynch
12. Adult in the Room (MD) (10/1) — K Rubley/J Toledo
13. Peach of a Gal (MD) (3/1) — H G Motion/J A Vargas, Jr.