Pegasus World Cup tickets now available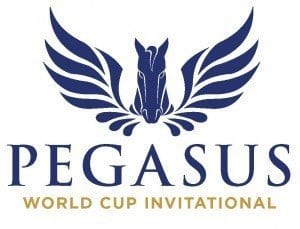 From a Stronach Group release
The Stronach Group announced that tickets for the 2019 Pegasus World Cup Championship Invitational Series, to be held on Saturday, January 26 at Gulfstream Park in Hallandale Beach, FL, are now on sale.
Since 2017, the Pegasus World Cup has become one of the premier events on the Thoroughbred racing calendar, blending entertainment, innovation and horse racing like no other event of its kind, capturing the attention of the racing industry, celebrities and fans from around the world.
Tickets range from $60 to $1,000+ USD per person and offer something for every race-day enthusiast and entertainment seeker. There is a perfect race-day experience for every guest, including exciting views of the finish line from the Grandstand and the Apron, to luxurious suites and VIP dining experiences. Tickets for the classic Apron experience will be available only to the first 1,000 guests at $60 per person after which the price will increase to $75 per person.
Tickets are available online at www.pegasusworldcup.com, or by calling the Pegasus World Cup Box Office at Gulfstream Park at 1-833-464-7924 between 9am-6pm, daily.
The release of tickets for the Pegasus World Cup comes quickly following The Stronach Group's announcement of the addition of the Pegasus World Cup Turf Invitational to the race-day card. The Pegasus World Cup Turf Invitational, which replaces the Gulfstream Park Turf Handicap, aims to attract and showcase twelve of the best older turf horses from around the world, turning the $16 million Pegasus World Cup Invitational into a Championship Invitational Series.
The Pegasus World Cup Turf Invitational, to be run on the turf at 1 3/16 miles, will offer a $7 million purse with $3 million awaiting the winner. The Pegasus World Cup Invitational, contested at 1 1/8 mile on the dirt, will offer a $9 million purse with a $4 million prize awarded to the winner of the twelve-horse field.
The Stronach Group will also introduce a new wager, the Pegasus Pick 24. The Pegasus Pick 24 will offer up the chance to bet on the exact finish order for both the Pegasus World Cup Invitational and the Pegasus World Cup Turf Invitational, adding another layer to the race-day excitement. A whopping $5 million bonus awaits the lucky fan who hits the Pegasus Pick 24.