Patience the key for bug rider Reylu Gutierrez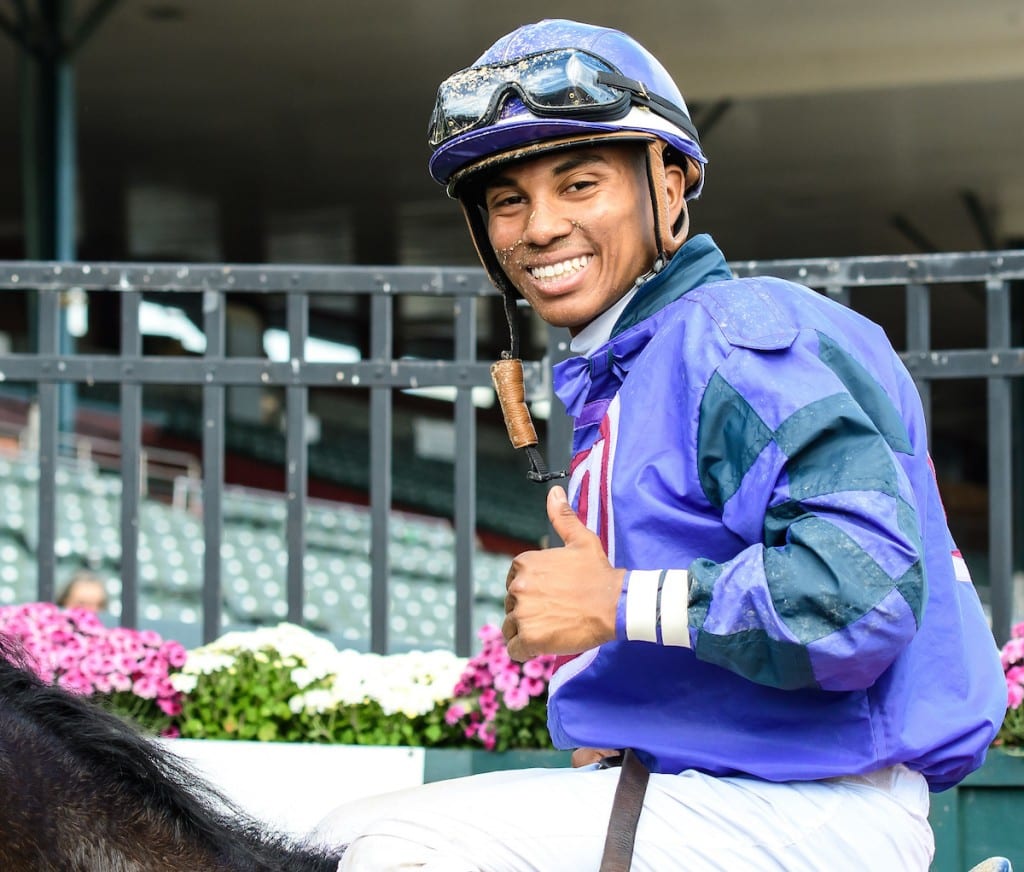 Reylu Gutierrez at Delaware Park. Photo by HoofprintsInc.com.
by Doug McCoy
One of the pleasant late-season surprises of the Delaware Park meeting has been the emergence of 22-year-old apprentice jockey Reylu Gutierrez.
Since arriving on the scene the first week of September, the native of Rochester, NY has turned heads and gained admirers with a riding style that belies his tender years. In the six weeks since he arrived from Florida, Gutierrez has been a model of consistency, winning with nine of his 38 mounts while also finishing second on 10 others – meaning that he's been in the exacta in 50 percent of his races.
Overall, he has won 82 races since he began riding last fall at Finger Lakes and his mounts have earned more than $2 million in purses.
Gutierrez always seems to be calm and collected. He has shown an uncanny ability to stay patient during the course of races, and he rarely asks his mounts for their best until absolutely necessary.
Perhaps one of the reasons for Gutierrez' quiet confidence comes from his family background. The rider's father, Luis Gutierrez, has been training for more than 25 years at Finger Lakes in upstate New York, and his uncle Jose is also a rider. It was only natural that Reylu spent a good bit of his youth at the track, working for and with his father. Gutierrez' parents stressed the importance of getting a good education from an early age, so while he worked at the barn during summers off, during the school year he focused on his studies. His younger sister Britney (19) is currently an undergraduate at SUNY-Buffalo, majoring in Exercise Science.
"My mom and dad impressed upon me from an early age how critical it was for me to apply myself in school, to focus on education above anything else," the apprentice explained. "I graduated from high school, and then went to college at Cortland State University, where I graduated with a bachelor's degree in exercise physiology.
"During the summers I returned to the track, and while I wanted to be a jockey, my folks told me I had to graduate and get my degree then they would support any decision I made about my future," he continued. "Watching my father work so hard all those years to make a living and raise a family while training helped me understand why they (my parents) were so intent on my having a vocation to fall back on if being a rider didn't pan out."
Gutierrez thinks the fact that he does have other avenues other than riding he can explore helps him to remain calm when he rides.
"For a lot of young apprentices I think there's this almost desperate drive to succeed, to win races and establish themselves while they have the bug, and it shows in their riding," the young jockey observed. "I see other bug boys who get too impatient during races trying to make things happen too quick whereas I feel like one of my strengths is that I know this isn't the only avenue I can take to make a living. I think it helps me to remain calm and confident, and I think the horses I'm riding can feel that confidence during a race. At least I hope they can."
Gutierrez spent the first part of 2018 at Gulfstream Park, where he won 65 races before coming north. He won his first stake in April aboard Susie Bee in the $75,000 Powder Break Stakes there. Trained by Michael Maker and owned by famed Calumet Farm, Susie Bee returned $32.00 for that win.
Gutierrez said he decided to come north to broaden his horizons and gain added exposure on a national scale.
"Horse racing in the Mid-Atlantic offers a lot of different opportunities for a rider," he explained. "Now I can ride at several tracks around the area, I can ride six days a week and I get a chance to learn how to ride over different surfaces against different jockeys. It can only help me become a better rider in the long run. It's like learning how to adapt from one track to the other. At Delaware you've got to work a little quicker to put your horse in a contending position, while at Laurel you're able to be a bit more patient and let the race develop."
Gutierrez gives his agent in Florida, Bryce Soth, a lot of credit for getting his career off the ground as well as his current agent, veteran Kevin Witte who also handles Daniel Centeno. He also points out trainer Anthony Pecoraro has been a big booster and backer of Gutierrez, as well as a mentor.
"I have my bug until March, so my goal now is to continue to improve and win races while making myself a better rider," Gutierrez said. "After the meeting's over here, we'll look over our options for the winter. The more I can learn as an apprentice, the better chance I'll have to continue to have success in the future."