WVBC: Spring Lass surprises for Armstrong's two-horse stable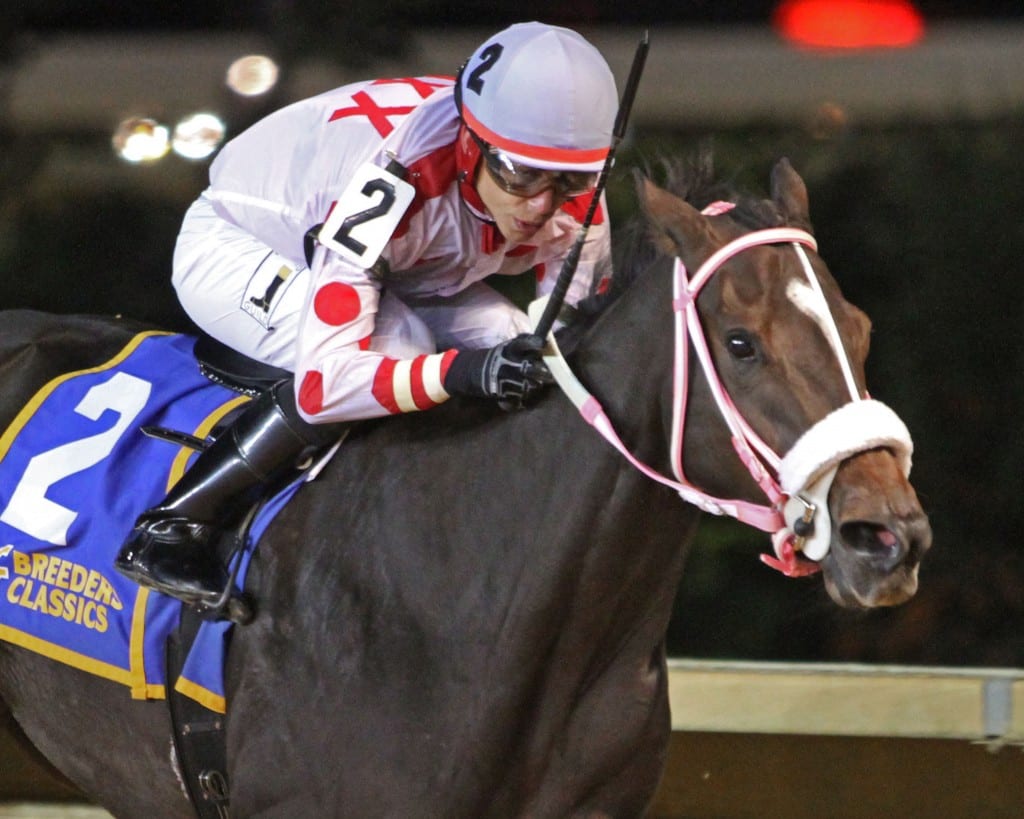 Spring Lass won the West Virginia Triple Crown Nutrition Breeders Classic. Photo by Coady Photography.
by Frank Vespe
Jay Armstrong doesn't have a large stable.
"Two horses and a pony," he described it. And one of those horses, the maiden Nothing in Stone, recently underwent an operation for a chip in his knee.
Fortunately, the other runner in his compact operation is Spring Lass, and this evening the three-year-old Denis of Cork filly sprung the upset in the $75,000 West Virginia Division of Tourism Breeders Classic at Charles Town Races on the track's biggest night for local owners and breeders.
It was Armstrong's first stakes win as a trainer — he's also the owner — and just the 19th of a career that began in 2009. But Armstrong's no newbie to the track; his father, Charles Robert Armstrong trained here for decades, and his brother, Robert Wayne Armstrong, was a jockey here in the mid-1970s before succumbing to cancer.
As Armstrong positioned his filly for the win photo tonight, he pointed skyward, thinking of his brother.
"That holds close to my heart," he explained. "I tell him, 'You will never be forgotten.'"
Despite his racetrack upbringing, and his love of the sport, Armstrong worked a regular job — "I knew the racetrack was no guaranteed money," he explained — until returning home.
"I came back a few years ago, said, 'I want to do this now,'" he recalled. "I invested my money in a horse named C R Case's Monster. He was my money winner until tonight. She just passed him."
C R Case's Monster earned a touch over $42,000 for Armstrong. With the winner's share tonight, Spring Lass now has earned $62,790 for Armstrong
Spring Lass was bred by local breeding and racing juggernaut James W. Casey, "who raced her twice, a win and a second. Armstrong claimed her out of that runner-up effort in her second start for the princely sum of $10,000.
"With those works, I thought I could raise her up if I take good care of her," Armstrong said. "I only got those one or two. I can take all day long with them if it helps, and her breeding is nice."
Armstrong teamed his filly up with jockey Luis Batista, and the duo responded with a pair of seven-furlong allowance scores, the first, by nearly three lengths, at odds of 18-1.
After today's win, at 9-1 odds, she's three-for-three for Armstrong.
"She's been worth every penny of it," Armstrong said. "She does everything right."
In today's contest, Spring Lass and Batista quickly grabbed the lead, which turned out to be opportune. Behind her, some bumping eliminated post-time favorite B's Wild Cork from contention, dropping that runner into last. She would rally willingly but only into fifth.
Meanwhile, Spring Lass had a head lead through a half-mile in 48.25 seconds, and it seemed like the cavalry was coming. But though they came, they never quite got to her. She was headed near the quarter-pole, dug in and fought back, and inched away to a half-length victory in 1:26.44 for seven furlongs. Dark Empress was second, and Im a Tricky One finished third.
It was an impressive victory, and Armstrong thinks there's more to come.
"She hasn't reached her peak," he suggested. "Some of those horses running tonight have reached their peak. She's still rising."
That's got to be of some concern to her beaten rivals this evening. But it left Armstrong and his family all smiles.
"I love this game. I always have," he declared. "This is my passion. This is my love. This is my purpose in life.