Delaware: Owners' Day offers up competitive racing card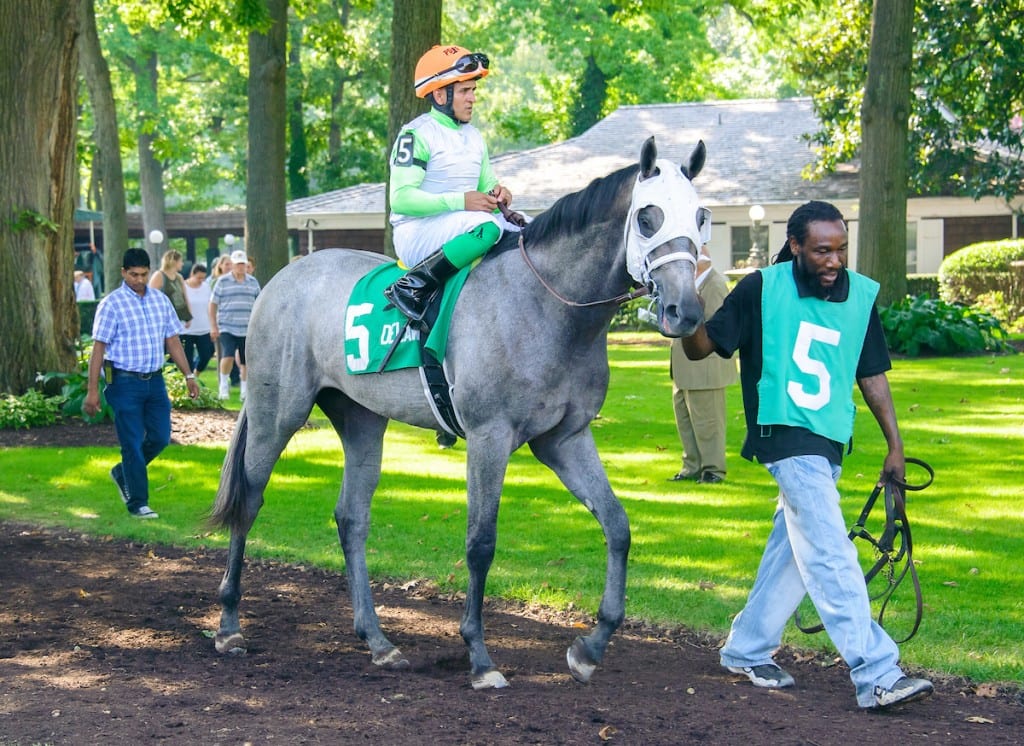 Sapphire Shilling before The Strike Your Colors Stakes at Delaware Park. Photo by HoofprintsInc.com.
by Doug McCoy
For the 26th year, Delaware Park will repay the owners who support the racing program throughout the year when it presents Owners' Day, a 12-race program that offers $750,000 in purses, with increased purses for overnight races and seven added money events.
Two of the most competitive races on the stakes line-up are the $75,000 DTHA Governor's Day Handicap, a mile-and-70 yard route for three-year-olds and up who have started at Delaware Park this season, and the $100,000 First State Dash for Delaware-certified two-year-olds going 5 ½ furlongs.
The Governor's Day attracted a very tough and deep field of eight proven veterans whose combined career earnings exceed $2.5 million with 63 total victories.
Trainer Jose Corrales will send out Unbridled Juan (8-1) in the speed-laden Governor's Cup and is hopeful the six-year-old's career will continue to rebound after moving to his stable, much like Something Awesome's did.
Something Awesome is another homebred from Adena Springs and the Stronach Racing operation. Something Awesome had been racing primarily over the all weather surface at Woodbine with mixed results when Stronach's racing manager Mike Doyle decided to send him to Corrales in the fall of 2017. Something Awesome came to life for the former jockey, winning five races from seven starts for Corrales, including three straight stakes, capped off by an upset over Grade 1 winner Diversify in the $1.2 million Charles Town Classic.
The Stronach racing team made a similar decision with Unbridled Juan. After making five starts in 2017, four in graded company, at Woodbine without winning a race, the gelding was sent to Corrales. The horseman, who won more than 1,000 races from 1981 to 1993 as a rider, said he was impressed from first glance with the grey son of Unbridled's Song who has a win, second (in the Grade III Dixie), and third in three starts for Corrales.
"He's a beautiful horse, he has gorgeous conformation and he's got that classy way about him like a thorough professional," Corrales reported. "In the morning he's got a peculiar way of going, it's sort of choppy, and for that reason he gets a little body sore at times, so we sort of let him tell us how he's doing and schedule his training accordingly. We gave him a little time after his last race (a win in an open allowance race at a mile that was taken off the turf) but he came back last week and worked very well so he's coming up to this race the right way."
Unbridled Juan is showing four works since that August 3 victory, among them a zippy half-mile in 47 ⅕ seconds on September 15, the second-fastest of 42 at the distance.
The Governor's Cup is loaded with horses possessing strong early speed, as five of the eight entrants have enjoyed their best success when on or near the lead from the start. That's just fine with Corrales.
"We're looking to sit just off what looks like it should be a pretty quick pace," the trainer observed. "My horse has tactical speed but he's also a patient sort. Last race, horses passed him during the middle portion of the race and he just bided his time, then weeded his way between horses when it counted. He's not the type of horse that's going to blow your doors off, he'll win by a half length, three parts of a length, he just grinds you down."
As for Something Awesome, he's just working his way back into shape after a poor outing in the Pimlico Special, Corrales said.
"He's just now starting to come back," Corrales reported. "We had hoped we might be able to make the Breeders' Cup, but that doesn't look like it's going to happen. But hopefully he'll be back later in the year for us."
SAPPHIRE SHILLING LOOKS TO SHINE IN FIRST STATE DASH
Fourteen two-year-old colts and gelding are entered for the $100,000 Free State Dash, a 5 ½-furlong sprint for Delaware-certified juveniles, a fascinating group of youngsters that includes a pair of first-time starters and five horses who won their last starts.
Veteran horseman Ron Potts will send out Sapphire Shilling in the First State for long time Delaware ownership group, the Elkstone Group LLC, and the gray Old Fashioned gelding will come into the race as one of the more experienced runners in the field with a win and two seconds in three starts.
Very few first-time starters win their debuts from rail posts, but Sapphire Shilling did just that, dueling through a 5 ½-furlong maiden sprint at Presque Isle in mid July after breaking from the one post. His trainer said it was the tenacity of the young horse that impressed him most about that first race.
"He had horses run at him two or three different times during that race, and he could have folded his tent at any time but he hung in there, hung tough, and wouldn't let anybody get by him," Potts recounted. "We knew he'd shown a lot of potential training, but training and racing are two different things. Proving himself in a real race when it counted showed a lot about his heart."
Sapphire Shilling has run three different kinds of races in his three starts. He led start to finish in his debut, chased the pace in his next, and then last time out in the Strike Your Colors he closed stoutly through the lane to fall just a nose short of Well Graced.
Potts said he expects his horse to be fairly involved in the early action this time.
"He's breaks out of there o.k. and he's got the speed, but he's still a kid and he gets a little lazy so Danny (Centeno, rider of Sapphire Shilling) may have to get after him a little early on so he stays close up but I don't expect to be that far back," Potts predicted. "You can't be too far back in a big field going that short. He's going to be a lot better horse when we start stretching out, and when we start going two turns, I think he's going to show he's a really nice horse. But he's got enough speed and ability to sprint, so we're hoping he can get the job done Saturday."
The Governors Day is carded as race five, and the First State Dash is race seven. Post time for the Owners' Day card is 1:15.