River Gal "carries family forward" with Jamestown win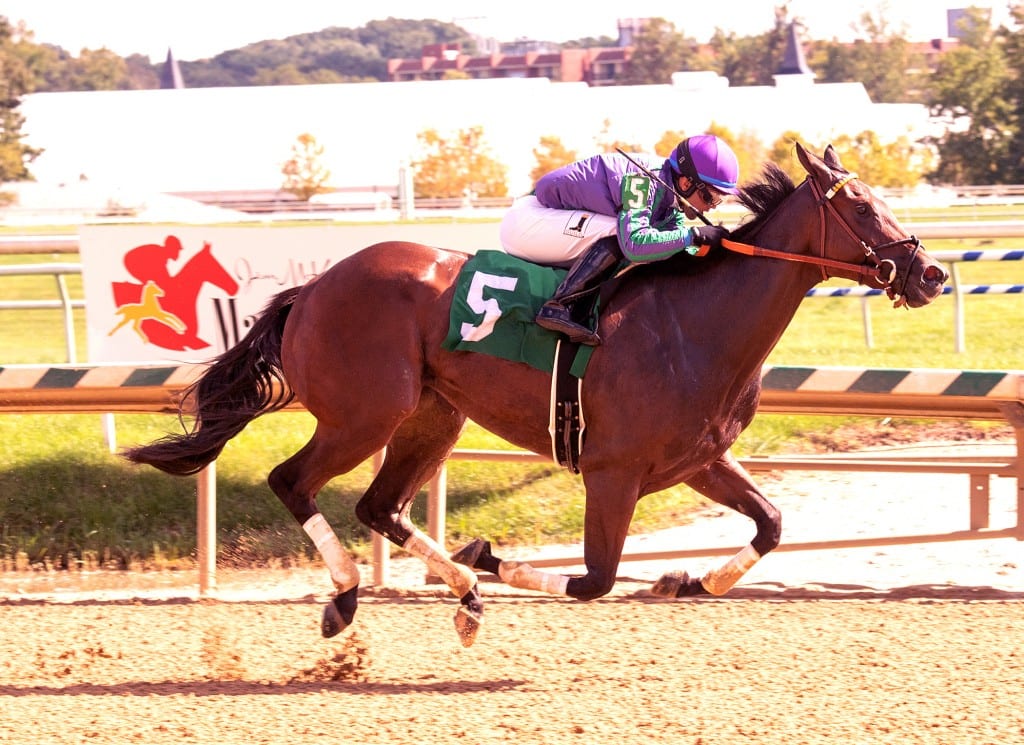 River Gal won the Jamestown Stakes. Photo by Jim McCue, Maryland Jockey Club.
by Frank Vespe
The Jamestown Stakes, for Virginia-bred or -sired two-year-olds, didn't fill last weekend, when the other fall Virginia-bred races were run at Laurel Park.
That prompted the Maryland Jockey Club to put the race up as an extra for Friday's card, and this time eight runners passed the entry box. And that worked out just fine for trainer Phil Schoenthal and Morgan's Ford Farm.
River Gal, a Morgan's Ford homebred daughter of Blame, broke alertly, pressed the pace of even-money favorite Ready to Run, and powered home to win by 2 1/2 lengths in a modest time of 1:05.43 for 5 1/2 furlongs.
"It actually worked out tremendously fortuitously for us because we would not have entered the filly had the race been run on Sunday," Schoenthal said. "It was not on our radar because she had just run like 13 days prior."
River Gal, out of the Congaree mare River Fancy, is a half-sister to River Deep, a four-year-old Arch colt. He won the Bert Allen Stakes on last Sunday's Commonwealth Day card — also for Schoenthal and Morgan's Ford.
"It's totally unexpected," Wayne Chatfield-Taylor, who, with his wife Susie, owns Morgan's Ford, said of the back-to-back victories. "We wonder what we have been doing to deserve this."
The Chatfield-Taylors are in their 40th year at Morgan's Ford, and they're on their third generation of this productive family. They bought River Gal's grand-dam, Go Baby Go, for $45,000 at the 2002 Keeneland November mixed sale.
"The second dam back [Go Baby Go] had foals that set three track records," recalled Wayne Chatfield-Taylor. "We sold them, and that's what happens with all of our best."
Among her foals was River Fancy, whom the Chatfield-Taylors sold for $90,000 as a weanling.
"We sold her nicely to the McNairs, and then Sheikh Mohammed bought them out, and the filly went there, and they decided she wasn't very good and got her claimed," Wayne Chatfield-Taylor said. "That turned into her winning 12 races and a quarter-million dollars, and we were watching saying we've got to get her back."
They eventually did get her back, by buying half of her from F and F Stable at the end of a career in which she won 12 of 35 starts. River Gal is the third foal out of River Fancy to race — and the third to win.
Schoenthal said that, depending on how she comes out of this race, River Gal might try open company next out, or possibly head to the farm to unwind before beginning to prepare for her sophomore season.
"She's certainly accomplished every goal we had for her this year," the trainer said.
As they typically do, the Chatfield-Taylors tried to sell River Deep as a yearling, but he didn't meet his reserve. River Gal, however, they decided to hang onto.
That's because River Fancy died as a result of what Chatfield-Taylor called a "chronic colic situation." River Gal is not only River Fancy's last foal to race but also her only distaff runner.
"She's going to hopefully carry the family forward," Chatfield-Taylor said.