Jose Angel Garcia turning hard work into wins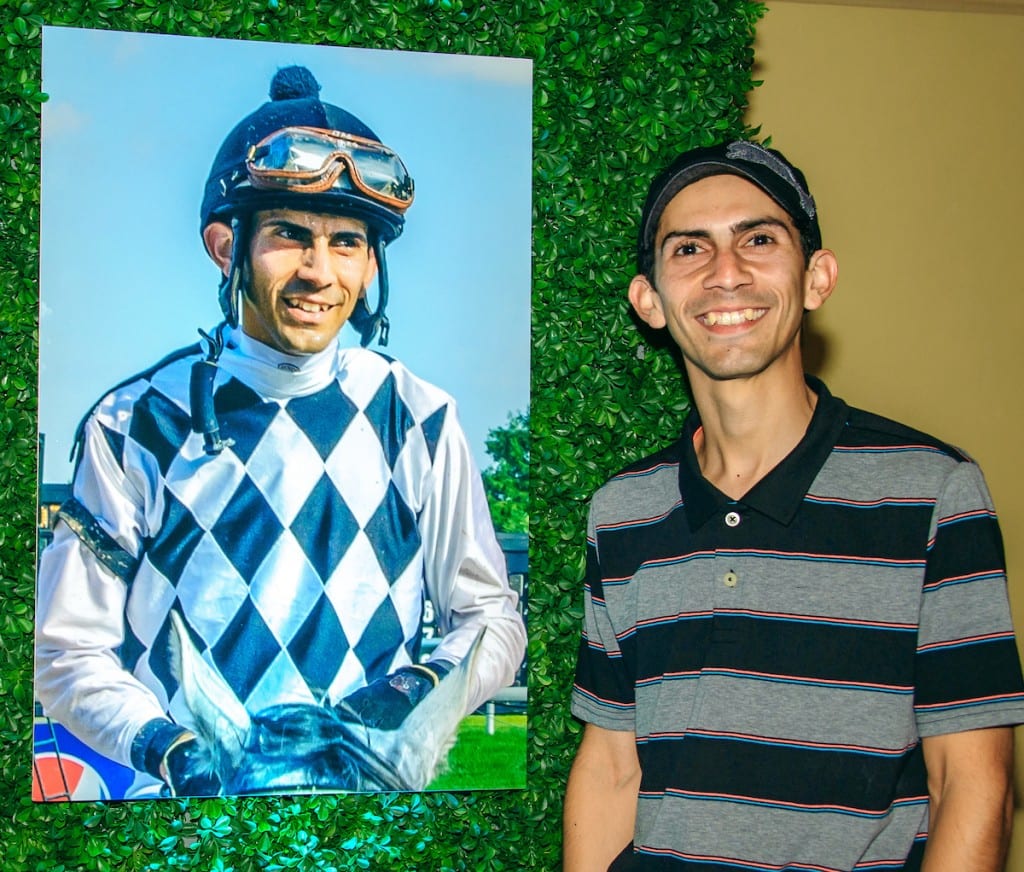 Who's that guy? Jose Angel Garcia, times two. Photo by HoofprintInc.com.
by Doug McCoy
Jockey Jose Angel Garcia has made quite an impact at Delaware Park in this, his first season riding regularly at the Stanton oval. He has won 25 races thus far this meeting between thoroughbreds and Arabians, ranking fourth in the overall standings behind Carol Cedeno, Angel Suarez, and Keiber Coa.
When those around the rider were asked what impresses them most about Garcia the answer is almost universal.
"Work ethic."
Garcia has earned a reputation as one of the hardest working riders around and by his own admission is a workaholic.
"When I was a young man in Puerto Rico, my mentor was Carlos Pizarro, one of the top riders in the country," Garcia, 31, explained. "I began helping Carlos in the morning by getting on the horses he didn't have time to get on during training hours. He would get on 10-12 head every morning, and he told me over and over again there's no substitute for hard work. He said a lot of riders have talent and you're competing for mounts every day, so when it comes down to who gets to ride this horse of that one it will be the rider who works harder, who is there in the morning to get on that horse who will get the mount."
Tragically, it was while working horses in the morning in Puerto Rico in 2014 where Pizarro, a winner of 1,300 races and numerous graded stakes in his career, was critically injured in a training hour collision. He succumbed to those injuries the following day. Garcia recalled he was grief-stricken by the news, but the next morning he got up, went out to the track, and got on horses.
"If he could have talked to me, I know what he would have said: 'You get out there and go to work,'" Garcia mused sadly. "There was never any substitute for hard work with him, and trying to use what he taught me about riding and the value of hard work has been a huge part of any success I may have had so far."
Garcia injured his ankle in a race at Gulfstream Park last summer and it was later discovered he had suffered a fracture, as well as tendon damage. When doctors told him he wouldn't be able to ride for several months, he never gave any thought to staying at home and relaxing.
He shifted gears and decided to become a jockey's agent. He began handling the engagements of Huber Villa-Gomez and fellow countryman Javier Santiago for the Tampa Bay Downs meeting that began in early December. While Santiago won just four races at the meeting, Villa-Gomez racked up 14 wins in a crowded riding community at the Oldsmar oval. By comparison the previous season Villa-Gomez had won just four races for the meeting.
"It was a great learning experience," Garcia reflected. "Riding is what I want to do, but it's good to know I can do other things on the track if I have to."
And oh, by the way, in his spare time Garcia also worked as a delivery driver for Amazon.
This season he has managed to crack some of the top barns at Delaware Park, riding for trainers like Tim Ritchey, Anthony Pecoraro, Victor Carrasco and Lynn Ashby. Ritchey, of Afleet Alex fame, is a meticulous horseman who insists on riders who follow his instructions and game plan with his horses.
"Jose is a very talented rider. He rides a very smart race and puts his horse where he has a chance to win," Ritchey said of Garcia. "He can finish as well as any rider I've ever seen, and I feel very confident when he is riding for me."
Another factor in Garcia's success this season has been his alliance with agent John Weilbacher. Weilbacher also handles Angel Suarez, who is currently second in the standings but unlike many situations where an agent with two riders might concentrate his or her energies towards advancing one jockey over another, Garcia says Weilbacher works equally hard for him and Suarez.
"John's been a big reason for any success I've had this meeting," the rider pointed out. "He's a proven professional, he has a good rapport with people, and he's been totally committed to both Angel and myself. We're planning on heading to Tampa this winter and I'm excited about our chances to do well there. A circuit of Tampa Bay Downs and Delaware Park would be great and would be good for the family as well."
Garcia is married, and he and his wife Delmaris have two daughter, Emily, seven years old, and Leah, seven months.
"I've got a saying, 'So far, so good,' and right now so far, things are very good," Garcia said. "We're just going to do what Carlos (Pizarro) taught me to do. He always told me, 'Work hard and good things will happen.'"
Robert Smith, a trainer based in Florida, said he still recalls the first time he met Garcia, some years back – and roots for him. Both were on horseback, Smith on a Grade 3-placed filly he trained.
"I was on my filly White Merlot one morning, and this guy gallops up beside me and says, 'Mr. Smith, my name is Jose Angel Garcia and that's a really nice filly. I'd sure like to ride her for you,'" Smith said. "You've got to give the kid credit: he works his tail off and he'll ride anything you ask him to ride. That's the reason his winning percentage may not be as high as other jockeys, because he'll ride horses that other riders won't. But he'll give you a dead honest effort and has a lot of talent. I'm glad to see him doing good. He sure deserves it."