Runnin'toluvya impresses in Gall, and other CT Oaks undercard answers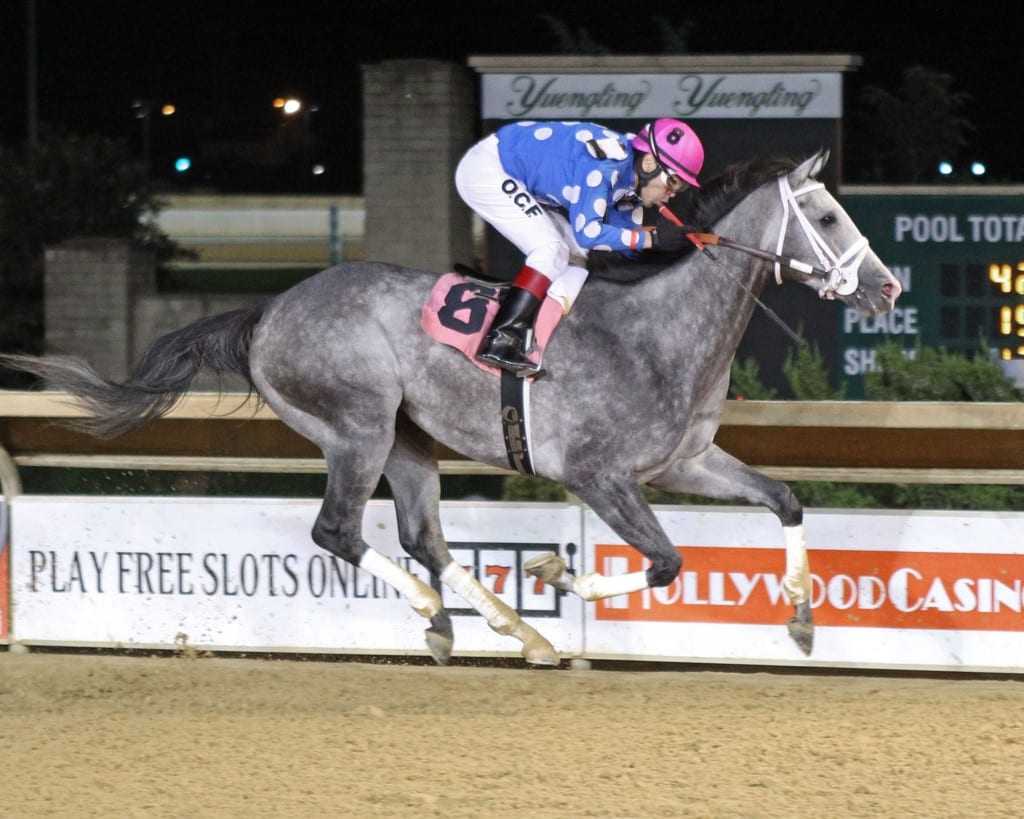 Runnin'toluvya won the Frank Gall Memorial. Photo by Coady Photography.
by Frank Vespe
Favorites thrived in the West-Virginia-bred races on the undercard of the Grade 3 Charles Town Classic Saturday night at Charles Town Races. But that's not to say we didn't learn anything during them.
Take the case of Runnin'toluvya. He was 9-10 at post time in the Frank Gall Memorial Stakes, a seven-furlong affair for state-breds, and he won just like an odds-on shot, by almost six lengths.
So, what'd we learn?
"I think I know where he's going next – the [West Virginia Breeders] Classic," said trainer Tim Grams. "He's never been a mile and an eighth, but after watching him do that tonight, I don't have any doubt we'll try it on October 13."
He'll likely have to see the state's hardest hitters there, including North Atlantic and two-time Classic winner Charitable Annuity. But after today's smashing victory under Oscar Flores, he looks like a horse who deserves the chance to run for the $300,000 purse.
It was the Fiber Sonde gelding's fifth win in a row, sixth in seven starts this year, and eighth win 12 overall. He has earned over $160,000.
Rider Oscar Flores is on board with the Classic concept.
"He was really good. I just sat on him until the far turn," Flores said. "I asked him a little bit nearing the eighth pole and he just took off. I think the one-mile and one-eighth race will be perfect. I think he'll love the distance."
Oh, and did someone mention Fiber Sonde?
Often enough, it seems every other state-bred winner at Charles Town is a Fiber Sonde, but in today's stakes action, that certainly wasn't the case. Indeed, Runnin'toluvya was the only one.
Instead, there were a Limehouse and an Astrology, a Northern Afleet and a Great Notion. And, of course, the aforementioned Fiber Sonde.
Then there's the question of the two-year-olds.
In the Henry Mercer Memorial, the Ollie Figgins-trained Burning Ring O Fire, a Limehouse gelding owned by Ray M. Pennington, III, rallied very late to win by a half-length in 52.65 seconds. He certainly looks like a horse who'll appreciate added ground, but this still looks like a wide-open division.
The juvenile fillies division may not be as clear as it appears, either. The Jeff Runco trainee Battleground Star — an Astrology filly — romped by five in the Rachel's Turn, getting the 4 1/2 furlongs in 52.38 seconds, a bit faster than the boys.
"She was able to settle and she had a nice clean trip," said Jeff Runco. "She's definitely got a lot of ability, but the two-turn races up here will be much better for her."
But the horse expected to be her toughest rival here, Parisian Diva, encountered some trip troubles, which can be deadly in such a short sprint.
"She was really unlucky," said Stacey Viands, her trainer. "Got steadied down the backside then angled off the fence for some reason and closed willingly."
But what we learned most of all is that the Cavada Breeders Classic — for fillies and mares going seven furlongs — could be a bear. Last year's dominant state-bred distaffer Moonlit Song fell to Anna's Bandit, the Jerry Robb-trained Great Notion filly, in the card-closing Sadie Hawkins this evening. And three-year-old state-bred Late Night Pow Wow upset the G3 Charles Town Oaks. All three might convene on October 13.