Moonlit Song, Runnin'toluvya give Grams two big stakes shots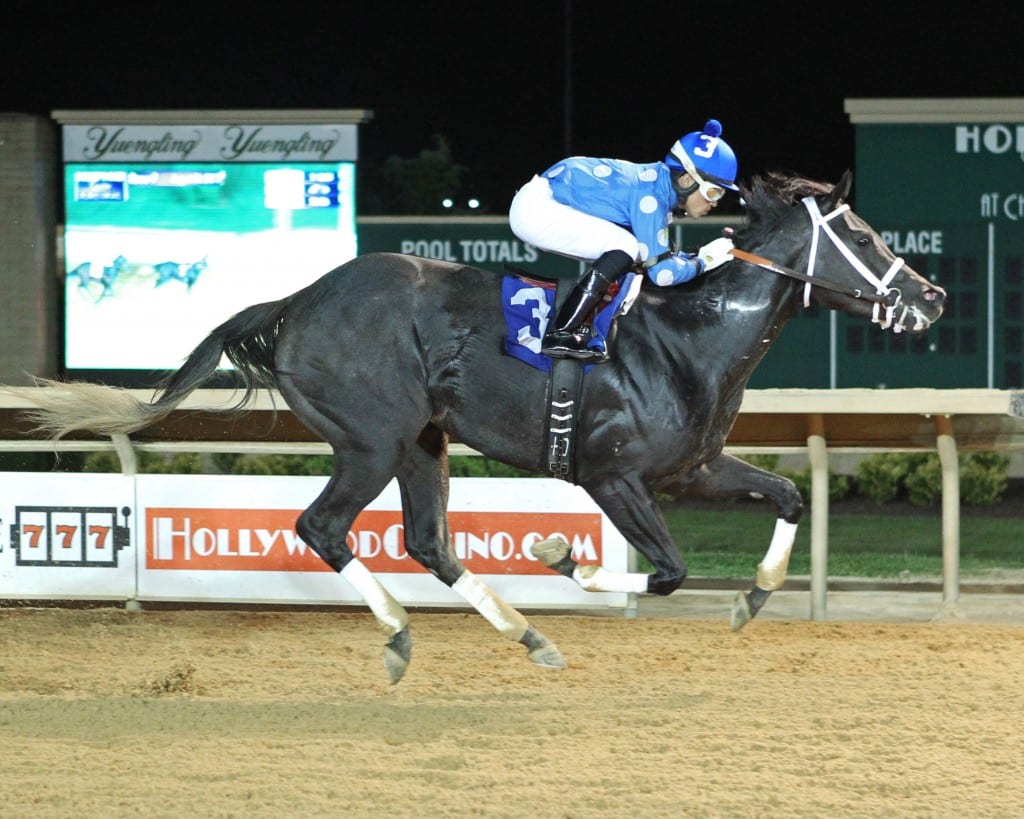 Moonlit Song. Photo by Coady Photography.
by Ted Black
One year after she stamped herself as the best local distaff runner with an emphatic score against older rivals in the the $50,000 Sadie Hawkins Stakes, Moonlit Song will seek to defend her title in that event on Saturday night.
A homebred daughter of Fiber Sonde trained by Tim Grams and bred and owned by the Grams Racing Stable (Tim and wife Judith Grams), Moonlit Song has been the queen of the local distaff division for the past 18 months, recording five stakes wins, including the Sylvia Bishop, Sadie Hawkins and Cavada last season when she won eight of 11 starts and earned over $234,000. Moonlit Song ran second in her only stakes try this season, in the 4 1/2-furlong Fancy Buckles, but she has won four times and been second on three occasions in seven outings.
She is 6-5 on the morning line, and, with Runnin'toluvya, 8-5 on the morning line for the Frank Gall Memorial, could give Grams a big evening.
"She's doing really good right now," Grams said of Moonlit Song. "She's won her last two allowance races here pretty easily, and she's just coming into the stakes schedule right on target. I nominated her to the [$100,000] Pink Ribbon Stakes, too, but those open races can come up so tough. I felt like I had to try her in the Sadie Hawkins last year because she was doing so good and that would give me an idea of whether or not to go in the Cavada. She won them both, so this year her main target has been to win them again."
Moonlit Song has won six of seven starts in two-turn events at Charles Town, with her lone setback being a second-place finish behind Devine Mischief, a sophomore daughter of Into Mischief trained by Joe Sharp who entered in, but is expected to scratch from, the Grade 3, $300,000 Charles Town Oaks, the feature on the annual "Race For The Ribbon" card here on Saturday night. Moonlit Song has won 13 of 20 starts overall (13 of 19 over the strip). She has been favored 12 of her last 15 starts and prevailed on nine of those occasions, seven times as the odds-on choice.
Grams will look to take down two of the features on the undercard with Runnin'toluvya in the Frank Gall. Both Moonlit Song and Runnintoluvya will also be seeking a much more lucrative stakes double on West Virginia Breeders Classics night here next month when they go postward in the Cavada and Classic, respectively.
"He's coming into the race great," Grams said of Runnin'toluvya, a four-year-old Fiber Sonde gelding who arrives having won four straight and five of six this year after missing all of 2017 with an injury. "He's won his last four starts up here against allowance company, and he's ready to try stakes horses again. He's already faced some of the horses in the Gall that are pointing for the Classic, and he's done well. He's been really good going two turns here, but I think he will do even better going a mile and an eighth. It all depends how he comes out of the Gall."
Runnin'toluvya has won seven of 11 starts and banked over $130,000 in his career. He won two of five starts as a juvenile, including a score in the West Virginia Vincent Moscarelli Memorial Breeders Classic, but he missed all of his sophomore season after suffering a minor leg injury in the James F. Lewis Stakes at Laurel one start later. Runnin'toluvya returned to training last winter and displayed plenty of ability in his subsequent outings, winning his four-year-old debut and five of six overall this year and now gets the acid test against proven older state-bred runners in the Gall, the last local springboard to either the Classic or the Onion Juice BC at seven panels.
"I was a little uncertain how well he would come back from his injury after being off a year, but he's done everything that we've asked of him," Grams said. "He's been training well and racing well and he bounces right back from his races. If he runs a big race in the Gall, I will probably try to have him ready for the Classic. But if he shows me he doesn't want to go that far that soon then I will probably put him in the Onion Juice and then wait to try him in the Classic next year if he shows me he can get three turns."
Grams will also send out 15-1 longshot Preacher Grand in the $50,000 Henry Mercer Stakes for state-bred two-year-olds, a prep for the Moscarelli, as well as both Rip Current (15-1) and Dionysus' Chalice (12-1) in the $35,000 Last Enchantment Stakes and Rock N Gold (12-1) in the Hawkins along with Moonlit Song. Preacher Grand finished third in his career debut last Thursday (Sep. 13), beaten seven lengths by Bootsie Boy, who won easily as the 1-2 choice for owner-trainer John A. Casey and is 6-1 on the morning line for the Mercer.