Oak Bluffs looking for MATCH Series title in Laurel Dash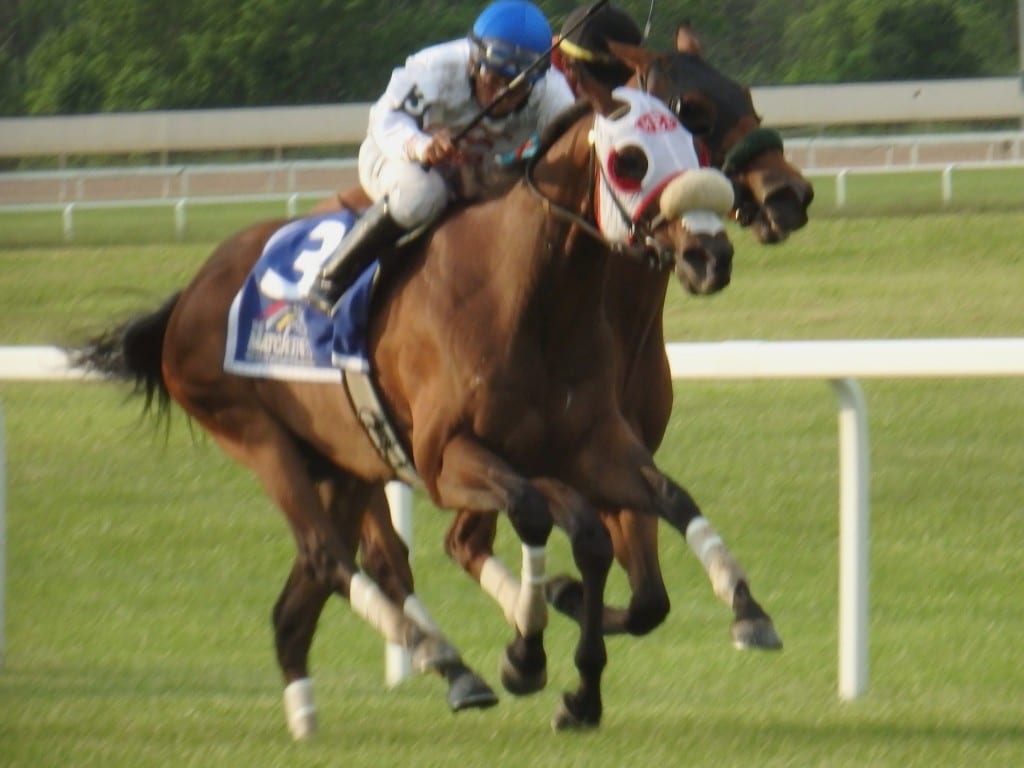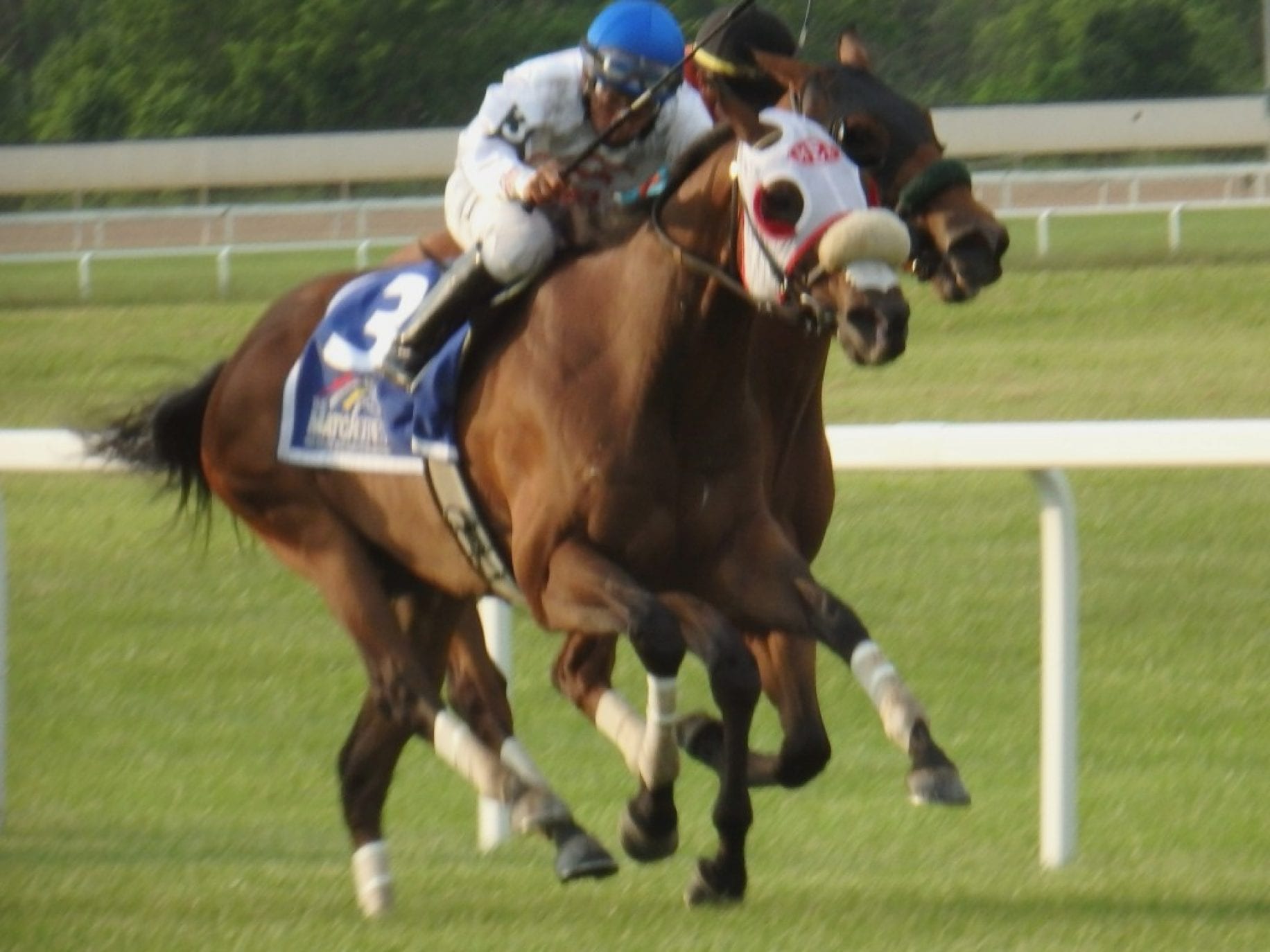 Oak Bluffs. Photo by The Racing Biz.
by Tom LaMarra, MATCH Series
The overall championship in the 2018 MATCH Series—and more than $100,000 in bonus money—will be decided Sept. 22 at Laurel Park.
The track will host the three final races in the 25-race series: the grade III, $250,000 Frank J. De Francis Memorial Dash (3-Year-Olds and Up Sprint—Dirt Division), $100,000 Laurel Dash (3-Year-Olds and Up Sprint—Turf Division), and $100,000 Sensible Lady Turf Dash (Filly and Mare Sprint—Turf Division).
The overall champion hinges on finish position and points. Sycamore Racing V's Jessica Krupnick has 34 points in the Filly and Mare Sprint—Dirt Division, which concluded Sept.15 at Parx Racing, and remains the target for the MATCH championship, which provides $50,000 to the owner and $25,000 to the trainer.
Division bonus money is paid as follows: First place, $20,000 (owner) and $15,000 (trainer); second place, $15,000 (owner) and $10,000 (trainer); and third place, $10,000 (owner) and $5,000 (trainer).
Points are awarded as follows: 10 for first, 7 for second, 5 for third, 3 for fourth, 2 for fifth, and 1 for sixth through last. Horses making their fourth start in a division earn 5 bonus points, while those making a fifth start get an additional 2 bonus points for a total of 7.
Two of the three still in contention — Laki, who won the Polynesian Stakes via disqualification, and Lewisfield, who has been in the money in all three of his MATCH Series starts — will face off in the Grade 3 Frank J. De Francis Memorial Dash. The former has 23 points to date and would finish with 35 points if he were to win the De Francis, giving him the overall title. The latter, with 19 points to date, will get five bonus points for making his fourth Series start and would finish with 34 points with a victory.
And then there's the other horse.
Oak Bluffs has quietly amassed 22 points — third-most of any horse — and would reach 34 points with a win in the Laurel Dash. He is 10-1 on the morning line.
Pimlico Race Course-based trainer Mary Eppler already took the 3-Year-Olds and Up Long—Dirt Division with Adam Staple and Jalin Stable's 8-year-old gelding Page McKenney, who was retired several days before the fourth leg of the division. And she found out Sept. 19, by virtue of nominated horses that didn't enter the Laurel Dash, that she had won the division with another 8-year-old gelding, Oak Bluffs.
Like Page McKenney, who earned most of his almost $2 million after Eppler claimed him for $16,000 in 2013, Oak Bluffs proved a bargain claim at $5,000 in his final start of 2015. In the almost three years since, he has banked $300,350 competing primarily in stakes and allowance turf sprints in the Mid-Atlantic region and South Florida.
Oak Bluffs, bred in New Jersey by Patricia Generazio, has raced in the first four legs of the 3-Year-Olds and Up Sprint—Turf Division, which means he would get two bonus points on top of points for finish position in the six-furlong Laurel Dash. He already has earned a $5,000 bonus for Generazio—owner of the top turf sprinter Pure Sensation—from the Thoroughbred Breeders Association of New Jersey for being the top New Jersey-bred colt or gelding by points in the MATCH Series.
Eppler, who is closing in on 850 wins and has accumulated more than $20 million in earnings in her training career, said she saw upside with Oak Bluffs when she submitted the claim slip. Oak Bluffs, by Defrere, finished third in the Jim McKay Turf Sprint at Pimlico and then won the Pennsylvania Governor's Cup at Penn National as part of his MATCH Series run.
The second and third horses in the division standings — Imprimis (20 points) and Pool Winner (19 points) — were nominated to the Laurel Dash but not entered. Pool Winner, owned by Colts Neck Stable and trained by Alan Goldberg, has raced three times in the MATCH division, so he qualifies for bonus money. He is currently second in the standings but Pewter Stable's Dubini, trained by Kathleen Demasi, has 12 points and will earn 5 bonus points for his fourth division start in the Laurel Dash plus any points based on finish position.