Maryland Racing Commission approves new Frederick OTB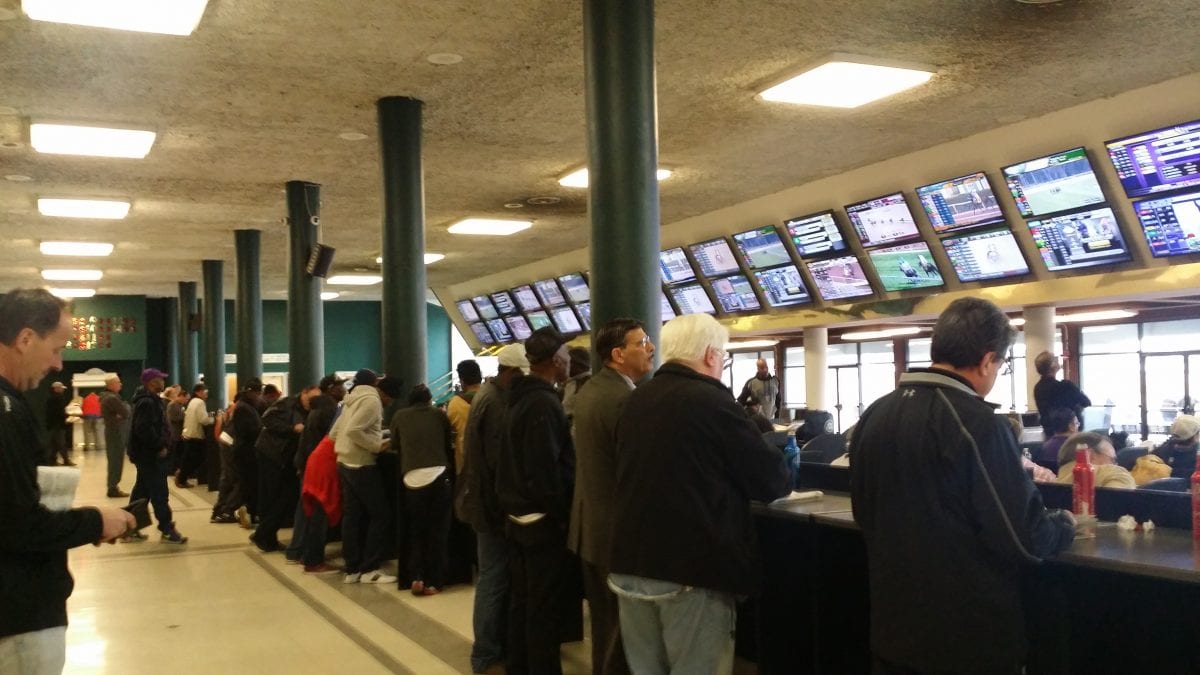 Betting at Laurel Park. Photo by Jim McCue, Maryland Jockey Club.
by Frank Vespe
For the second time in eight days, the Maryland Racing Commission September 8 gave approval for the Maryland Jockey Club to open a new off-track wagering facility. While the most recent prior approval — of the OTB at MGM National Harbor — came after a hearing involving several speakers and what Commission chair Michael Algeo called "a very detailed discussion" among Commissioners, this one came with nothing but community support and passed on a voice vote.
The new OTB will be at the Clarion Hotel located at 5400 Holiday Drive in Frederick. It is expected to open by the end of the year, though Commission executive director J. Michael Hopkins told the Commission that he did not expect it to open by a propsed November 1 start date.
"From our perspective, there isn't a better place in Frederick County to host a facility like this," Rick Weldon, president and CEO of the Frederick County Chamber of Commerce told the Commission.
Frederick County had been without an off-track wagering facility since the 2011 closure of the Cracked Claw Restaurant on Urbana Pike. The Cracked Claw reportedly had been the first OTB in Maryland before succumbing to difficult economic conditions.
The new off-track wagering facility. in a hotel owned by Randy Cohen, sits just off Interstate 270 near where it crosses I-70. That, and other factors, make it a good location for the new facility.
State Del. Carol Krimm, a Democrat who represents an adjacent district, said that she didn't "have any objections to the location" of the OTB. She also told the Commission that a number of her constituents were interested in seeing the return of off-track betting to the county.
Beyond the mile racetracks Laurel Park and Pimlico, the new OTB will be the eighth the Maryland Jockey Club has opened in recent years, joining the facility at MGM National Harbor as the newest OTBs in the state.
It also figures to be among the largest in the state. Cohen told the Commission that it would be able to accommodate "615 people seated and 200 standing."
The Commission meeting took place at the administrative building of the Great Frederick Fair, the county fair taking place between Sept. 14 and Sept. 22 this year. Prior to the meeting, Commissioners watched a couple of harness races on the fairgrounds oval.
COMMISSION NOTES It was the first Commission meeting since June, though the Commission had taken certain actions in the interim that were ratified at the meeting.Those included approving the Maryland Jockey Club's requests for dates for Laurel Park (61 live days) and Rosecroft (28 live days) for the fall, as well as expenditures from the Maryland Bred Fund for the fall, including for Maryland Million… The Commission approved a request from the Maryland Thoroughbred Horsemen's Association to allocate $500,000 from the purse account to the Backstretch Employees Pension Program, an increase of $100,000 from last year… The Commission also gave the nod to the Cecil County Breeders Fair's request for two live days in May 2019, up from one this year…