Keefe: Pressure "doesn't seem to faze" Kelso-bound Still Having Fun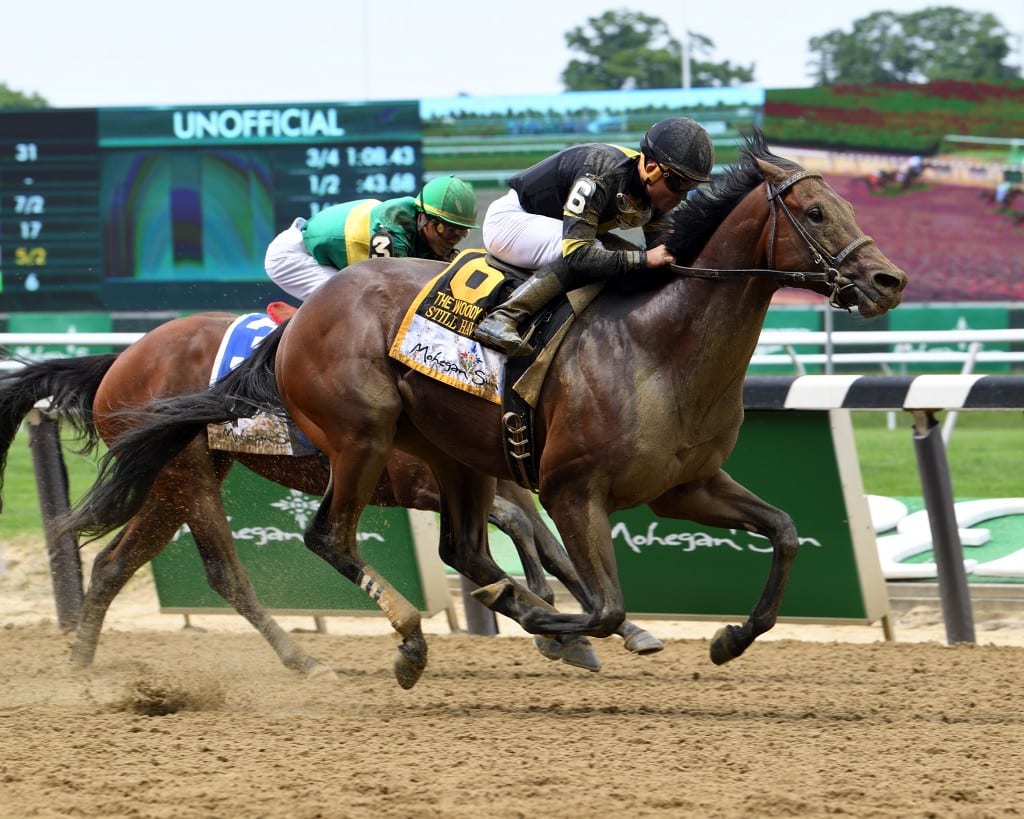 Still Having Fun won the G2 Woody Stephens Stakes. Photo by Viola Jasko/NYRA.
by Frank Vespe
"He's been a really cool horse," trainer Tim Keefe says of Still Having Fun. "I know I keep saying that, but he has been."
Now that really cool horse is set to return Keefe, 51, to the site of his biggest victory as a trainer, Belmont Park. Still Having Fun won the Grade 2 Woody Stephens on Belmont Stakes day in June and is expected to run Saturday in the Grade 2, $300,000 Kelso Handicap. The Stephens was Keefe's first graded stakes victory.
Keefe has Still Having Fun cross-entered in both the Kelso, a one-mile test for three-year-olds and up, and Parx Racing's Grade 3 Gallant Bob, a six-furlong sprint for three-year-olds. But he said Wednesday he was planning on heading to Belmont.
"The (one-mile Kelso) distance suits him a little better," Keefe said. "It is against older horses, but at some point, we'll have to face them."
Still Having Fun, a sophomore Maryland-bred  Old Fashioned colt, owns three stakes wins, including the Stephens, a seven-furlong, Grade 2 event. He also took the seven-furlong Frank Whiteley, Jr. Stakes and the one-mile Miracle Wood, both at Laurel Park. All three were around one turn. He was co-bred by Keefe and Mr. and Mrs. Charles McGinnes and is owned by a group that includes Terp Racing, Wachtel Stable, and Gary Barber.
After the Whiteley and Miracle Wood triumphs, Still Having Fun was on the Preakness trail. But the increasing distances didn't do him any favors, and he finished fourth, albeit with excuses, in the 1 1/16 mile Private Terms and then a so-so sixth in the 1 1/8 mile Federico Tesio.
Returned to sprinting, he rallied from last to be second in the six-furlong Chick Lang on the Preakness undercard before closing from way out of it to win the Stephens by 1 1/4 lengths at 13-1 odds. His late kick was certainly aided by the ridiculously fast opening fractions — the half-mile went in 43 3/5 seconds — but his final time of 1:21 2/5 was nothing to sneeze at, either.
In his follow-up to the Stephens, Still Having Fun could mount only a mild rally and finished fifth in the Grade 1 H. Allen Jerkens Stakes at Saratoga.
"We were a little disappointed with where he finished at Saratoga," Keefe said. "But the track was so speed-biased that week that horses had a hard time making up any ground."
Keefe obviously will be hoping for a fairer racing strip come Saturday at Belmont, and he's happy he'll once again have Joel Rosario in the irons. Rosario, a winner of some five dozen Grade 1 races in his career, has ridden Still Having Fun in his last two starts.
Still Having Fun is not nominated to the Breeders' Cup, and Keefe said supplementing him isn't likely in 2018. But the connections do have a major seasonal goal in mind.
"Ultimately, Adam (Wachtel, of co-owner Wachtel Stable) would like to take a shot with him in the Malibu," Keefe said.
That race is a Grade 1 contested at seven furlongs at Santa Anita Park. It is typically run the day after Christmas.
In the meantime, though, there is the small matter of the Kelso. Still Having Fun is 8-1 on the morning line in the seven-horse field. Last year's Breeders' Cup Dirt Mile winner Battle of Midway, making just his second start of 2018, is the 2-1 favorite. Sunny Ridge, the New Jersey-bred millionaire, is 3-1.
Keefe said he plans to ship Still Having Fun up to Belmont the morning of the race and expects that, however the race shakes out, his charge will run his race.
"He came out of the race at Saratoga like it wasn't a big deal to him," Keefe said. "The pressure doesn't seem to faze him."