Trio of newcomers spice up Top Midlantic-bred Poll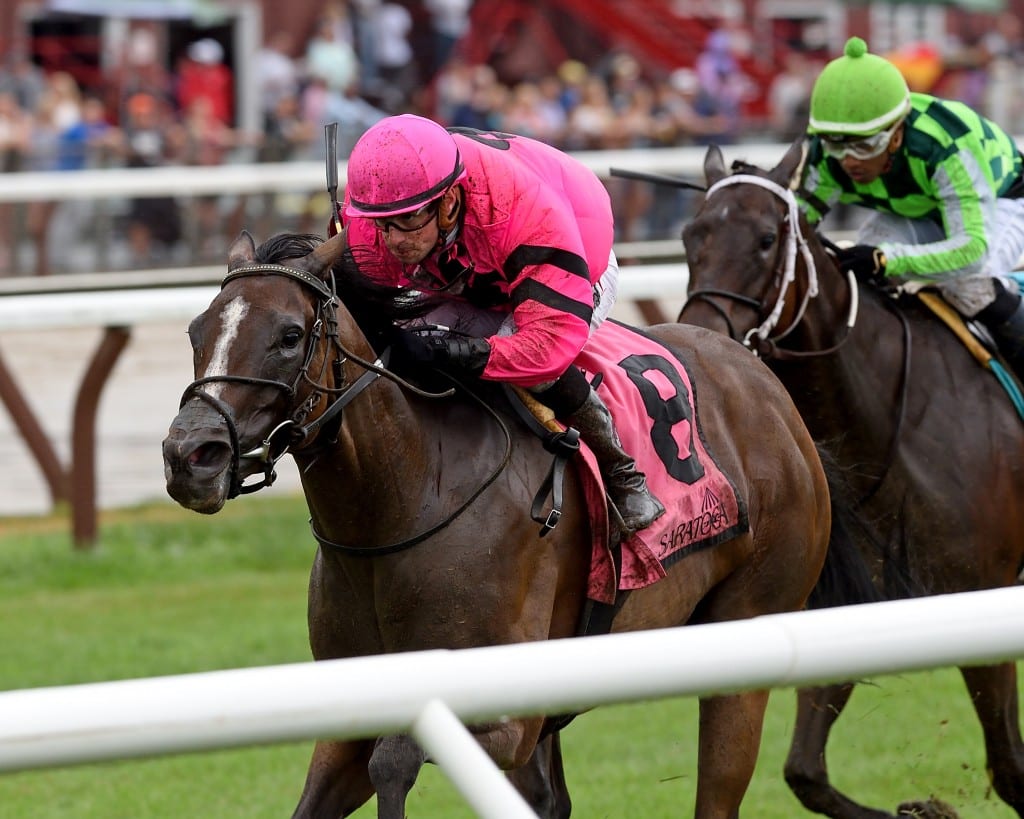 Ruby Notion won the Caress Stakes. Photo by Chelsea Durand/NYRA.
Staff report
Three horses that weren't on anyone's radar screen earlier this year crashed the latest Mid-Atlantic Thoroughbred/The Racing Biz Top Midlantic-bred Poll that was released September 14.
In the first poll in which three-year-olds and older horses were considered together, the Pennsylvania-bred four-year-old filly Unique Bella, who's now retired, held down the top spot on the strength of her two Grade 1 wins this season.
But it was the newcomers who made the biggest splash.
Spring Quality, a six-year-old Quality Road gelding, now is in second in the poll. Bred in Pennsylvania by George Strawbridge, Jr. and owned by his Augustin Stable, Spring Quality caught voters' eyes with a pair of big efforts in Grade 1 company. He scored an 18-1 upset to win the G1 Manhattan Stakes in June and validated that result with a solid third-place finish in the G1 Sword Dancer at Saratoga August 25. He is trained by Graham Motion.
The five-year-old West Virginia-bred mare Ruby Notion went nearly three years between stakes wins — from the Selima Stakes in September 2015 until this July — but two consecutive stakes scores have her sixth in the current poll. Ruby Notion won the Caress Stakes at Saratoga in July and followed that up with a hard-fought victory in the Grade 3 Kentucky Downs Ladies Sprint September 8. Ruby Notion, a daughter of Great Notion, is trained by Darrin Miller for owner-breeder Silverton Hill LLC.
And veteran campaigner Long On Value checks in in seventh place. The Virginia-bred son of Value Plus got a late start to the season — he didn't race this year until June 2 — but he's now two-for-two, including a win June 30 in the Grade 1 Highlander Stakes at Woodbine. His two wins this year have pushed him to over $1.1 million in career earnings. He is trained by Brad Cox for a partnership including Madaket Stables LLC, Ten Strike Racing, and Steve Laymon. Long On Value was bred by Snow Lantern Thoroughbreds.
Of the seven horses in the poll, three were bred in Pennsylvania, and two were bred in Virginia. Maryland and West Virginia were represented by one runner each. Five were males and two were females.
The monthly Mid-Atlantic Thoroughbred is the only publication devoted to Thoroughbred breeding and racing in the Mid-Atlantic region. The Racing Biz, an online publication, is the independent voice for mid-Atlantic racing and breeding.
The poll is restricted to horses that have run in 2018 and were bred in Pennsylvania, Maryland, Virginia, West Virginia, New Jersey, Delaware, and the Carolinas.
TOP MIDLANTIC-BREDS
Unique Bella (PA) — 4yo filly by Tapit-Unrivaled Belle, by Unbridled's Song; bred by Brushwood Stable; trained by Jerry Hollendorfer for Don Alberto Stable; won G1 Clement L. Hirsch, G1 Beholder Mile, G2 Santa Maria, 2nd Grade 1 Apple Blossom. Now retired.
Spring Quality (PA) — 6yo gelding by Quality Road-Spring Star, by Deputy Minister; bred by George Strawbridge, Jr.; trained by Graham Motion for Augustin Stable; won G1 Manhattan S., 2nd G3 Fort Marcy, 3rd G1 Sword Dancer
Still Having Fun (MD) — colt by Old Fashioned-Casual Kiss, by Dehere; bred by Tim Keefe and Mr. and Mrs. Charles McGinnes; owned by Gary Barber, Wachtel Stable, and Terp Racing LLC; won G2 Woody Stephens, Miracle Wood S., Whiteley S.
One Go All Go (VA) — 6yo horse by Fairbanks-See Ashleigh Run, by Marquetry; bred by Albert P. Coppola; trained by Charles Dickey for Rodney Paden; Won Grade 2 Dixiana Elkhorn S., 2nd G2 Mac Diarmida S., 2nd G2 Ft. Lauderdale S., 2nd G2 Pan American S., 3rd G1 Man o' War S.
Army Mule (PA) — 4yo ridgling by Friesan Fire-Crafty Toast, by Crafty Prospector; bred by Hope Hill Farm; trained by Todd Pletcher for St. Elias Stable; won G1 Carter H.
Ruby Notion (WV) — 5yo mare by Great Notion-Modena Bay, by Volksraad; bred by Silverton Hill Farm LLC; trained by Darrin Miller for Silverton Hill LLC; won G3 Kentucky Downs Ladies Sprint S., Caress S.
Long On Value (VA) — 7yo horse by Value Plus-Long Message, by Orientate; bred by Snow Lantern Thoroughbreds; trained by Brad Cox for Madaket Stables LLC, Ten Strike Racing, and Steve Laymon; won G1 Highlander S.
Also receiving votes: Irish War Cry, Page McKenney, Golden Brown, Lewisfield, Daddy Is a Legend, Dixie Serenade, Call Paul, Senior Senator, Blamed
Participating Voters: Ted Black (freelance writer), Michael Campbell (Thoroughbred Breeders' Association of New Jersey), Joe Clancy (Mid-Atlantic Thoroughbred), Cindy Deubler (Mid-Atlantic Thoroughbred), Linda Dougherty (freelance), Debbie Easter (Virginia Thoroughbred Association), Paul Espinosa (Charles Town Races), Anne Frederick (Maryland Horse Breeders Association), Rich Glazier (Delaware Park), Cricket Goodall (Maryland Horse Breeders Association), Jim Hague (freelance), Nick Hahn (freelance), Carol Holden (West Virginia Breeders Classics), Tom LaMarra (The Blood-Horse), Jeff Nations (freelance), Kate Painter (West Virginia Thoroughbred Breeders Association), Vinnie Perrone (freelance), Frank Petramalo (Virginia Horsemen's Benevolent and Protective Association), Gary Quill (The Racing Biz), David Richardson (Maryland Thoroughbred Horsemen's Association), Brian Sanfratello (Pennsylvania Horse Breeders Association), Sal Sinatra (Maryland Jockey Club), Chris Sobocinski (Delaware Park), Dan Tordjman (freelance), Frank Vespe (The Racing Biz), Bill Watson (freelance), Lydia Williams (freelance), Bobby Zen (freelance).
Note — Not all participating voters will vote in every poll.
Top Midlantic-breds in action this weekend