Something Awesome back on work tab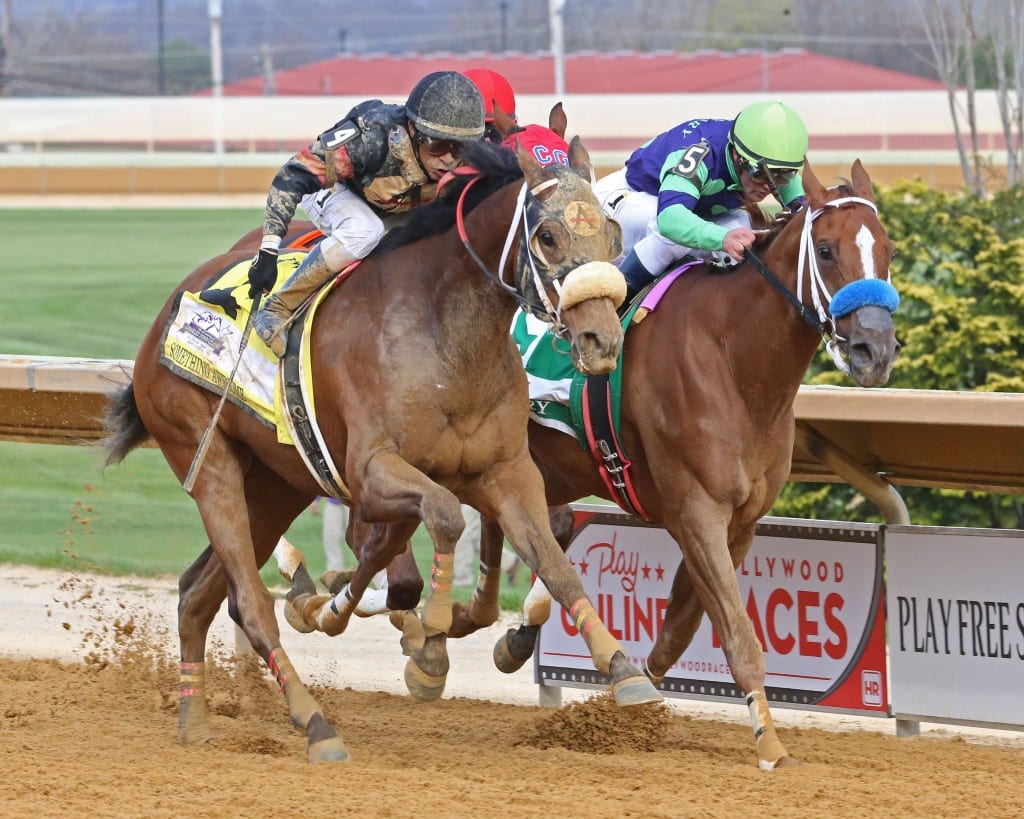 Something Awesome (#4, outside) was narrowly best in the Grade 2 Charles Town Classic. Photo by Coady Photography.
From a Maryland Jockey Club release
Stronach Stables' two-time graded-stakes winning homebred Something Awesome is back on a regular work schedule as he prepares to launch his comeback for Laurel-based trainer Jose Corrales.
Unraced since finishing eighth in the Pimlico Special (G3) May 18, Something Awesome spent two months recuperating at Adena Springs North in Aurora, Ontario before returning to Corrales six weeks ago. He went three furlongs in 38 seconds Sept. 8 over Laurel's main track.
"He's coming back. I'm taking a little time with him. I just started slow with him to see where we can get. He's coming into himself already," Corrales said. "He looks pretty good. When they come back you have to restart them, tack walk them, jog them, gallop them and build up the muscles again. He's taking it pretty good."
The Pimlico Special was just the second loss in seven starts for Something Awesome since being transferred to Corrales last fall. He had won three straight, all in stakes – the General George (G3), Harrison E. Johnson Memorial and Charles Town Classic (G2) – to put him over $1 million in career purses.
Following his victory at Charles Town, where subsequent Commentator, Suburban (G2) and Whitney (G1) winner Diversify ran last as the favorite, Something Awesome was considered a Breeders' Cup Classic (G1) candidate by his connections. They have not given up on making the event, scheduled for Nov. 2 and 3 at Churchill Downs.
"Before when he was going good, we were thinking about the Classic. You can always dream," Corrales said. "This is my first horse to get into the rodeo, you know. I don't like to try to brag about he can do this or he can do that; I let the horse do it. As long as he can be able to run good back again, we'll try.
"He showed me so much that he can do anything. The horse we beat at Charles Town, he come back and win three stakes, two big races in New York," he added. "He's very comparable. I think everybody probably underestimates him because he only did it now when he's 7 years old. I think he had it in him but he never really went the long distances; I think even longer he can do better."
Something Awesome gave Corrales, a former jockey that won 1,031 races between 1981 and 1993, the first graded wins of his career. He plans to work his stable star again this weekend and is hoping to find a spot locally to bring him back and set him up for a possible trip to Kentucky.
"Depending on how the weather is, if the track is good he will breeze again Saturday and we'll see where we are," Corrales said. "I would probably get one race before then. I can't just run from the farm to the Breeders' Cup. I'm not Bobby Frankel.
"I've been talking to [Adena Springs racing manager] Mike Doyle and he always gives me good advice on what to do," he added. "I'd like to run him here at Laurel and go from there."