For connections, maiden score by Abbo has extra meaning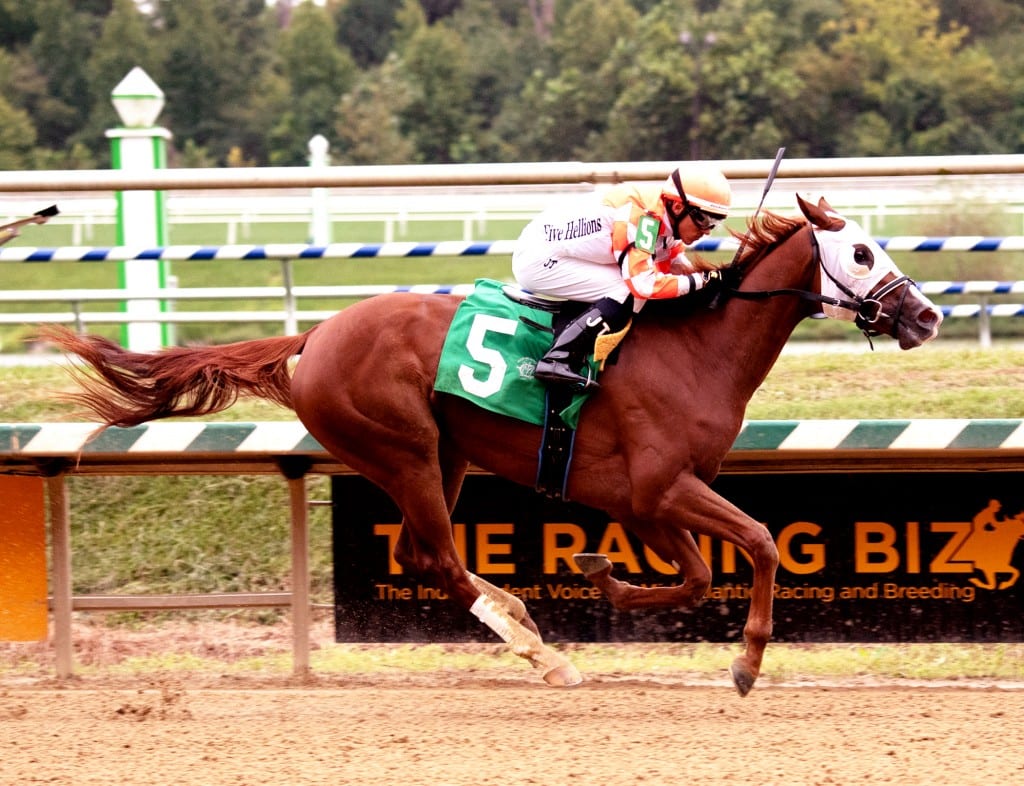 Abbo broke her maiden at Laurel Park. Photo by Jim McCue, Maryland Jockey Club.
by Frank Vespe
"Bobby Abbo was a great friend of ours," said Ned Williams Saturday afternoon at Laurel Park. "Bobby used to tease me all the time. He'd say, 'Why don't you have any good horses?'"
Now, Williams, who with partner Mike Mattese operates as Five Hellions Farm, may have the best rejoinder of all: a good horse, and one named for Abbo, the late Washington, DC restaurateur, philanthropist, and horseman.
Abbo, a two-year-old filly by Union Rags, broke her maiden easily in an off-the-turf maiden special weight test Saturday on a rainy afternoon at Laurel in just her second start. The win came almost exactly five years after Bobby Abbo's greatest racing triumph, a win in the 2013 De Francis Dash with the speedy Immortal Eyes.
"This is the top," trainer Damon Dilodovico told Bobby Abbo after Immortal Eyes's De Francis score, and it's probably safe to say that, for Williams and Mattese, Abbo-the-horse's win today was pretty close to the top in its own right.
"Especially being for Bobby, this is the most — of all the family that we've had from this mare, this one is the most important for us," Williams said. "I know he's looking down on us. He had so many friends and did so much good, so were really excited to name this filly after him and so happy she won."
By Union Rags, Abbo is out of the productive Good and Tough mare Maddalena. Her siblings include the graded stakes winner Bern Identity and the stakes-placed Battle of Evermore.
"This filly has shown she's a nice filly all along," said Chuck Lawrence, who trains Abbo for Five Hellions. "She's beautiful in the mornings and just so lovely to be around, her personality."
But her racing debut didn't do much to burnish her reputation. Sent off at 9-2, she broke outward and was never much involved, finishing last of five in a six-furlong test at Laurel Park.
Afterwards, Mattese said, he imagined Abbo looking down and "saying, I'm going to have you cussing me instead of praising me."
Today, for her second career race, a trifecta of changes played to Abbo's advantage: the added ground of today's one-mile contest, the addition of blinkers, and, for the first time the administration of Lasix.
"We really expected this when we stretched her out," Lawrence said.
"We were hoping she would want some more ground, and we put blinkers on her today and tried to do everything we could do to put her in the best spot," Williams agreed.
Maybe even more than that.
Though the race originally was scheduled for the turf, Williams joked that Mattese "was doing a rain dance last night" to get the race taken off the grass onto the main track. The rain dance apparently worked a little too well.
"I woke up to a flooded basement this morning," Mattese said ruefully.
The good track certainly seemed to be to Abbo's liking. Under jockey Jevian Toledo, she broke alertly today and quickly moved to press the pace, just to the outside of early leader River Gal. Those two were just a half-length apart after an opening half-mile in 49.65 seconds, and it was tighter still after three-quarters in 1:15.06.
Abbo took command in mid-stretch and drew away to win by three lengths. She stopped the clock in 1:40.45 for the one-turn mile. Money Fromheaven was along late for second, while River Gal held third. Abbo paid $6.20 to win as the 2-1 favorite and topped an exacta that returned $12.40 for a buck.
Bobby Abbo died in 2014, just a few months after Immortal Eyes's top victory. In his waning days, he maintained good spirits, fueled in part, friends said, by frequent reports on how his barn's top runner was doing.
Following his passing, his widow, Marcia, sold Immortal Eyes to David Jacobson. A few months later, Williams and Mattese visited the old warhorse at Jacobson's Saratoga barn where they found him perfectly healthy — but not at all happy.
"I mean, sulking, ears were pinned back," Mattese said. "We said, 'We gotta get him the hell out of here.'"
They bought Immortal back from Jacobson and sent him home, to Dilodovico's Laurel Park barn. After a few more tries in which they found they couldn't turn back the hands of time, they retired the horse.
Marcia Abbo herself passed away August 1, her spirits maintained towards the end by frequent reports on how Abbo, the two-year-old filly, was doing.
"Chuck videoed every work," Mattese explained. "(Her nephews) would bring down the video that Chuck sent them. They said it made her day because it gave her something to look forward to."
The circle thus completed, it appears that Mattese and Williams have something of their own to look forward to as Abbo's career unfolds. In years past, they've bred and sold good horses; they haven't owned any.
"We've been doing this for how long? Like 15 years," Mattese said. "We've never had a big horse."
"So many people are pulling for this horse," Williams added.
And maybe that's what it takes: a combination of good breeding, good horsemanship — and good karma.