Delaware: In Servis barn, youth being served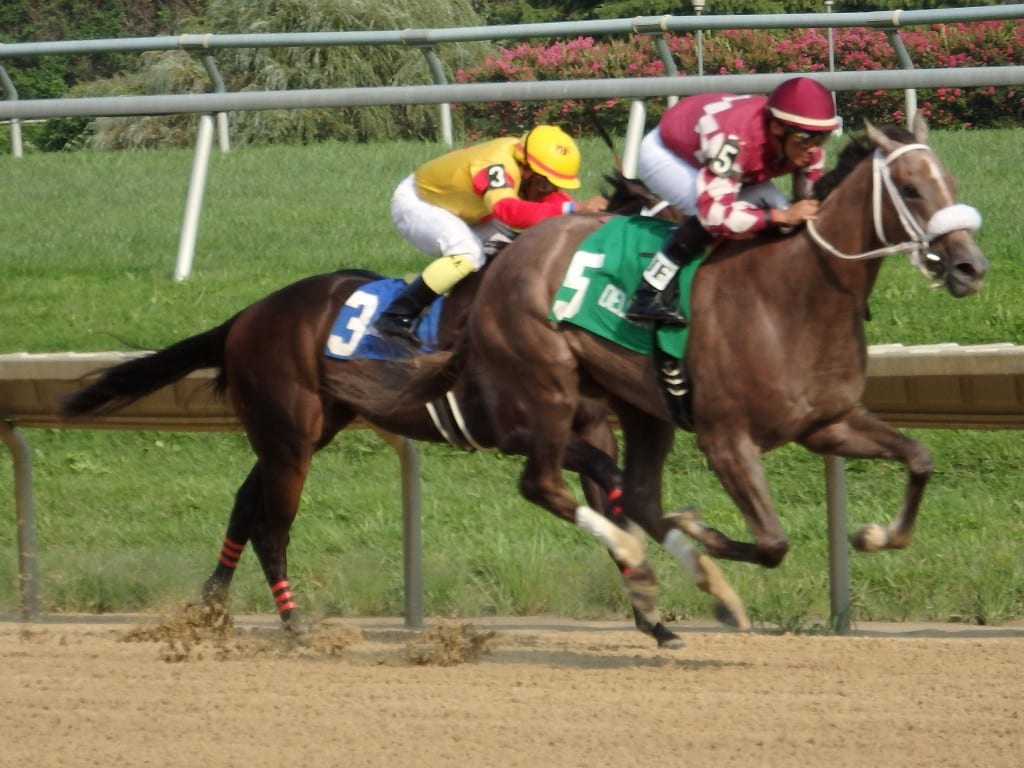 Jaywalk was along late to win the White Clay Creek Stakes at Delaware Park. Photo by The Racing Biz.
by Doug McCoy
It's been 14 years since a feisty colt named Smarty Jones captured the hearts of racing fans around the globe when he came within a few strides of being American racing's 12th Triple Crown winner. It's also been 14 years since racing fans nationwide came to realize what people around the Mid-Atlantic had known for some time: that Smarty's trainer John Servis was one of the best horsemen in the game.
These days, Servis is also proving that he's just as shrewd at the business end of racing. Competing and succeeding in these challenging times isn't easy, but Servis has a business plan that looks like it's working. His stable's earnings have risen slowly but steadily since 2006, and in each of the past two seasons Servis-trained runners have earned almost $4,000,000 in purses.
One of the main areas where Servis has made significant strides is his approach to just what kind of horse is needed to make his stable successful. Every trainer in the business wants young horses, but few operations in racing have made a stronger commitment to youth than that made by Servis and his owners. The trainer has 82 horses in training, and 35 of those –more than 40 percent — are two-year olds.
Servis and his owners, most notably DJ Stable (Len, Louise, and John Green) and Cash is King Stable LLC (Chuck Zacney), have been active at the yearling and two-year-olds in training sales around the country the past several years, and the Servis team has a specific game plan when they travel to these venues.
"We're looking for two-turn athletes when we go to those sales, horses that are going to eventually prove to be the most successful going around two turns and middle distances," Servis said. "While we certainly look at pedigrees, our focus is on the individual, the horse. We're looking at conformation and temperament and in the case of the horses under tack sales, their way of travelling."
Notably, in a time when media breathlessly report the fastest works at the under-tack sales and buyers put increasing emphasis on win-early types, Servis leans in the opposite direction.
"We're not very interested in those precocious types, the blazing speedballs who work furlongs in 10.4," he explained. "Those horses may come out running and win early but, if you look at their record overall you'll find a great number never make it to three and a fewer number make it to four. We've got a colt now who hasn't run yet who I think could be a good one, and when we looked at him at the sale, one of my owners was concerned because he 'only' went 11.4 in his one-furlong move under tack. I told my guy, 'If you find a horse that can go  :12, :12, :12, furlong after furlong, you've got a nice horse.'"
Servis' line-up of juvenile fillies is an impressive one, topped by a Cross Traffic filly named Jaywalk. Jaywalk won the White Clay Creek Stakes at Delaware Park last time out for her second win in three starts, and her trainer says he thinks she has what it takes to be a nice horse.
"She's very smart, very professional, and when you put the pedal down, she kicks in and gets the job done," he said. "She has the perfect temperament and running style, and we're looking at the Grade I Frizette at Belmont with her."
Malocchio, an Orb filly purchased for $190,000 from the Keeneland September sale, finished second in the Sorority Stakes at Monmouth on the turf in her third career start, and Servis thinks she also has the potential to be a good one.
"Joe Bravo (who rode Malocchio in the Sorority) came back after the race and said the filly absolutely hated the turf and she still ran second," Servis said. "We're looking at the Alciabiades at Keeneland for her."
And not all the Servis stars are 2-year-olds. Diamond King and First Mondays finished second and third, respectively, in the Grade III Smart Jones Stakes in their most recent outings, and Servis feels both are solid colts, with First Mondays having perhaps the higher upside. He's made just three starts in his career.
"They're both nice horses and in the case of First Mondays, he's still learning what it's all about," the trainer pointed out. "He raced up early last time out, then dropped back and we thought he was done. But he picked it up again and came running through the lane. When he learns what it's all about, I think he's going to be a good one."
And in keeping with Servis' philosophy of giving each of his young runners a chance to develop at their own pace, the trainer says he has a couple of very promising colts who have yet to run.
"We've got a Super Saver colt who isn't even named yet who is really doing some nice things in the morning and a colt named Lucky Lee who is also showing signs he could be a good one," Servis said. "While there's a lot of patience required when it comes to developing young horses, there's also that great feeling you get when a youngster develops and matures into a good horse. You know the future is with the young, and nowhere is that truer than horse racing."