Delaware: Survivor Aimee Hall enjoying productive season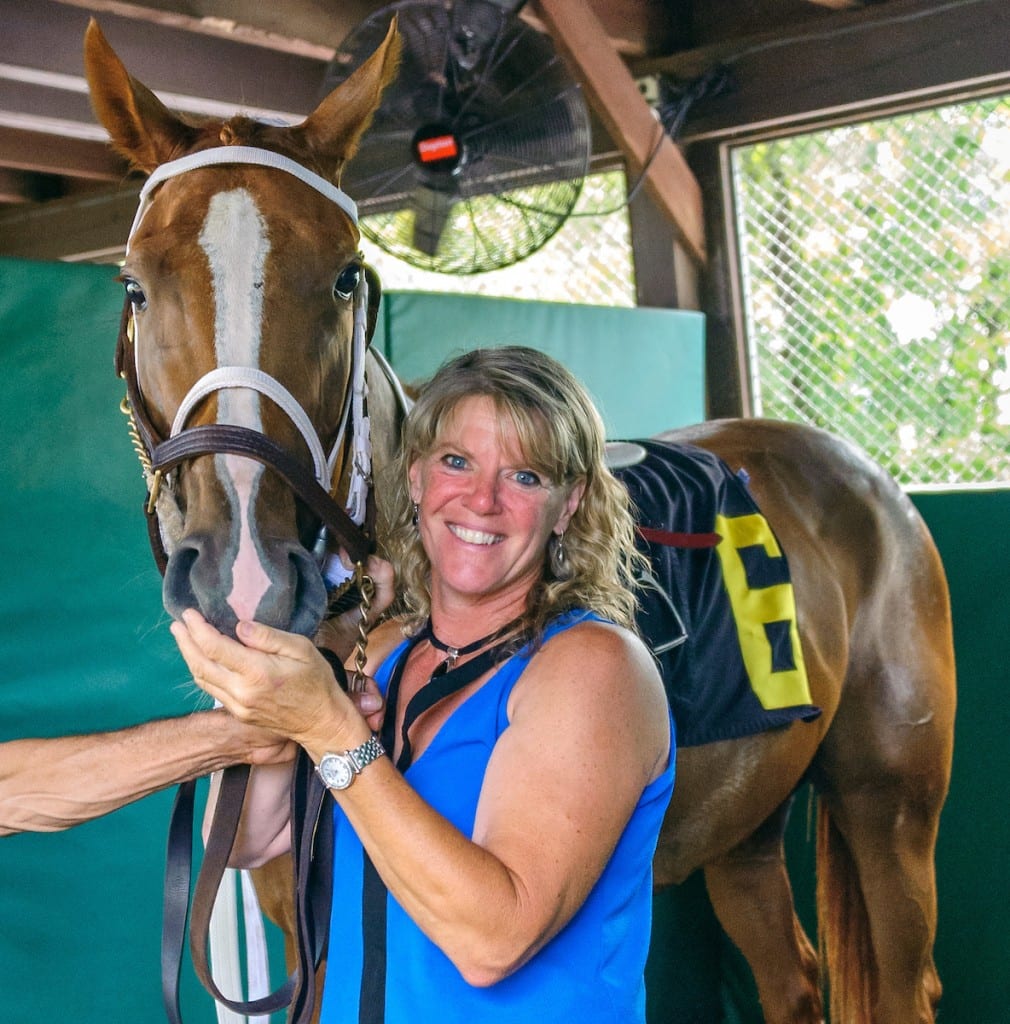 Aimee Hall and A Toast to Kay. Photo by HoofprintsInc.com.
by Doug McCoy
They've been forced to scatter, the New England horsemen and horsewomen like AImee Hall.
New England at one time held a position of prominence in thoroughbred racing. The area boasted 16 tracks. Famous stars like Seabiscuit, War Admiral and Discovery raced before packed grandstands in races like the Naragansett Special, and Hall of Fame jockeys like Eddie Arcaro and George Woolf thrilled and delighted the bettors booting home winners.
But in one of the saddest tales of the sport, New England racing steadily declined from its peak, and finally on October 4, 2014, 79-year-old Suffolk Downs ran the final race of a regular racing schedule in the region.
The area had spawned some of the business's best trainers and jockeys, but with their sport and livelihood dying before their eyes, many were forced to make critical career moves in order to make a living.
Aimee Hall was one of those native New Englanders that found herself struggling to stay afloat. Hall moved her operation from New England to the Mid-Atlantic region in 2000 when she brought a string to Delaware. While she's had her share of ups and downs in the business, she's earned a reputation as a shrewd and thoroughly professional horsewoman with a strong work ethic.
She has 12 head at Delaware this season, and August 27 the star of the stable, a speedy 4-year-old gelding named Odds On, dusted a field of optional allowance claiming sprinters while ripping through six furlongs in 1:09:70, one of the fastest six-panel times of the meeting. She has sent out five winners from 19 starters at Delaware and has six wins from 22 starters overall in 2018.
A third-generation horsewoman, Hall's grandfather had bred, trained and owned horses and her father John was in charge of the yearlings at Taylor Made Farm for more than 20 years before retiring recently. Hall had been around horses all her life and began getting on thoroughbreds when she was a child.
In 1991 she started her own public stable. She won 15 races that first year and through the 1990s the Hall stable grew steadily. She sent out 41 winners in 1998 and her horses earned more than $400,000 in 1999, a very respectable figure given the size of New England's purses at the time.
But Hall could see the writing on the wall regarding the future of her beloved sport in New England.
"As much as I would have loved to stay, it was pretty obvious that the quality of racing was steadily declining, and if I didn't make a move to another area I wasn't going to make a living," she explained. "We brought 10 horses to Delaware Park that year, and I fell in love with the place. It was obvious whoever designed the barn area had horses first and foremost in their designs. The layout was beautiful, and I felt like I had found a second home from a racing standpoint."
Hall married jockey Jose Caraballo in 1995, and in the early 2000s her racing operations scaled down while she continued to break yearlings and do private work for trainers like Anthony Pecoraro and others. Then in 2010 while working for Anthony Dutrow Hall went down on a horse, severely injuring her right ankle.
"The ankle was so badly damaged it was just dangling," she recalled. "I had to have five surgeries to finally repair all the damage. Then after I came back, I got kicked in the left shin, fractured my shin bone, and they had to put screws in the bone to hold it together."
Those injuries and the loss of several clients because of the move resulted in Hall's shutting down her stable from 2010 to 2016. In 2015 she went to work as an assistant to Lynn Ashby, and she still does work for that successful horsewoman today.
Eventually Suzanne Moscarelli, widow of noted Delaware trainer Vinnie Moscarelli and mother of former trainer Vince, contacted Hall and asked if she'd like to take some horses from her Country Roads Ltd. operation. Odds On was one of the Country Roads horses that Hall took over, and she said that though it took a while for the grey Against the Odds gelding to get over the issues that confront most young horses, she could see early on he was a horse with talent and potential.
Odds On has been in the money in all five of his career starts with two wins and nearly $60,000 in earnings.
"You could tell he had that special something early on," she noted, "and once he got it all together he began to act and train like a real race horse. He's a lovable guy, he loves people and he's a good-feeling horse. When he goes to the track he bucks and kicks and enjoys himself. He showed what kind of horse he is in that last race. Now we're pointing toward Maryland Million day since he's [Maryland-sired]. It's really gratifying to have someone like Mrs. Moscarelli to have the confidence to give me a shot with some nice horses."
And the last winner Hall sent out this meet is a perfect example of the kind of outfit this racing survivor has. A Toast to Kay rallied late to win her debut in the first race on August 30. The 3-year-old filly was bred and raised by her owner, Christine Coyle Gardner.
"She raised that filly from a baby, and that's special," Hall reported. "To see that horse win and the joy it brings, that's what this game's all about."