Timonium: Five wins and a change of venue for Erin Walker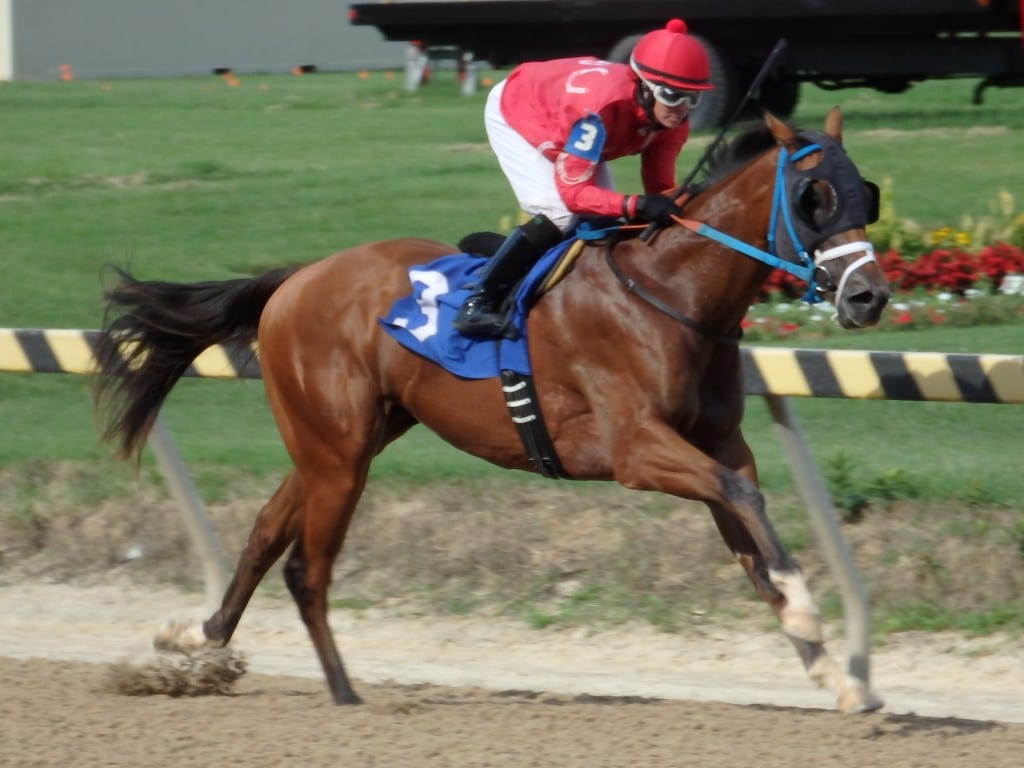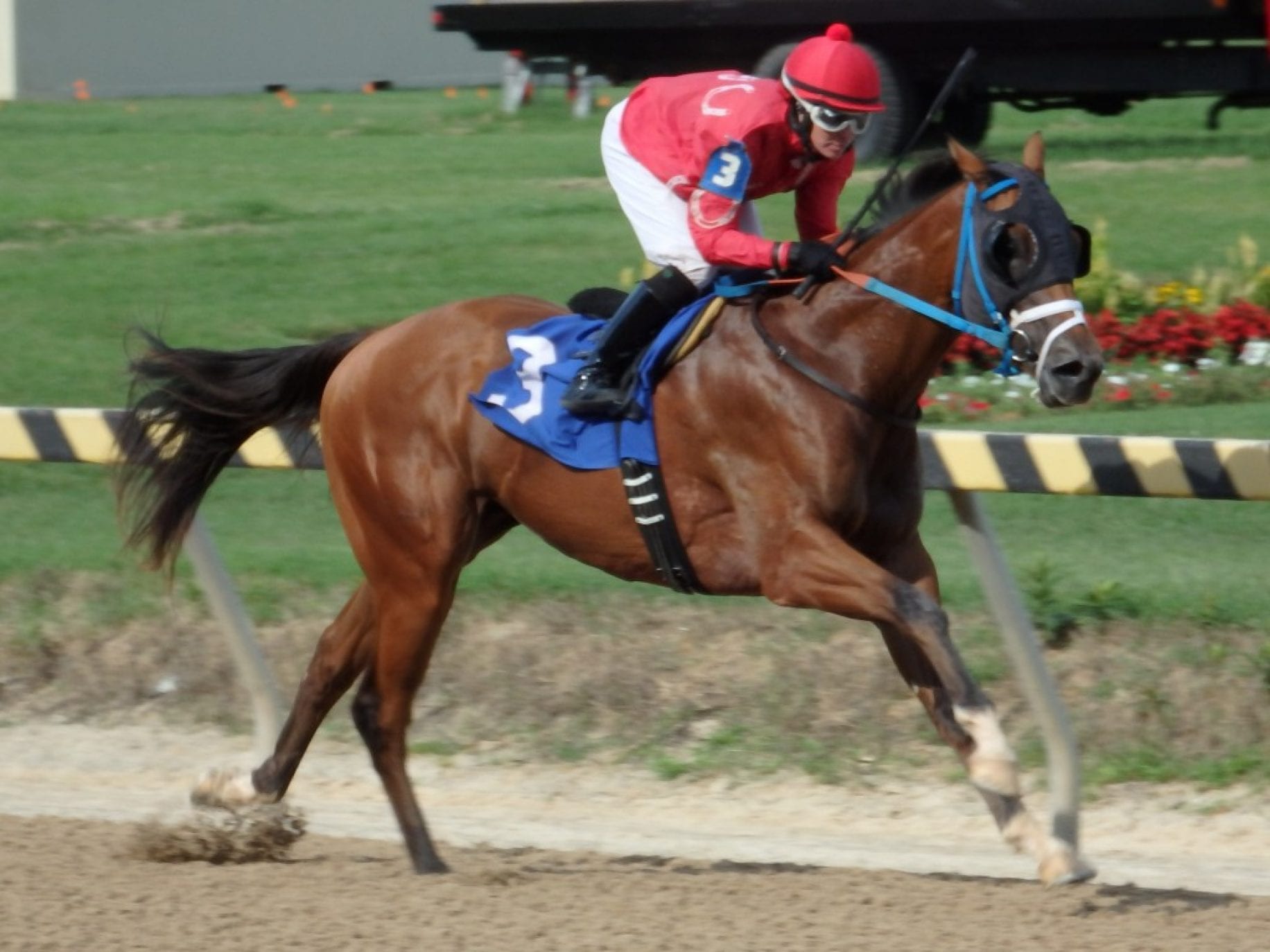 Hide the Candy and Erin Walker won at Timonium on closing day. Photo by The Racing Biz.
by Frank Vespe
Thirty-three year-old Erin Walker says she's been "sitting on horses for about 30 years now."
But few Marylanders would have recognized her name — prior to the last 10 days. The jockey has spent most of her five-year career toiling at Presque Isle Downs with stops at other Midwestern tracks.
During the last 10 days, however, she rode Timonium for the first time and now is looking to parlay a productive stand riding for trainer Gerry Brooks at the Big T into a positive step in her career.
"We got very lucky," Walker said. "We came down here with bunch of horses that had been training on the synthetic, on a mile track as well. He sent a good collection of horses that he thought would like the dirt, and that helps. The horses have shown up."
Walker won with five of 22 starters during the meeting, registering purse earnings of over $100,000. The five wins placed her in a four-way tie for second behind J. D. Acosta, who repeated as the meet leader with eight wins. Her purse earnings were fourth-most during the stand.
Now, once Presque Isle's meet ends in early October, she's planning to shift her tack to Maryland. In addition to her mounts for Brooks, she also rode a couple of horses for Ann Merryman over the closing weekend at the Big T.
Walker, from Newport News, VA, began riding with designs on being a Grand Prix show jumping rider.
"My size was a massive disadvantage — massive," she said of her small stature.
She continued, "I ended up in Ocacla doing the horse show circuit about seven or eight years ago. Somebody said, 'You're on the wrong side of town. You need to learn to gallop horses.'"
She found her way to working at the Eddie Woods Stables in Ocala. There she learned from the bottom, working with babies, breaking babies, and later galloping young horses, including breezing them at sales — among them the Fasig-Tipton Midlantic two-year-old in training sale in Timonium. That was her only prior experience in Timonium.
"I thought, 'Geez, I'd love to go faster for longer," Walker explained.
And so in 2014 she took out her jockey's license and began to ride in races. She lost the first 31 starts of her career before scoring with a win April 7 of that year aboard Lovely Jane.
She hasn't exactly broken through — she's made between 227 and 318 starts in each year of her career, with 14 to 27 wins per season — but she's been steadily increasing her purse earnings. The $532,512 in purse earnings she's logged thus far this year are the highest of her career.
"My whole career started five years ago just because it was kind of a personal thing," she explained. "Can you do it, can you not? I've been lucky enough to make an OK job of it. I haven't had to grow up and put on heels and get an office job."
Walker won with back-to-back mounts on the meet's opening day and finished the Big T meeting with a win aboard Hide the Candy, a maiden graduating in the second start of her career.
Afterward, she shook hands with a fan, then stopped to chat with three shy young girls.
"It's great to see the people out here and the kids out here," she said. "It's what racetracks need. It's kinda dying out. As a jockey, we thrive off of that. You always ride better when you have people cheering you on."
Now, she thinks, fresh off a solid meet at the Big T, it's time to take the next step.
"Look, it's always a crapshoot going to a new place," Walker said. "You don't know how you're going to be received or what opportunities people are going to give you. It makes it a lot easier to win a few races straight away. In this business when you have a half-decent opportunity, you take it because you don't know when it's coming again."