Fred Tallarico, last of Maryland racing ushers, passes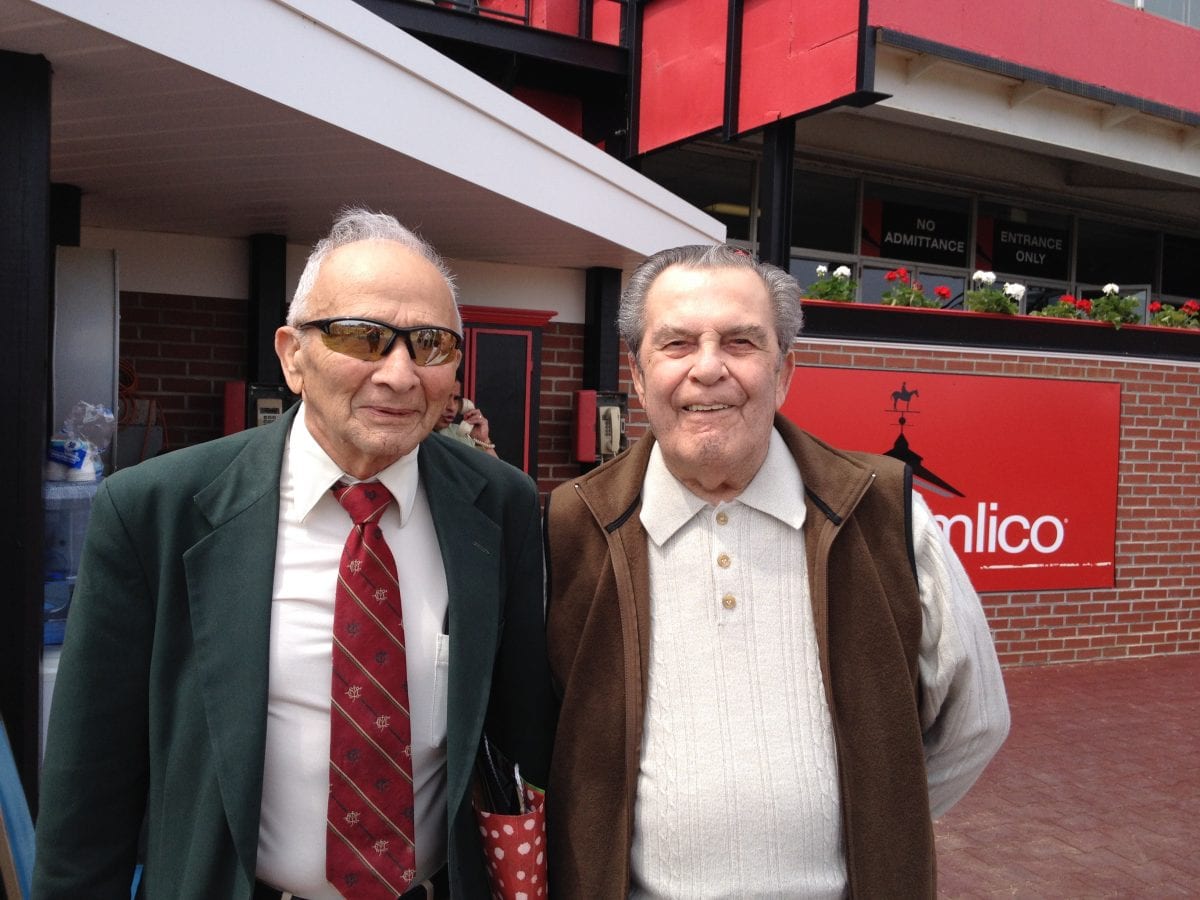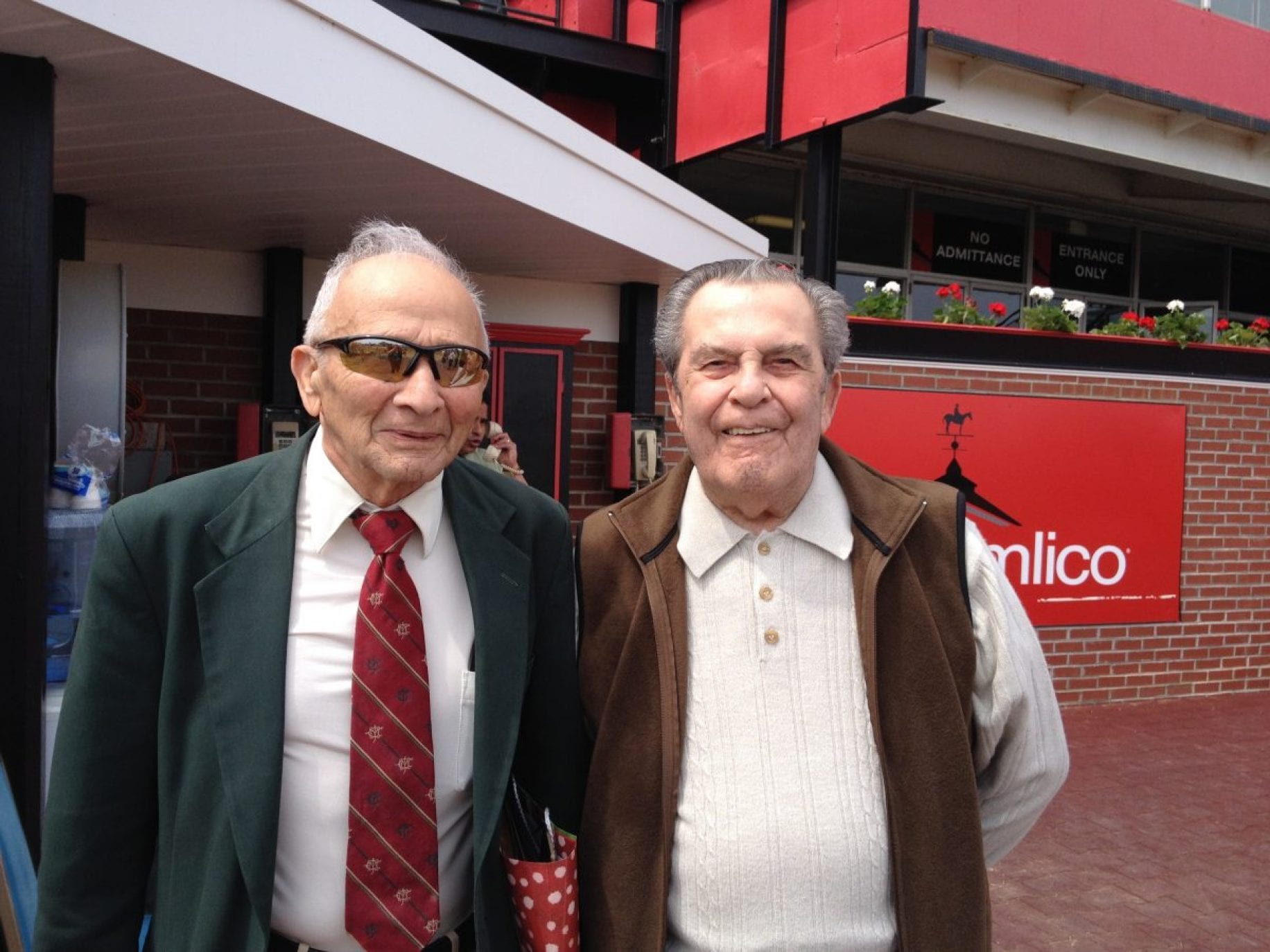 Tony Marino (left) and Fred Tallarico in 2014. Photo by Dianne Tallarico.
by Frank Vespe
And then there were none.
Once, racetracks in Maryland – heck, racetracks everywhere – needed ushers to handle the crowds they drew (and ensure that the swells in the expensive seats didn't have to battle the unwashed masses).
Outside of a handful of places and a handful of events, those days are no more.
In a metaphorical sense, they drew to a close yesterday, with the passing of Fred Tallarico at age 94.
Tallarico served for many years as head usher at the Maryland Jockey Club tracks, following in the footsteps of his older brother. He worked, by his own count, 59 Preaknesses. three of which served as springboards to Triple Crown glory.
He escorted patrons to their seats, winning owners – Penny Chenery among them – to the winner's circle, and stakes trophies to their recipients.
He worked his final Preakness in 2012, manning, as he'd done for so many years, the portal to the Preakness owners' boxes.
At the next portal – the one through which mine and my wife's seats are located – Tallarico's friend Tony Marino, a year younger, did the same job. Marino – described by Tallarico as "my dependable usher" — continued to work part-time for the MJC, and to serve as a Preakness usher, for a few years following Tallarico's retirement. Marino passed away in January of this year.
It is – or was – an odd job, being an usher at a racetrack. As at any event, it's a job straddling the line between service and security personnel.
But at a racetrack – with its open prairies of time between races and frequent trips to and fro' the betting windows – the usher's job takes on other elements: part source of racetrack gossip, part betting tipster, part commiserator and co-conspirator.
Part, in the end, friend.
Tallarico, quiet and reserved, often had betting tips, though truth be told, they were usually horses whose connections he liked. Marino, chattier and more outgoing, wasn't prone to betting tips – "Opinions are like assholes," he told me with a wink. "Everybody has one" – but usually had a joke at the ready.
A few years back, my wife Erin and I and the folks at the MJC, among them Director of Horsemen's Relations Phoebe Hayes, put together "Fred's Day at the Races," a celebration of Tallarico and his decades of service.
Marino, still working at that point, came down to the Pimlico winner's circle to join in, joking that he still had an extra green blazer – part of the MJC usher's uniform – if Tallarico wanted to return to work.
"It makes me want to come back," Tallarico said that day.
Of course, that was but a fleeting thought. Tallarico's days as an usher were behind him.
Now, with his passing, coming as it did on the heels of Marino's, the curtain comes down on the usher as part of the Maryland racing experience.
"Ushers is a gone thing," Marino said in 2013.
And racing's the poorer for it. Godspeed, Fred and Tony.
[su_box title="
Fred Tallarico Obituary
" style="glass" box_color="#66ADCC"]On August 28, 2018 Frederick "Fred" A. Tallarico passed away. He was the beloved husband of the late Anne M. Tallarico (nee Jaskinia); devoted father of Susan A. Tallarico White and her husband Richard, and Michael A. Tallarico and his wife Dianne; cherished grandfather of Christi and Kevin, Michael "Cory" and his wife Erin, Kelly, and Christina; loving great-grandfather of Cailin, Libby, Max, and Ashley. Relatives and friends are invited to visit at Schimunek Funeral Home Inc., 9705 Belair Rd. Nottingham, MD 21236, on Friday from 10 AM- 12 PM, where a Funeral Service will be held at 12 Noon. Interment will follow at Most Holy Redeemer Cemetery. Those who wish may make memorial contributions to St. Jude Children's Research Hospital. Online condolences may be left at www.schimunekfuneralhomes.com.[/su_box]