Fan favorite Page McKenney retired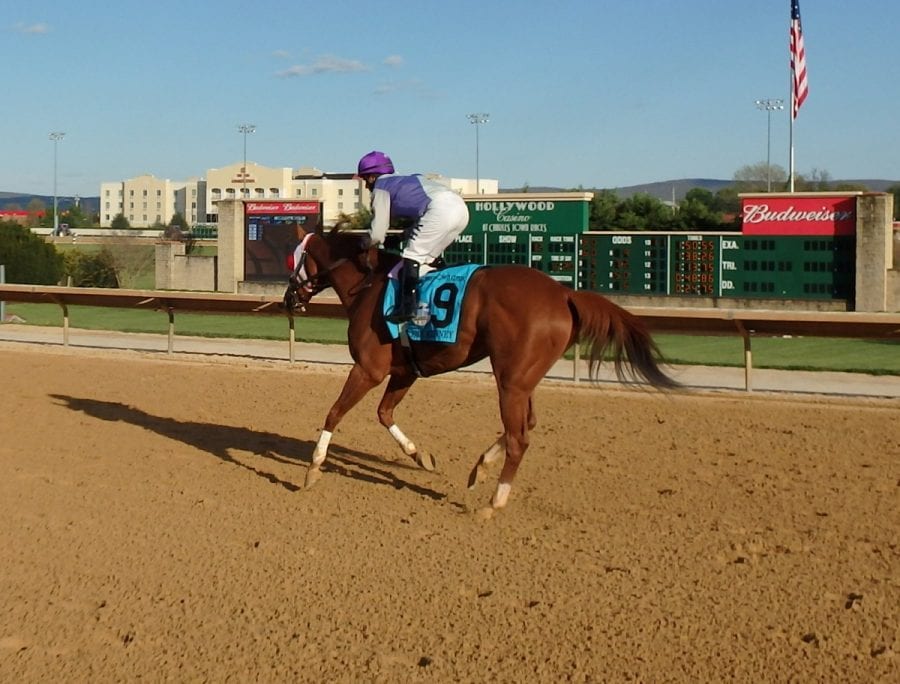 Page McKenney at Charles Town. Photo by The Racing Biz.
From a Maryland Jockey Club release
Adam Staple knew the time was getting closer when the best horse he has ever owned, popular 8-year-old claimer-turned-multiple stakes-winning millionaire Page McKenney, would stop racing.
With that in mind, Staple was somewhat prepared for the sudden retirement of Page McKenney Aug. 24 with a tendon injury in his left front leg.
"The one saving grace out of it, rather than feel blindsided by the whole thing, is we were really looking to kind of wind things down anyhow. A couple more races this year and that was it," Staple said. "We knew the clock was ticking.
"To be honest I didn't think I was going to handle it as well," he added, "but the more I thought about it the more I began to realize, once you get into that mindset where you're starting to wind things down anyhow, I think it softens the blow."
Based at legendary Pimlico Race Course with trainer Mary Eppler and co-owned by breeders Dr. James Bryant and Linda Davis of Jalin Stable, Page McKenney had been entered to run in today's $100,000 Sal DeBunda President's Cup at Parx Racing, the fourth leg of the 3-year-old and up, long dirt division in the rejuvenated Mid-Atlantic Thoroughbred Championship (MATCH) Series.
The Eavesdropper gelding had already clinched the division title with a win, a second and a third in the first three legs starting with the Salvator Mile (G3) July 29 at Monmouth Park, his 15th career stakes victory and second in graded-stakes company.
"It really kind of just happened. When we entered we really thought we were going to be OK. We thought it was something that he had been managing, but with tendons they tend to show themselves at strange times," Staple said. "We didn't think the injury was initially bad enough for retirement, but the tendon flared up over the last couple days so it's for the best."
Eppler claimed Page McKenney on behalf of Staple for $16,000 out of a sixth-place finish in a non-winners of two turf event July 20, 2013 at Penn National. Together they won 21 races, nine of them at Pimlico or Laurel Park, and Staple later sold an interest in the horse back to Bryant.
Among Page McKenney's local wins were the John B. Campbell Stakes, Harrison E. Johnson Memorial and Richard Small Stakes in 2015; 2016 and 2017 Native Dancer and 2016 General George (G3), all at Laurel. He also finished second in the 2015 Pimlico Special (G3), one of six graded-stakes placings.
Page McKenney ends his career with 22 wins, 16 seconds, five thirds and purse earnings of $1,905,940 from 52 starts. In his most recent race, he finished third in the Monmouth Cup (G3) July 29, after which he developed filling in the same leg which followed a runner-up finish in the 2016 Charles Town Classic (G2) and scratch on the morning of the Pimlico Special and led to a nine-month break between races.
"We've had these moments before without jumping to conclusions, but all the treatment we normally did for those things was unresponsive and actually got worse, so we began to realize this was something more," Staple said.
"Who has runs like this? I'm watching all these elite level horses, ones that have come and gone, good geldings, good stallion prospects. There are some that we've run against that already have racehorses out there," he added. "You look at it and all you can do is shake your head and say, it was amazing. It was a long, amazing run."
Staple said he and Eppler have had discussions about Page McKenney's future that could involve a stay at Nor Mar Farm in Freedland, Md., where the horse would go for breaks from racing during his career, and spending the winter in Kilmarnock, Va. where Bryant, an internal medicine specialist, has his practice and a farm.
"With tendons, you don't want to just kick them out. Then they're going to just have this lump on their leg the rest of their lives, probably get arthritic and probably be their undoing years from now. You don't want that, so we're following a very strict regimen laid out by the vet," Staple said.
"I think if he comes back OK, Mary and I have talked about maybe he could do a Lava Man kind of thing and be a track pony," he added. "She's said as of the last year or so, it takes a lot of effort to get him into gear when he's out on the track. He'd rather just stand there and watch. She's said he's got good track pony features to him. We just kind of felt out some things. We want to be extra careful with him."