Timonium: Shimmering Aspen finds winning ways in Distaff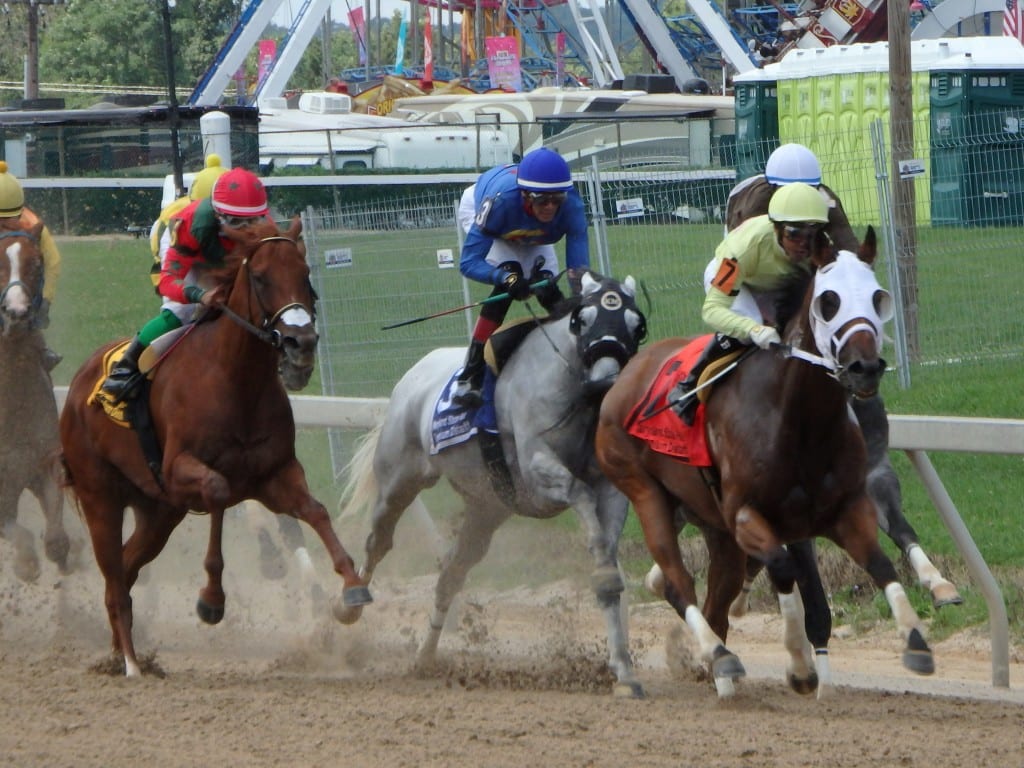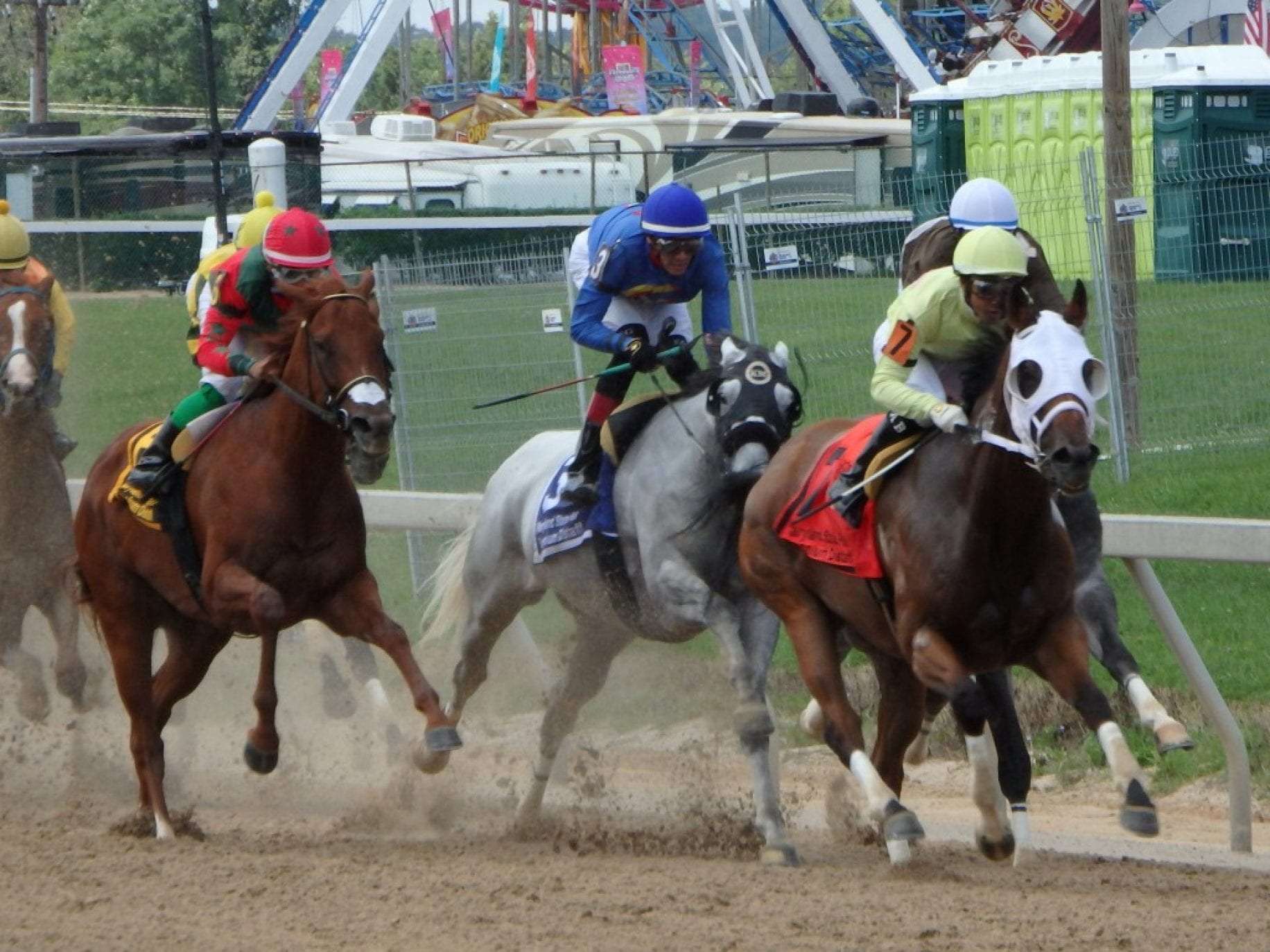 First time by in the Timonium Distaff and Keep Your Distance (#3) is in tight. Photo by The Racing Biz.
by Frank Vespe
Maryland Governor Larry Hogan arrived at Timonium Saturday afternoon just in time for the first running of the $75,000 Timonium Distaff Stakes.
But it was the horses, most especially Shimmering Aspen, who put on the show.
Shimmering Aspen, a talented four-year-old Malibu Moon filly who was a year removed from her most recent victory, surged late to take a somewhat roughly run contest by a length over 12-1 outsider Munificent, who was a neck clear of Polite Pearl (7-1).
It was her sixth career win from 11 starts, and the winner's share pushed her career bankroll to $233,110. The win was her third in stakes company.
It was a solid, nine-horse field that lined up for the Distaff, and while Shimmering Aspen was a deserving 2.90-1 favorite, horses like the hard-hitting Angel At War and multiple stakes winner My Magician also were worthy of serious consideration.
As the gates opened, the speedy Polite Pearl, a first-off-the-claim runner for trainer Kevin Patterson and owner Robert L. Cole, Jr. zipped to the early advantage and immediately tried to slow the pace as the field arrived at the first turn in the two-turn, 6 1/2 furlong contest. That put Keep Your Distance in tight and left Shimmering Aspen, who left from the inside, bottled up along the rail.
"I knew the one-hole was the hard part of this race," said winning trainer Rodney Jenkins, who conditions Shimmering Aspen for Ellen Charles' Hillwood Stable LLC. "When you have the one-hole and you have the favorite, you have a hex on your back."
"Being in the one-hole, I had no choice" but to bide his time, added Victor Carrasco, Shimmering Aspen's regular pilot who made his first start of the seven-day Timonium stand aboard her.
So he did.
Polite Pearl, with Arnaldo Bocachica in the irons, led the field through an opening half-mile in a solid 46.91 seconds with the Mary Eppler trainee Munificent lapped to her outside just a half-length back. Down along the rail, Shimmering Aspen was in third a couple lengths back, while Keep Your Distance had that one pinned in.
But nearing the lane, Carrasco and Shimmering Aspen caught a break as Keep Your Distance tired and could not keep the pace; she finished seventh.
That gave Carrasco a seam outside the top pair in which to run.
"Whenever I have a chance, I have to tip out and go outside," Carrasco explained. "When I asked her, she gave me everything she had."
Under a vigorous hand ride, Shimmering Aspen fired on nicely through the stretch, surging clear past the top pair to win by a length. Munificent inched past Polite Pearl late to best that one by a neck, and Angel At War, who made a menacing run approaching the stretch before flattening out, was fourth, beaten just 1 1/2 lengths.
Running time for the 6 1/2 furlongs was 1:16.95. Shimmering Aspen paid $7.80 to win and topped an exacta that returned $39.30 for a buck.
The win marked a return to winning ways for Shimmering Aspen, snapping a three-race losing streak. Sent off the favorite in all three, she had finished third in the last two. Last month, she'd finished third in her season debut in an allowance test won by another talented four-year-old, Crabcakes.
"The first time back this year, I didn't have her fit enough," Jenkins said. "But that's how I train."
Give 'em one race to get fit, and have 'em ready to fire in the next.
Next up for Shimmering Aspen, Jenkins said he'll most likely be looking for spots going seven furlongs at Laurel Park — a condition in which she's won three of four starts.
BIG T NOTES Gov. Hogan presented the trophy to the Timonium Distaff winning connections and drew the names of three scholarship winners for the track's first College Day… Trainer Gerry Brooks and jockey Erin Walker struck again in race two today with Child's Play ($7.80 to win), their third win in two days… Jockey Angel Cruz won twice on the day to tie Walker for the early meet lead with three wins… Perfect Party Girl won the nightcap at 6-1 odds, enabling the Annette Eubanks trainee to break her maiden in her 27th start…