In Focus: MATCH Series and Haskell Day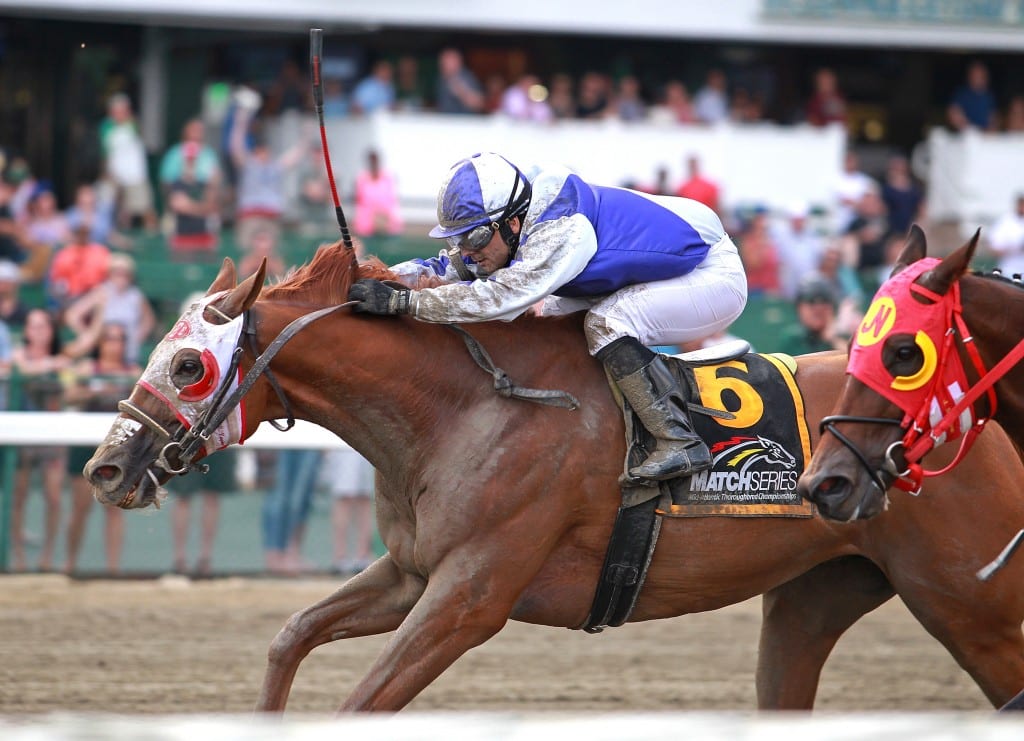 Race 8 — G3 MONMOUTH CUP
RACE PARTICULARS: Race 8 (3:28 pm EDT), Grade 3, $150,000 guaranteed purse for three-year-olds and up, 1 1/8 miles
THE FIELD (post position order)
1. Phat Man (9-2): Joe Sharp trainee won his only prior visit to MTH and enters off a win in his seasonal bow but will need a step forward to take out top runners here
2. Remembering Rita (2-1): Took the G3 Cornhusker last out for third straight win after starting career with 11 consecutive defeats; best rivals in last included G3 winner Dalmore, multiple graded winner McCraken; figures to be on or near the lead in the early going
3. Page McKenney (9-5): 8yo veteran sneaking up on $2 million in career earnings, continuing to run well; found himself at the mercy of loose-on-the-lead Harlan Punch last out but might find a more congenial pace setup here; has been worse than third only once in 10 tries at the trip
4. Let Me Go First (20-1): John Servis trainee really hasn't shown he's this quality to date
5. Name Changer (3-1): Had two-race win streak snapped last out when third in the Hanford Memorial at DEL, emptying out late after making a middle move; owns a stake win (2016 Small at LRL) at the trip; closing sort will try to be rolling late under Jose Ortiz
6. Zanotti (5-1): Crushed last out in salty edition of G2 Suburban but this group a little more to his liking; both to run back from last were second in follow-up; has been first or second in all four tries at the trip; Vargas, Jr. returns to irons – he and this horse have a preposterous record of 5-4-0 from nine starts together
DERBY BILL'S PICKS
#3 Page McKenney (9-5): Old warrior keeps running good races, fires again here
#2 Remembering Rita (2-1): Rides three-race win streak to Jersey Shore
#1 Phat Man (9-2): Had a big breakfast this morning, so… Sharp barn clicking right now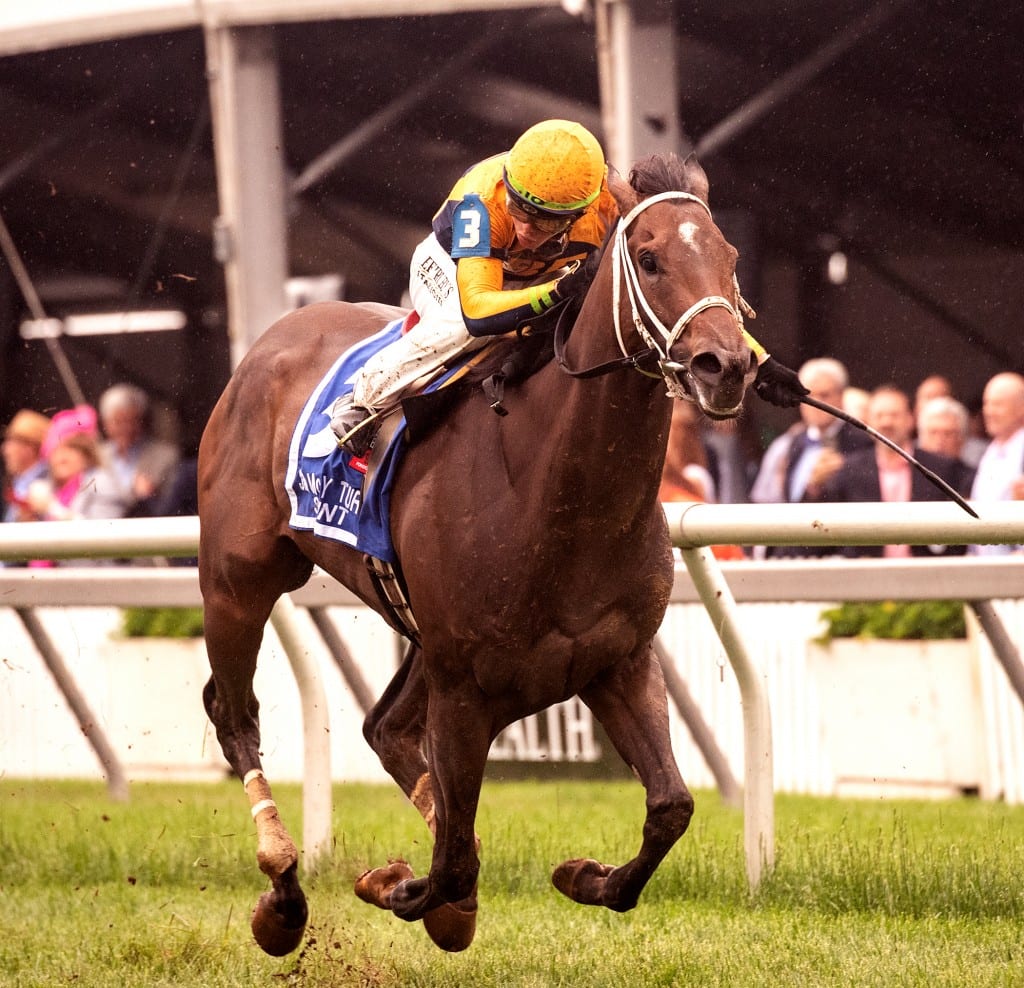 Imprimis. Photo by Jim McCue, Maryland Jockey Club.
RACE 11 – WOLF HILL STAKES
RACE PARTICULARS: Race 11 (5:12pm EDT), $75,000 guaranteed purse for 3yo and up, 5 1/2 furlongs (turf)
THE FIELD
1. Abiding Star (15-1): Has done best working going farther; figures to be running late
2. Triple Burner (15-1): Laurel-based runner ran a big one two back when second in allowance company but disappointed last out at PEN; must turn tables on four who best him that day SCRATCHED
3. Proforma (12-1): Solid season debut last out behind speedy sprinters at MTH; second start of year is also second on the lawn and can improve here with Jersey Joe in the irons
4. Simon Bar Sinister (10-1): Has been in the money six of seven at the track, but several here have bested him in prior tilts; productive season debut last out and can improve off that, but note rider Bravo picks #3 here
5. Dubini (8-1): Closing just a bit too late two back in PA Gov Cup, but last out on good PRX turf had no answers; return to firmer ground would be a plus
6. Snowday (10-1): Winner of last year's My Frenchman over the strip, this MTH-based runner's never been out of the money on his home track's turf course; doesn't win much, but is capable on best; ran credibly last out in season debut, tiring late to be second going 7f, so should be plenty fit here
7. Bold Thunder (30-1): Solid effort last out in season debut when fourth in G3 Parx Dash and can improve off that; but only one win since middle of '15 makes this one a dicey play
8. Oak Bluffs (9-2): Trainer Eppler's runner could seize control of MATCH Series division with win here; firm ground a must for 8yo NJ-bred to fire best shot; note rider Lopez jumps ship, but Eppler brings along go-to pilot Karamanos
9. Nice Tune (30-1): Would be a major surprise
10. Pool Winner (5-1): Has run back-to-back terrific races, failing to hold on late in both; added half-furlong may not play to speedster's strength, but he's been in the exacta four of five at MTH; may be playing 'catch me if you can' on front end again
11. Imprimis (2-1): Never had anywhere to run last out as second choice in G1 Highlander at WO when tasting defeat for first time in career; drawn outside here with Jose Ortiz up, should have every shot to work out clean trip
12. Ray'swarrior (8-1): Paco picks this runner over #8 in here and why not? He and trainer Servis score at a 41 percent clip (48 percent at MTH)! Ran behind three of these last out in PA Gov Cup, shows three modest works since; figs say no, but it's tough to ignore these connex
DERBY BILL'S PICKS
#8 Oak Bluffs (9-2): Jersey-bred right at home at the Shore
#11 Imprimis (2-1): Drop back to $75k company gives this one chance to return to best form
#10 Pool Winner (5-1): Everybody wants to be in the pool this time of year! Speedy sort tries to stay on
DERBY BILL'S HASKELL PICKS
Race Particulars: Race 12 (5:45 pm EDT), $1 million purse for three-year-olds, 1 1/8 miles
#6 Good Magic (6-5): Clearly the second-best three-year-old in the country through the end of the Triple Crown, inherits the mantle with retirement of Justify
#5 Bravazo (3-1): Came running late to nab second in the Preakness in May but was empty in the Belmont; another Belmont also-ran, Tenfold, took the Jim Dandy on Saturday
#4 Core Beliefs (4-1): Nose winner of the G3 Ohio Derby is moving in the right direction
How to play it
Derby Bill says… in exactas and triples, single Good Magic over all and hope for bombers to grab the second and/or third slots. He's confidently singling Good Magic in multi-race wagers and looking for value elsewhere.
DERBY BILL'S HASKELL PODCAST