Miz Mayhem, Whereshetoldmetogo flash potential in Laurel stakes wins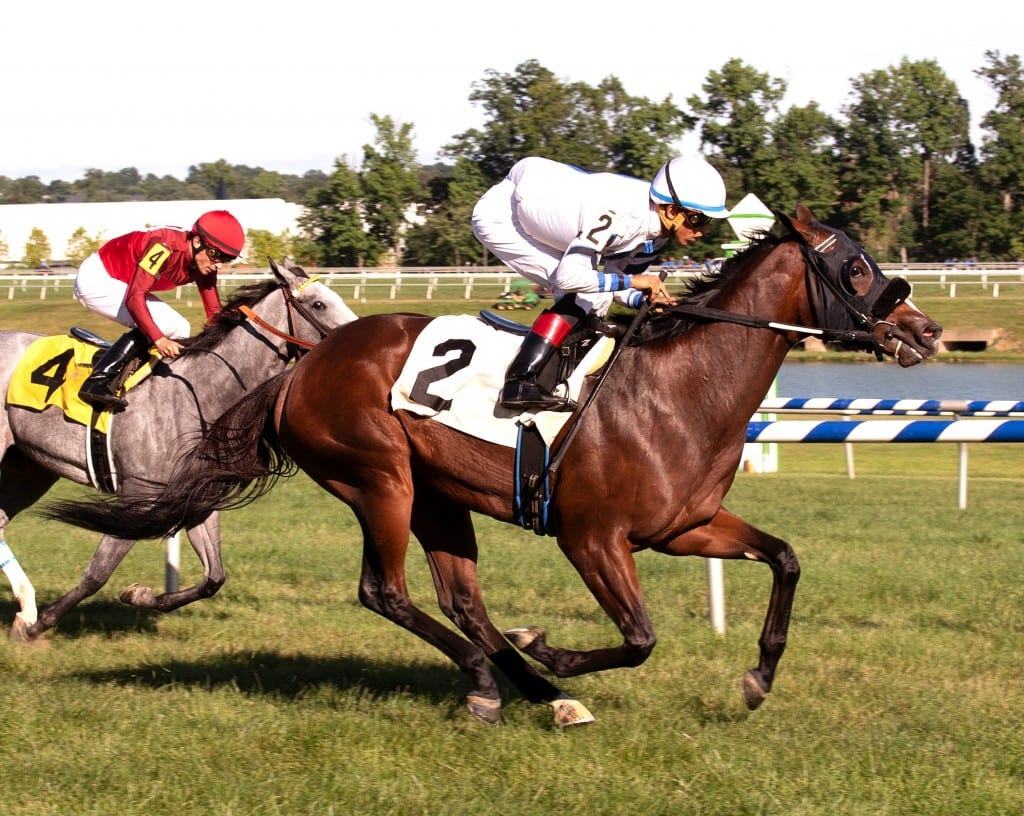 Miz Mayhem. Photo by Jim McCue, Maryland Jockey Club.
by Ted Black
While both the $75,000 Concern for three-year-olds on the main track and the $100,000 Stormy Blues for sophomore fillies on the turf may have appeared to be polar opposites on paper, the winners perhaps proved to have plenty in common just on Saturday but perhaps for their long term potential as well.
Heading into the Concern Stakes, a seven-furlong open event on the main track for three-year-olds, Whereshetoldmetogo (Jeremy Rose) arrived off a 10-length victory over allowance foes at Delaware Park that prompted fans to make him the 8-5 favorite from post two although Midnight Poker had beaten him handily in the $85,000 Robert Hilton Memorial at Charles Town three starts back. The only Maryland-bred colt in the field in a race named for a Maryland-bred Hall of Famer, Whereshetoldmetogo lived up to his billing as the choice and impressed his rider and owner with his recent efforts.
"Jeremy has been working him for us in the mornings for the past couple of months," said Mark Esposito, who races under the Black Cloud Stable, LLC. "He's been a little head strong in the mornings and he's usually that way in the paddock. But today when he was very calm in the paddock I knew he was going to be okay. We tried to stretch him out a couple of times, but he seemed to wake up the last start when he cut back to six furlongs. That's what he seems to like, the one-turn sprints of six, seven furlongs."
Rose had never been aboard Whereshetoldmetogo until his previous outing at Delaware Park when he trounced allowance/optional claiming foes by 10 lengths in 1:08.3 for six furlongs. It was the type of performance that easily lured the veteran rider down from Delaware Park to Laurel Park for a mount that would prove to be his only ride of the day.
"I knew going into the race that he would be in good shape if he broke well," Rose said. "I wanted to sit off [Old Time Revival] because that horse likes to go to the front and stay well off the rail. I didn't want to be too close to him or outside of him, so I stayed toward the inside. When I asked him for run turning for home he really responded. He has really seemed to improve with each start. He's definitely going to keep getting better. Not sure where he's going next, but I would like to stay with him."
Esposito noted that throughout much of his career as a race horse owner he had little luck, which is how he came up with the name Black Cloud for his stable. But the recent successes of Whereshetoldmetogo has given the owner plenty of optimism for the future.
"It seemed like for a long time we had nothing but bad luck," Esposito. "It was like there was always a black cloud hanging over us. But this horse is really starting to come around. We'll have to look at the [stakes] book and see what's next for him. But we came here not wanting to look past this race. It was great to see him win today. He looks like he's found his niche in these one-turn races and hopefully he'll continue to do well."
Then several races later on the card, Miz Mayhem easily lived up to her role as the 1-2 favorite in the $100,000 Stormy Blues Stakes at 5 1/2-furlongs on the lawn for three-year-old fillies when she bided her time through the her stages, then swept past the leaders in the lane to score by over a length in 1:01.69. It was the third straight stakes score for Miz Mayhem and her fifth straight win overall and validated jockey Edgard Zayas's decision to bypass a full day of mounts at Gulfstream Park to head to Laurel Park for just three rides.
"She did things a little differently today," Zayas said. "She usually likes to press the pace and sit just outside of other horses. But today she was in behind horses for the first time. [Trainer] Eddie [Plesa] has done a great job managing her thus far. She went through her conditions and then won a couple of stakes and this was her third straight stakes. He didn't push her too early and send her to New York or Kentucky, he just picked his spots for her at Gulfstream and then found this one here today."
Miz Mayhem, a three-year-old daughter of Yesbyjimminy trained by Edward Plesa and owned and bred by Laurie Plesa, Miz Mayhem has won five of seven starts this year and seven of 13 overall, with this score pushing her career earnings past $260,000. She has won five of seven starts on the turf for Plesa, including three straight stakes and she gave Zayas every indication that she can continue to ascend through the stakes ladder.
"She's won three straight open stakes now and I think she can win a Grade III sometime this summer," Zayas said. "I am not sure where she will go next, but I would like to stay on her. She's got speed and she's tactical and I think she's getting better with each start. Eddie has done a great job with her and she's definitely got a bright future and I can see a graded stakes win in her future."