Jessica Krupnick earns narrow Dashing Beauty victory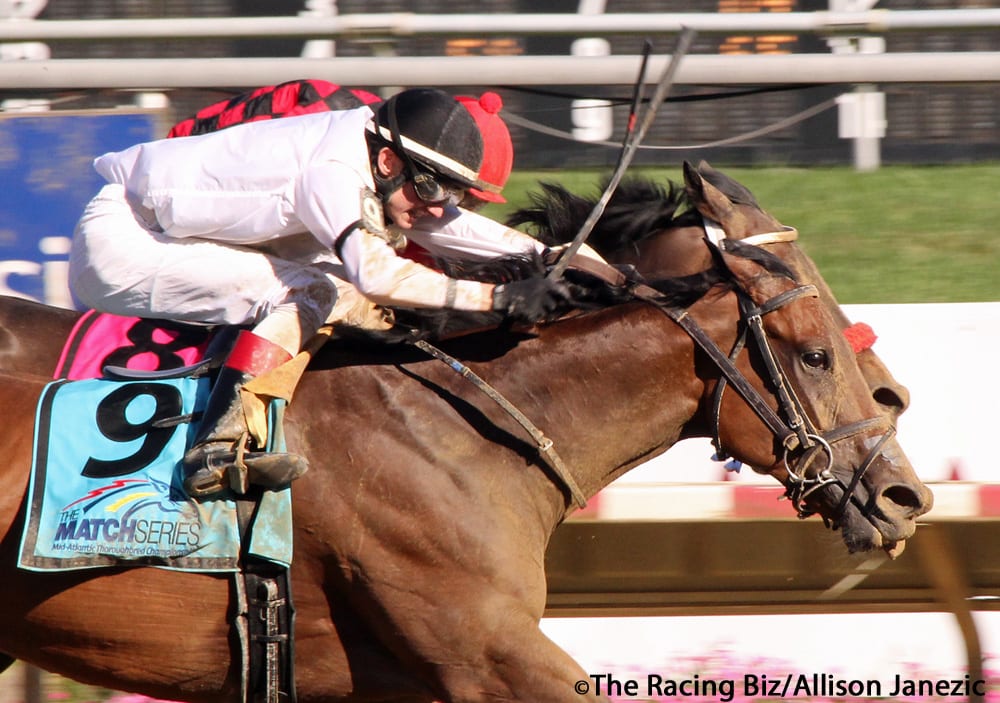 by Frank Vespe
In a thrilling, three-way slugfest that saw three horses bobbing heads on the wire, hard-knocking five-year-old Jessica Krupnick prevailed in Saturday afternoon's $75,000 Dashing Beauty Stakes at Delaware Park.
The win gave the Uncle Mo mare, who is conditioned by Tres Abbott for Sycamore Racing V, the first stakes win of her career. It also gave her 10 points in the Mid-Atlantic Thoroughbred Championship (MATCH) Series, which, coupled with the seven she earned when running second in the Regret Stakes June 17 at Monmouth Park, put her at 17 points overall, good for the division lead among distaff sprinters and tied for the overall lead with Page McKenney.
But it wasn't without its anxious moments.
Under jockey Trevor McCarthy, Jessica Krupnick bided her time in mid-pack, just a couple of lengths off the early lead of Angel At War, who led the field through an opening quarter-mile of 22.31 seconds, with the half gone in 45.62.
Entering the lane, Jessica Krupnick rallied while wide on the course and in mid-stretch, seemed likely to win by a clear margin. But then Cairenn came running alone the inside, and Lake Ponchatrain flew up in between horses.
"She has got a short run," said winning trainer Tres Abbott. "But she gives jockeys really good feel going around the turn, and they think, 'Let's see how far we're going to win by.' Trevor (McCarthy) said she kind of idled when she hit the front."
When the field hit the wire, Jessica Krupnick got her nose down first, winning by that margin in a time of 1:10.84 for six furlongs. Lake Ponchatrain was second, reaching the line a head before Cairenn, and it was almost three lengths farther back to the rest of the field. Favored Bonita Bianca was never much involved and finished fifth.
Jessica Krupnick paid a rich $27.80 to win as the second-longest shot in the seven-horse field. And she topped an exacta good for $65.20 for a buck.
Jessica Krupnick, out of the Henny Hughes mare Wear Red, was a $45,000 auction purchase as a yearling. She now has won five of 16 career starts and earned $203,058 in her career.
But those numbers don't tell the whole story. Thus far in 2018, Jessica Krupnick has three wins and two runner-up efforts from six starts, and her one out-of-the-money start was a fourth-place finish — beaten less than a length — in the Grade 3 Whimsical on the Tapeta surface at Woodbine.
In fact, it's safe to say that Jessica Krupnick is now, at age five, the best she's ever been.
"She's always been very big, so as a two-year-old she had shins and then we finally got her going at three," Abbott explained. "She ended up getting hurt after the end of her three-year-old season, so missed a lot of her four-year-old season, so she's just been getting rolling now, which has been great."
She crossed the wire first in three consecutive allowance test — DQed to second after drifting in in the first of those — before trying her hand in stakes company. First came the big effort in the Whimsical, and then she ran a good second to the ultra-talented Chalon in the Regret.
Abbott said he expected his charge to remain in the MATCH Series at least for her next start. The next stop in the five-race series is the six-furlong, $100,000 Satin and Lace Stakes at Presque Isle Downs August 12. That track, like Woodbine, has a Tapeta surface.
"The MATCH Series has been great," Abbott said. "She was fourth in a stake in Canada on the Tapeta up there because she worked so good on the Tapeta at Fair Hill. The next race of the Series is at Presque Isle on the tapeta. It seems a little silly to kind of go off course right now since she's been doing so good."
Of course, you never know what might happen in a horse race: which strong runners might show up, or which under-the-radar sorts might jump up.
But one thing's for sure. Jessica Krupnick will be ready to go.
"She's super-tough. She lays it all out there," Abbott said. "She's a real competitor."