In Focus: Wagering weekend MATCH races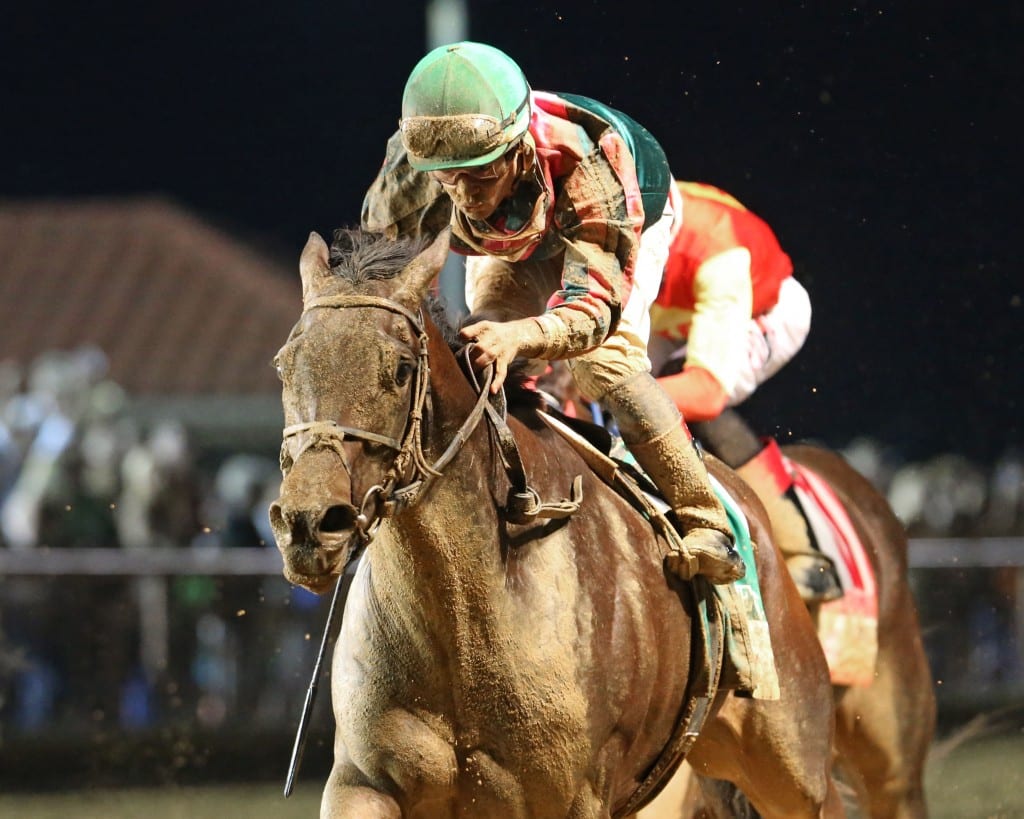 DELAWARE PARK Race 9 — DASHING BEAUTY STAKES
RACE PARTICULARS: DEL Race 9 (5:15pm EDT), $75,000 purse for fillies and mares three-years-old and up, 6 furlongs
1. Bertranda (15-1): Would need a lot – a lot – of things to go right to win this race
2. Cairenn (8-1): Back-to-back good tries, third last out as the longest shot on the board in the G3 Bed o' Roses and second two back to the quickly improving Chalon; second off a roughly 45-day break and has run well in similar circumstances before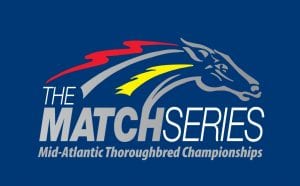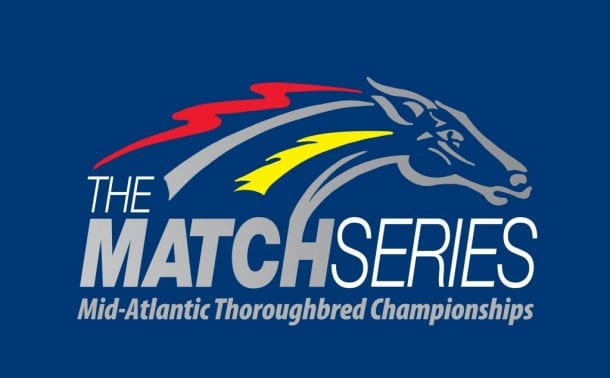 3. Tequilita (6-1): Multiple graded winner had no answers in the two-turn, 9-furlong Obeah but rates consdieration on the cutback; owns a stake win at the trip and will look to rally into the pace here
4. Bonita Bianca (9-2): Trainer Jason Servis is winning 32 percent on the year, and he and rider Paco Lopez are a stupid-good 42 percent since the beginning of '17; has two wins at the trip and the runner-up from last won next out
5. Absatootly (8-1): Runner's in-and-out form has to give you pause but she can be a player here on best; has a couple wins at the trip, and while a lot of her work has been in state-bred company, but she did win the Primonetta against open types in April '17 and was third three back in open stake at AQU; it's rider Luzzi's only mount of the day
6. Day by Day (15-1): Was well beaten last out, including by two of today's rivals, so will need a better effort; rider Pedroza likely will want to get her involved early as she does best running on or near the pace
7. Angel At War (5-1): Has lost to #8 in here two straight but sure did run well last out in first in almost two months, turning aside one bid before a good-trip rival came and picked it up late; speedy sort should be engaged from the get-go
8. Lake Ponchatrain (7-2): No idea what the turf try was all about, but toss that and this OK-bred mare is right at the top of her game right now, with three straight wins on the main track; figures a mid-pack type of trip here
9. Jessica Krupnick (6-1): Uncle Mo mare for trainer Tres Abbott has run really well in 2018, and no shame in four-length defeat in last to the very good Chalon; probably won't be quick enough in here to make the early lead but showed last out she can run well from third or fourth too; rider McCarthy three for eight with horses trained by Abbott
10. Liz's Cable Girl (12-1): NJ-bred also outran her odds in same race as #9 last out to be third; the 4yo recorded a career-best Beyer of 82 that day – so does she bounce, or, in just her second start of '18, fire again?
THE PICKS 
#3 Tequilita (6-1): Multiple graded winner has done best work at 7f to one mile but owns stake win at the trip, class edge on rivals
#7 Angel At War (5-1): Ran a good one in last, figures to be involved from the first jumps
#8 Lake Ponchatrain (7-2): Can't fault anything she's done on the main track of late, has run down #7 in two straight
#9 Jessica Krupnick (6-1): Formful sort always tries hard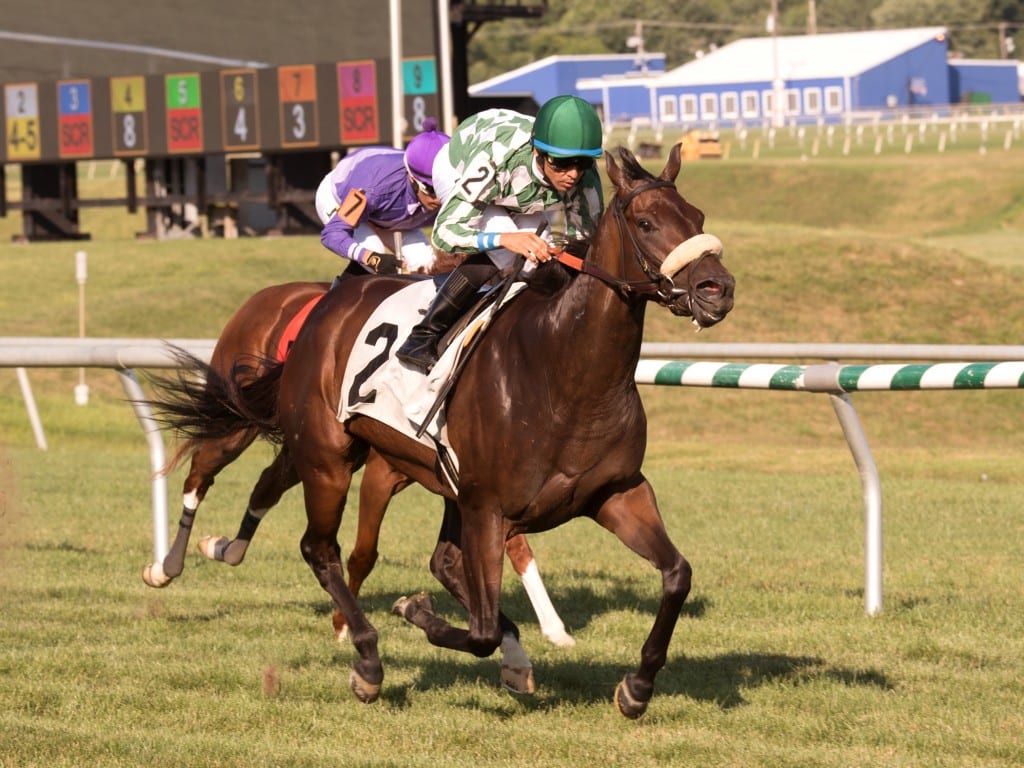 Penn Ladies Dash winner Morticia has bypassed the Turf Amazon. Photo by Jim McCue, Maryland Jockey Club.

PARX RACING Race 6 — TURF AMAZON S.
RACE PARTICULARS: PRX Race 6 (3:10 pm EDT), $100,000 guaranteed purse for three-year-oldS and up, 5 furlongs (turf)
THE FIELD
1. Goldwood (3-1): Goldberg trainee who's part of entry moving expeditiously through her conditions; lone stake try was 6th-place finish but beaten less than three by #3 in here and the very good Moriticia
1a. Boos (3-1): Closing sort figures to need some help from the pace to get there; has kept busy enough, as this'll be her third start since the beginning of June
2. Isabella Swift (30-1): Unless this one comes off the turf – and honestly, even then – this eight-year-old figures to be up against it here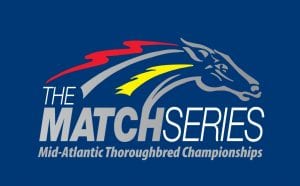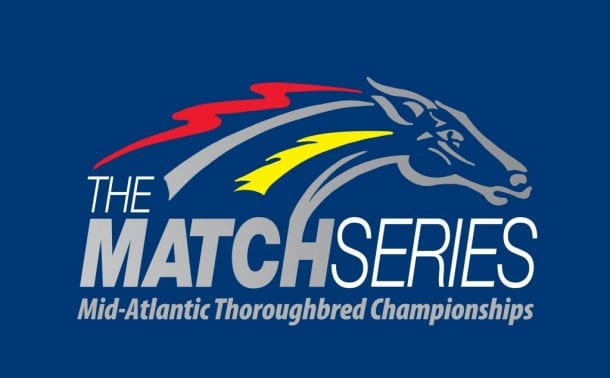 3. Blue Bahia (8-5): Has been away four months, and that has to be a cause for some concern, but outside of that, and one poor start when suffering a bad trip, and she hasn't done much wrong – including three stakes wins; has fired fresh before and trainer Servis wins often off similar breaks
4. Bertranda (20-1): Winless in six tries on the turf
5. She's Stunning (20-1): Another who figures to be doing a rain dance
6. Quick Thinking (15-1): Cleared and cruised last out in N1X test; stern test here but this Great Notion filly has been moving in the right direction, still owns right to improve
7. Pretty Perfection (10-1): Has finished behind a couple of these runners recently and will need a top effort here
8. Smiling Causeway (2-1): Five-furlong distance plays to speedster's best game, and she showed new dimension two back when closing to win; second start of '18 here; wore front wraps last out on dirt; on best figures a handful, like to see Centeno remain aboard, and outside draw only helps the cause
THE PICKS
#8 Smiling Causeway (2-1): Three wins and a second in four tries at the trip, plus well drawn outside
#3 Blue Bahia (8-5): Nine-time winner at the trip has won three of four and had excuses in the other
#6 Quick Thinking (15-1): Light bulb seemed to go on when crushing allowance foes in last
#1a Boos (3-1): Improved try in last; keep thinking there's more in there somewhere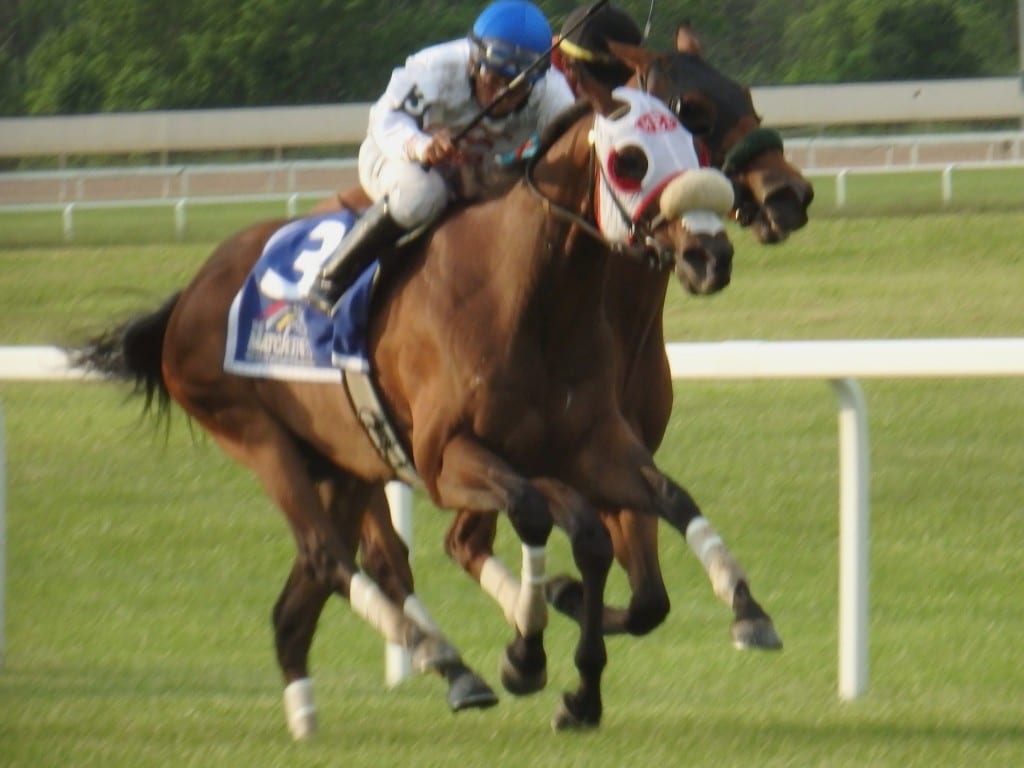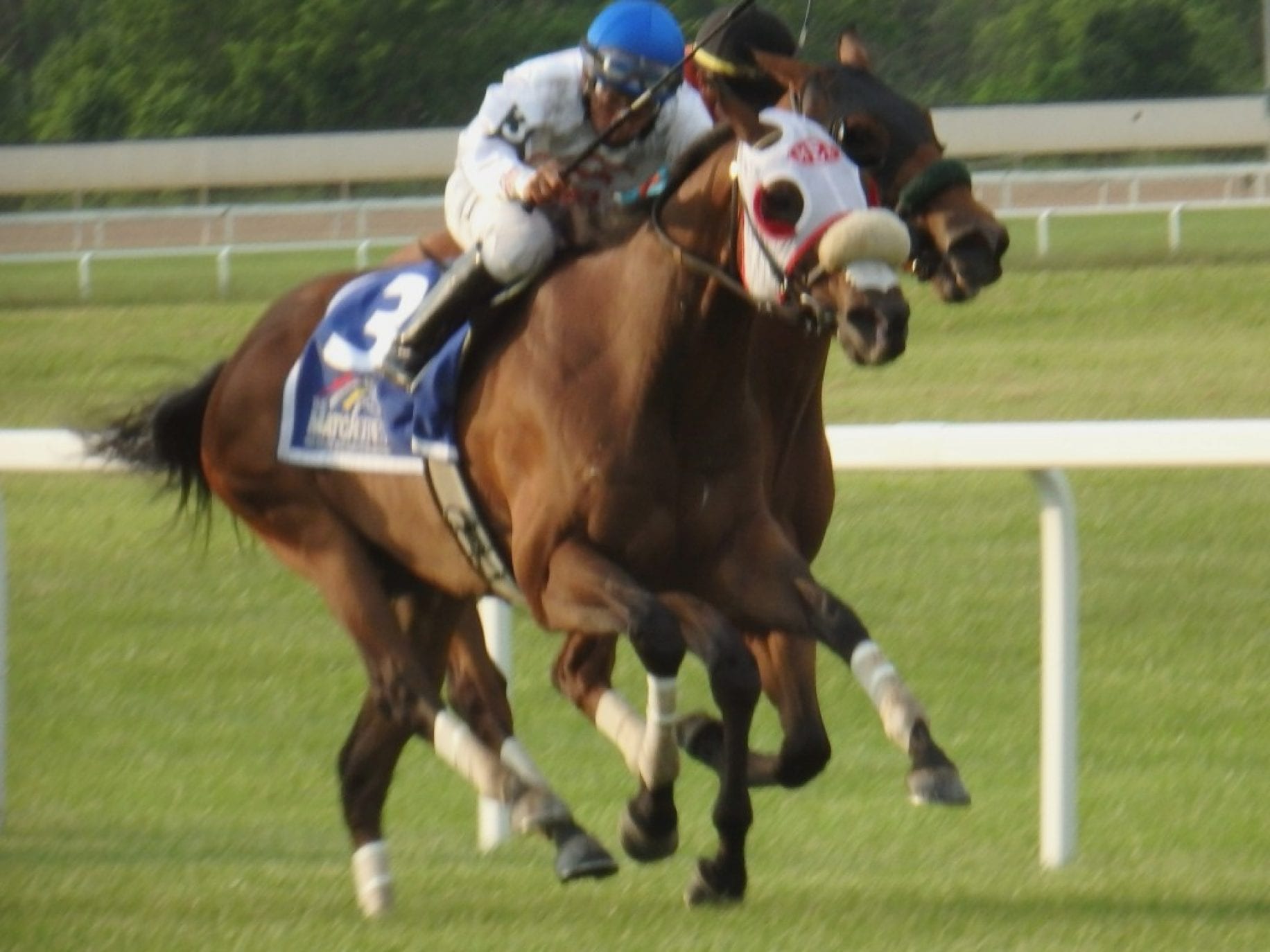 Oak Bluffs. Photo by The Racing Biz.

PARX RACING Race 8 — GRADE 3 PARX DASH
RACE PARTICULARS: PRX Race 8 (4:04 pm EDT), Grade 3, $200,000 guaranteed purse for 3yo and up, 5 furlongs (turf)
THE FIELD
1. Forman the Foreman (20-1): Speedster figures to be on the engine early, probably not holding 'em off late; ran against a couple of these last out, splitting them
2. Dubini (8-1): Good bounceback effort last to be second in PA Gov Cup; deep closing style makes it tough on him, but owns right to improve in second of '18
3. Louisiana Brown (30-1): Turf tries to date are fine, but "fine" doesn't figure to be good enough in here
4. Pure Sensation (3-2): Led a long, long way last out after bypassing PA Gov Cup for G3 Jaipur before settling for second in a race that went a preposterous 1:06 3/5 for six furlongs; runner has twice been beaten less than two in the BC Turf Sprint, has six wins ath the distance and is a major player here
5. Ready for Rye (12-1): Very best figs have come on dirt but has run some good races on the green; best turf tries compete here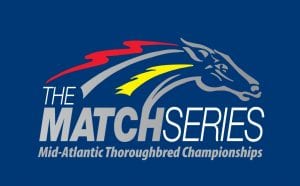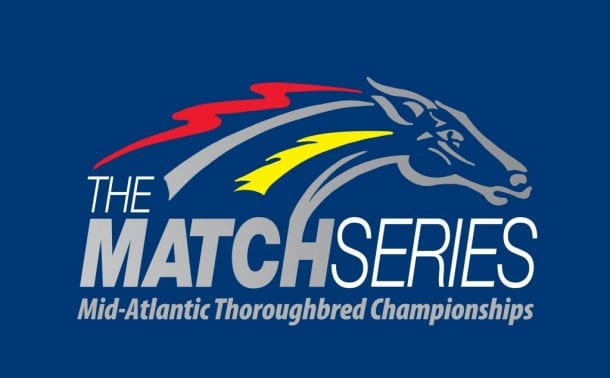 6. Oak Bluffs (6-1): Paco Lopez gave this 8yo — another masterful Mary Eppler training job — a good-as-it-could be trip to win last out; hasn't been worse than second in last five tries on firm turf
7. Tribalist (15-1): Long ship for a low-percentage trainer for this guy to make his first start since January; stake winner sprinting on turf, and note he's 3-for-3 at 5f
8. Vision Perfect (5-1): Versatile Jason Servis trainee backed out in last but two back won minor stake at GP; lone local try was first in Servis barn and didn't go so well; can make amends here, but note recent pilot Lopez chooses #6 here
9. Nice Tune (30-1): Has taken 29 tries to get three wins and figures to find tough sledding here
10. Pool Winner (15-1): Good try in last to be third after leading a long way; has shown ability to lead or stalk; makes second start off three-month break; bad news is that two that bested him in last both are here
11. Bold Thunder (10-1): 2017 PA Gov Cup winner has lost four straight since that score with nothing better than a single third-place finish; winless in seven tries at PRX
12. Uncle Leo (20-1): Has failed five times at N2X level, which makes him a tough sell in this company; will look to bide his time and then mount a rally
THE PICKS

#4 Pure Sensation (3-2): Odds are too short, but this one is 4-for-4 locally and has competed with the best in the country
#7 Tribalist (15-1): Lightly raced 7yo has spotless ledger at the trip
#2 Dubini (8-1): Good effort in first off the bench last out in PA Gov Cup; can move forward
#6 Oak Bluffs (6-1): Veteran remained in good form in last-out win