Maryland Jockey Club names new racing secretary; VP-Racing Hale named to new position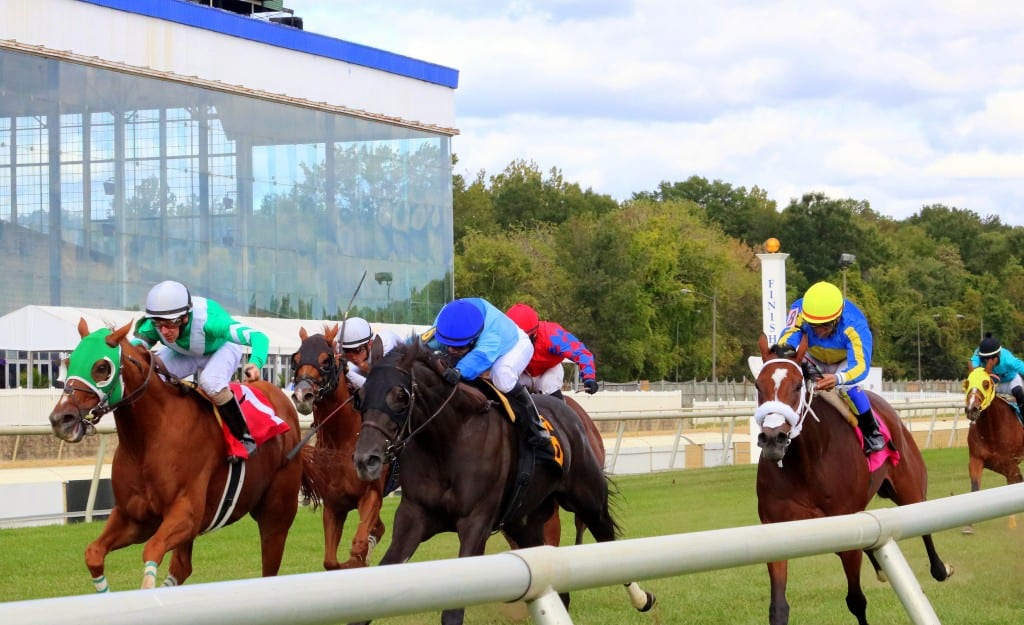 Lawyer Dave (#1 outside) won the 2017 Punch Line Stakes at Laurel Park. Photo by Dottie Miller.
by Frank Vespe
The Maryland Jockey Club on Monday announced that longtime Vice-President of Racing and Racing Secretary Georganne Hale would become Vice President of Racing Development, a newly created position within the company.
In that job, the company said, she will oversee the revitalization of the Washington, DC International turf race; assist with the Mid-Atlantic Thoroughbred Championship (MATCH) Series; and "lead and monitor philanthropic initiatives with the Thoroughbred Aftercare Alliance, Beyond the Wire, and Canter for a Cause while serving as a liaison for backstretch programs."
Hale's position as racing secretary will be filled by Chris Merz, stakes coordinator at Santa Anita and Del Mar and assistant racing secretary at Los Alamitos.
Rumors of the two moves had begun to circulate within the racing community June 21.
"I'm very excited about this new position with the Maryland Jockey Club," Hale said in a press release. "I look forward to the great opportunities it presents to continue to build the Thoroughbred racing program and help with philanthropic programs."
"We're thrilled that Georganne will be leading these important initiatives for the Maryland Jockey Club," said Sal Sinatra, President and General Manager of the Maryland Jockey Club. "As we continue to build and revitalize Thoroughbred racing in the Mid-Atlantic, we believe strongly that Georganne is the person to help lead us and accomplish these goals. Her knowledge of the industry and local communities is invaluable."
Merz, the incoming racing secretary, is a 2012 graduate of the Animal Science/Race Track Industry Program at the University of Arizona and has served in a variety of roles within the racing industry.
"I'm really excited about coming to Maryland and working with Georganne, Sal Sinatra, everyone in the racing office and all the horsemen," Merz said in a release. "It's a wonderful opportunity. They're doing such great things in Maryland. I'm really looking forward to working at Laurel and Pimlico."
When whispers of the changes began to circulate on the backstretch, many horsemen expressed concern over what they might mean.
Hale started with the Maryland Jockey Club in 1984 as an assistant racing secretary. After being named racing secretary at Timonium in 1986, she was named racing secretary at the Maryland Jockey Club in 2000.
During Hale's tenure, a time of declining field size nationwide, fields in Maryland have actually grown slightly. While Maryland averaged 7.6 horses per race in 2000, the average has been above that in each of the last six years, according to the Jockey Club. In 2017, the state averaged 7.8 starters per race after two years when it reached 8.5.
Those numbers compare favorably with other states in the Mid-Atlantic in what is the most competitive racing region in the country. They haven't come without some frustration on the part of horsemen, however, who have expressed concerns about the paucity of opportunities for higher quality dirt horses and about the increasing use of "extras" to fill out racing cards.
Still, overall, horsemen had much praise for Hale's work over the years.
Trainer Katy Voss said that with Hale, who galloped horses for Voss in the early 1980s, the Maryland industry has been moving in a direction that is friendlier to those who seek to breed and develop younger horses.
"There are a lot of opportunities where you can protect your horse and get your money out," she said. "That's moving the game in the right direction."
"She's one of the people around here that lets common sense prevail as opposed to 'that's what it's always been' or 'that's what the book says,'" said trainer Phil Schoenthal, who has been training in Maryland since 2003. "For that reason, I've always enjoyed working with her."
Trainer Ferris Allen, who has been based in Maryland for nearly 40 years, called Hale "an iconic member of the Maryland racing community."
He added, "I think I speak for my colleagues in saying we hold her in the highest esteem. She is certainly as good as any racing secretary that I've worked with."
Hale has also served for three decades as the racing secretary at the Timonium race meet at the Maryland State Fair. That meet is scheduled August 24 through September 3, and sources told The Racing Biz that Hale is expected to continue as racing secretary for the meet.
"She is one of the gems of Maryland racing," Schoenthal said. "She has been one of the backbones and the spine of this place for a long time."