Carrasco scores first win in comeback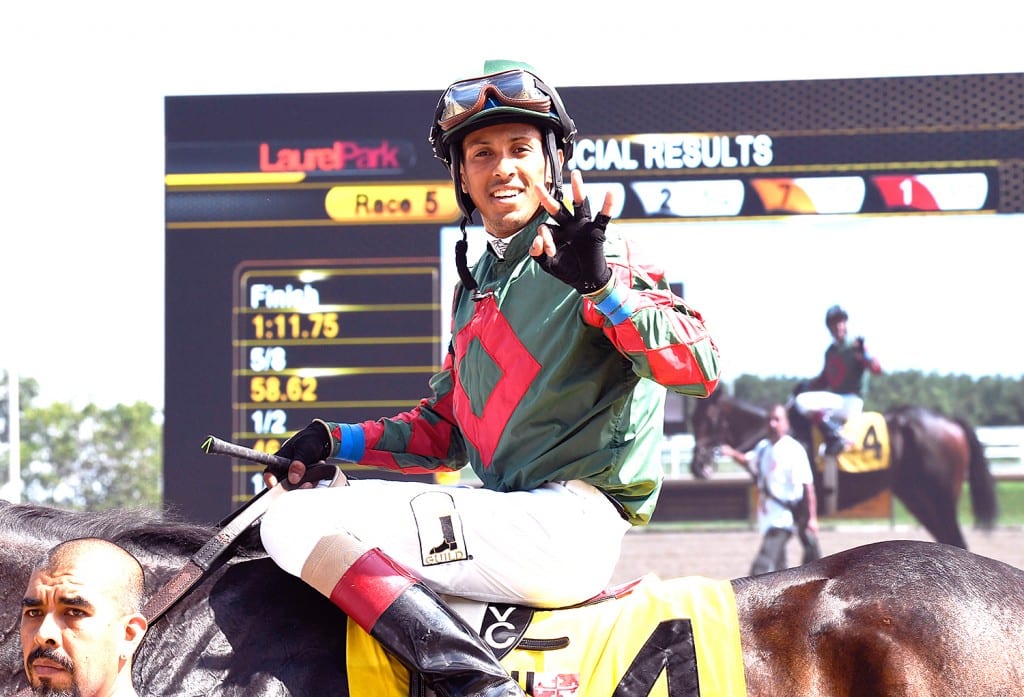 Victor Carrasco. Photo by Maryland Jockey Club.
From a Maryland Jockey Club release
No Guts No Glory Farm and Marisa Gino's Ten Hut found room between horses in mid-stretch and sprinted clear to win Saturday's ninth race and give jockey Victor Carrasco the first victory of his latest comeback.
Carrasco, 25, the Eclipse Award-winning apprentice of 2013, returned from more than nine months away from competitive riding June 17 at Laurel, after breaking the fibula and tibia in his right leg in a race-day spill at Delaware Park.
Ten Hut ($10) was the seventh mount back for Carrasco, a multiple meet champion at both Laurel and legendary Pimlico Race Course.
"This is a very, very special win for me. Coming from an injury this serious and being able to get back to do what I love, it means a lot to me," Carrasco said. "Nobody knows how hard I worked to be here today. It's a very, very special win for me."
A 5-year-old gelding trained by Jerry Robb, Ten Hut won the $23,000 claiming event by 1 ¾ lengths in 1:36.11 for one mile over a main track rated good. Hours earlier, Carrasco finished second with Vow's Son in the second race at Delaware Park.
"We're getting back to it. I worked very extra hard in physical therapy … but the only way to get fit is riding races and this was only my seventh horse that I rode," Carrasco said. "Every time I ride I'm getting fitter and fitter and people are going to see that I'm getting my confidence back, and hopefully I'm going to keep winning."
Carrasco is named in three of 10 races at Laurel on Sunday, which will feature carryovers of $6,858.92 in the $1 Super Hi-5 (Race 1) and $630.02 in the 20-cent Rainbow 6 (Races 5-10). First race post time is 1:10 p.m.