Gilpin Stakes: Altamura gives trainer Stephens first stakes win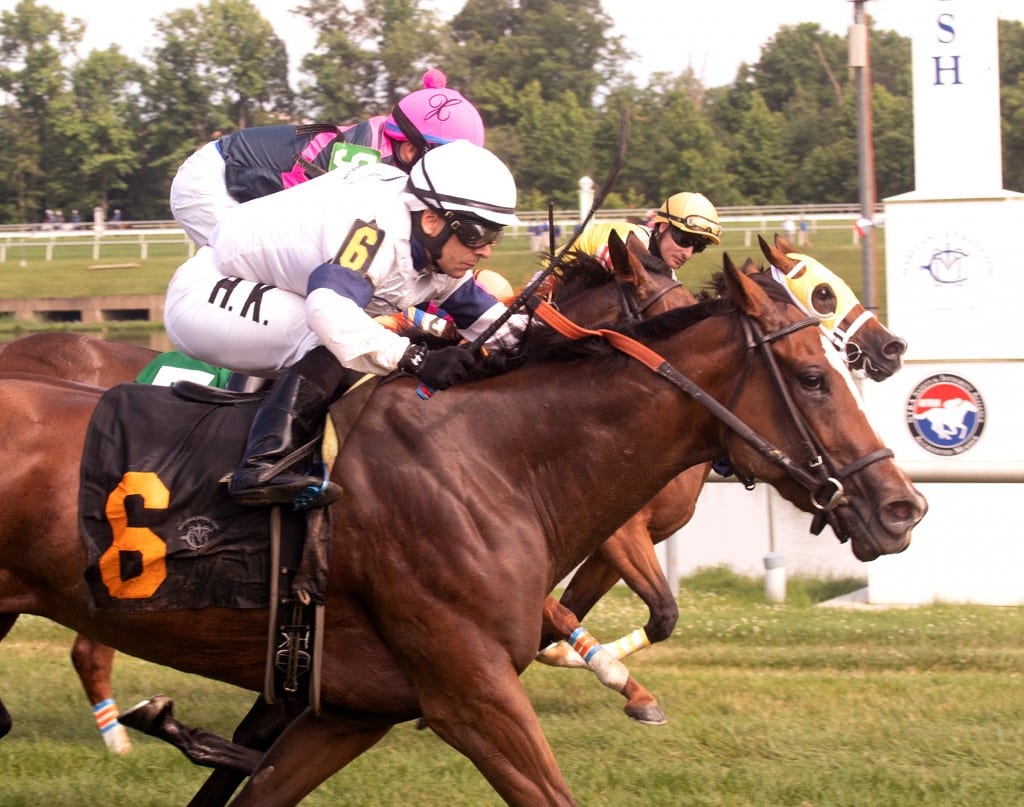 Altamura was up late to win the M. Tyson Gilpin Stakes. Photo by Jim McCue, Maryland Jockey Club.
by Frank Vespe
John Stephens has been living something of a dual life — break and sell babies most of the year, train a few during the summer — off and on for the last 25 years.
There were the years — 1992, 1996, 1997, 1999, 2017-2018 — where he made 20 or 30 starts as the trainer of record. And there were the years — most of them — when he made a start or two or five all year.
But what he hadn't done in that period, 225 starts in all, was be the trainer of record for a stakes victory.
Until today.
Today, Altamura, a three-year-old filly he trains for himself, Fred Seitz, and Danny Ward, fired up a furious late rally to win the $75,000 M. Tyson Gilpin Stakes for Virginia-bred or-sired fillies and mares three and up by a frantic head in a race in which the top four finishers were all within a half-length.
In addition to being the trainer's first stakes win, it was also the first added-money score for the Artie Schiller filly, who had broken her maiden just eight days earlier.
"It's exciting to be here," Stephens said. "That's why we ran her last week. It was kind of quick back for her, but the Virginia-bred (maiden) race fit her, and we said we'd see how she came out of that race."
Fine was the answer. That day, she ran down the Susan Cooney trainee Virginia Fable to win by a length. Today she ran down the same horse, though this time the winning margin was just a head. Given the presence of some solid runners in here — including stakes winners Northern Eclipse and Do What I Say and the promising What the Beep — that makes that June 15 tussle a pretty key maiden race.
Virginia Fable, a three-year-old Swagger Jack filly, was away quickly under Xavier Perez, leading the field through fast fractions while pressed by Northern Eclipse. Those two were one-two after a quarter-mile in 22.36 seconds and a half in 44.93.
Altamura, under Horacio Karamanos, enjoyed an ideal trip for much of the way, running by herself in the early going and around the turn while in sixth but just a couple of lengths off the lead. In the lane, Karamanos and his mount had a tough time find running room until they made some of their own, pushing through a narrow opening between Northern Eclipse and Do What I Say and flying home late to earn the narrow victory. Running time for the 5 1/2 furlongs over firm turf was a solid 1:02.05.
Virginia Fable held second at 23-1, while Up Hill Battle was third, just ahead of Sister Says. Altamura paid $18 to win and topped an exacta worth $128.30 for a buck.
Altamura now has two wins from four starts. The victory pushed her earnings to more than $68,000.
Altamura, out of the Jump Start mare Delta Weekend, was a $22,000 auction purchase as a yearling. An effort to sell her as a two-year-old fizzled when she did not meet her reserve prize, bidding topping out at $37,000.
That left her in Stephens' care.
"We started training her last year, but she looked like she needed more time," he explained. "So we gave her time and brought her back."
She made her career debut — "just to get her a race," Stephens said — in an off-the-turf route race at Monmouth Park May 12, finishing fourth. Her follow-up June 3 came on the turf, when bidders dismissed her, sending her off at 153-1. She ran a credible fifth, beaten less than four lengths. Then she scored last out, and doubled up here again today.
"She's just so honest," Stephens said. "I told Horacio, 'If you give her a shot, she'll give you what she has.'"
So now John Stephens — the man who broke Barbaro at his base near Ocala, FL — has himself a stake winner at his Monmouth Park base, a summer ahead to hunt for opportune spots, and another Virginia-bred stake coming up in August.
"This is kind of my fun summer," the trainer said. "Then in September it's back to work."
NOTES Stephens also won a maiden race in the nightcap, Nicki de Nephew taking a turf maiden claimer… In the day's other turf sprint, the White Oak Farm for three-year-olds and up bred or sired in Virginia, Determined Vision was a determined half-length winner under Jevian Toledo. The Phil Schoenthal trainee, winning his first stake in his first try on turf, survived multiple claims of foul after Toledo's saddle slipped. Running time was 1:01.99 for 5 1/2 furlongs, and it was sophomore Jump Start gelding's second win from five career starts. Schoenthal trains Determined Vision, who was bred by Althea Richards, for his own Kingdom Bloodstock and D Hatman Thoroughbreds.