Oak Bluffs, Morticia take MATCH Series races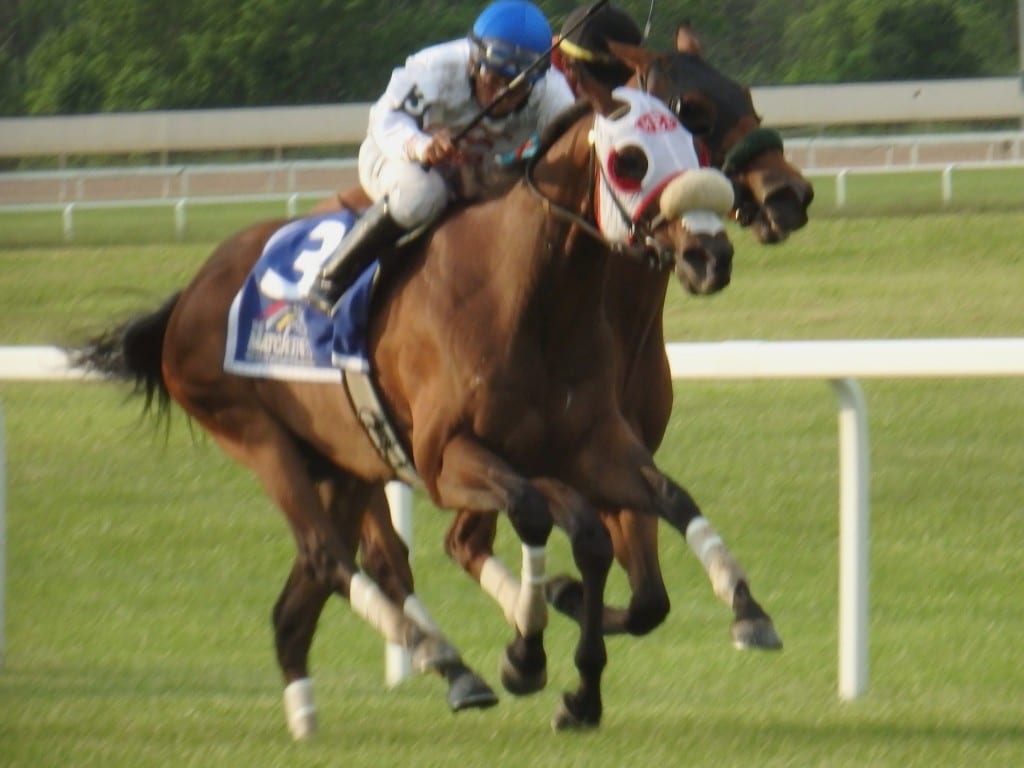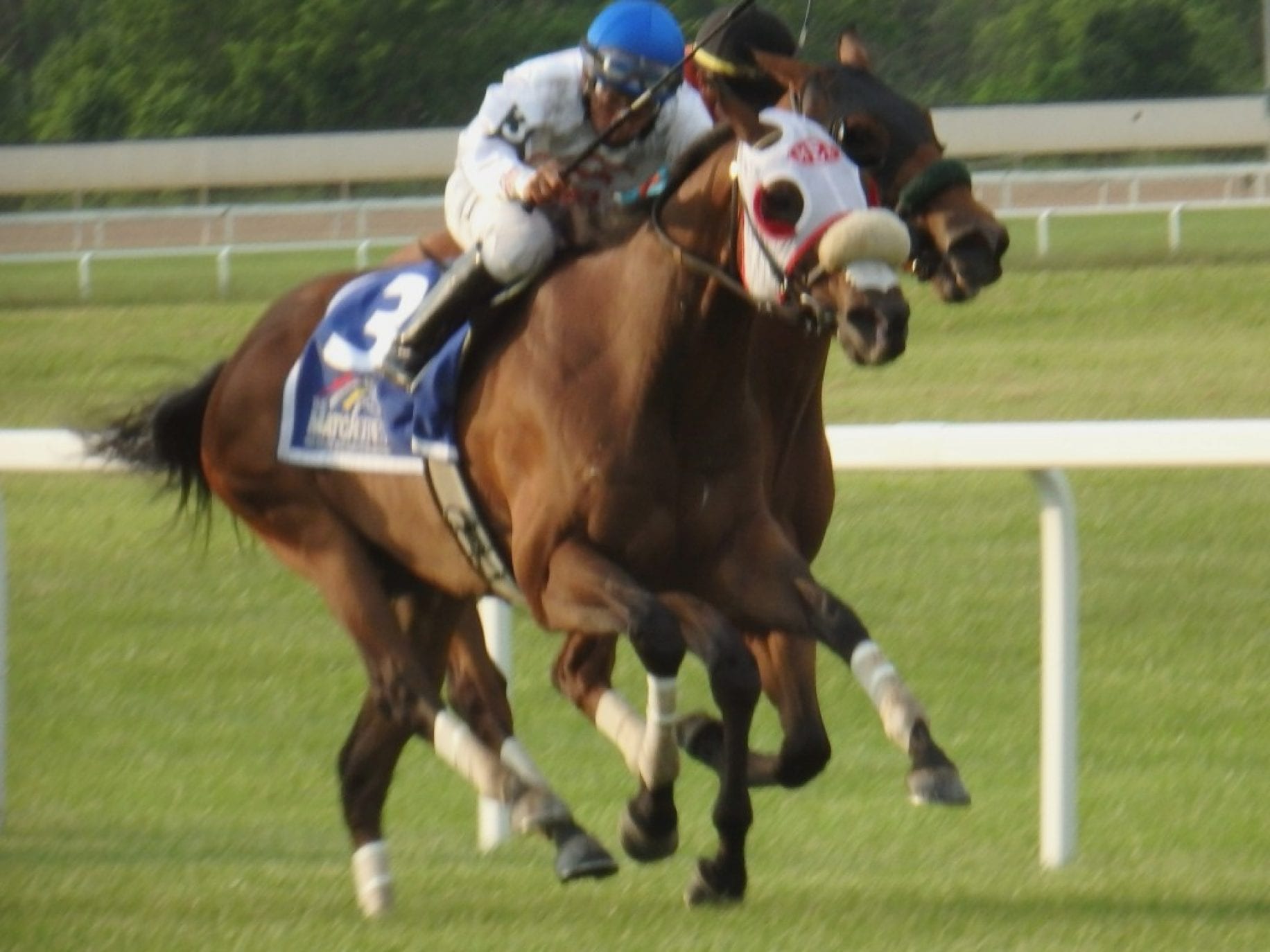 Oak Bluffs. Photo by The Racing Biz.
By Frank Vespe
Morticia battled for the front from the get-go. Oak Bluffs rallied from mid-pack.
But in the end, both runners posted victories in turf sprints on the Penn Mile undercard Saturday at Penn National. And with the wins, both earned 10 points in the Mid-Atlantic Thoroughbred Championships (MATCH) Series.
The 10 points earned by Oak Bluffs give him 15 total following his third-place effort in the Jim McKay Turf Sprint at Pimlico over Preakness weekend. That's the most of any horse in the male turf sprint division — and in the overall standings.
"He likes firm turf," winning trainer Mary Eppler said following the victory, assessing the difference between tonight's sharp score in 56.10 seconds, versus his well-beaten show over a boggy Pimlico course.
That effort came just two weeks back, but Eppler said the quick turnaround caused her no concern.
"All I did was jog him" between the two races, she said. "Freshen him."
Under Paco Lopez, Oak Bluffs found some trouble entering the turn, and then some more rounding it. But Lopez was able to get him outside and away from trouble, and the New Jersey-bred Defrere gelding, now eight years old, responded willingly to win by three parts of a length over the late-arriving Dubini. Pool Winner, who had the early lead, held third.
It continued something of a late-career renaissance for Oak Bluffs, who now has won 16 races and earned over $546,000. Eppler claimed him for all of $5,000 out of a race at Laurel Park on November 26, 2015. He's earned nearly $300,000 since the claim — not that Eppler necessarily expected such an outcome.
"He'd already won stakes and everything (when she claimed him)," Eppler said. "I thought, 'Well, gosh, if he's just a $7,500 horse, I'll make out."
That makes him not unlike the Eppler barn's star performer, Page McKenney, whom she claimed for $16,000 and who recently went past the $1.8 million mark in career earnings.
"Sort of like Page," Eppler acknowledged. "[I thought] if he could win some of the PA-bred races, I'd make out for $16,000."
The next stop in the male turf sprint division for Oak Bluffs is the $200,000 Parx Dash on July 7, and Eppler said she would expect to take Oak Bluffs there.
Another horse who might be there that day is Morticia, the George Arnold trainee who took the inaugural $100,000 Penn Ladies Dash by a length two races prior to the Governor's Cup. Running time for the five-furlong Dash over firm turf was 56.35 seconds.
The $100,000 Turf Amazon, the next stop for the fillies and mares sprint division in the MATCH Series, is that same day.
"It's a really good idea and we'd like to support it," Arnold said of the MATCH Series. "We've got one up on them, so that's a possibility."
His four-year-old filly did the work early and late in the Ladies Dash. Under Jose Lezcano, she dueled with Just Talkin, the Jason Servis trainee, in the early going, put that rival away in mid-stretch, and was never threatened by the late rally of longshot Rocky Policy, who finished second. Just Talkin was third, another length farther back.
While Arnold, who co-bred the horse with owner G. Watts Humphrey, Jr., said the MATCH Series is a future possibility, he also didn't rule anything else out.
"It's nice to get a win, but we were pretty confident," he said. "We'll run against anybody going five-eighths. She's pretty fast."