In Focus: Wagering Delaware Park opening day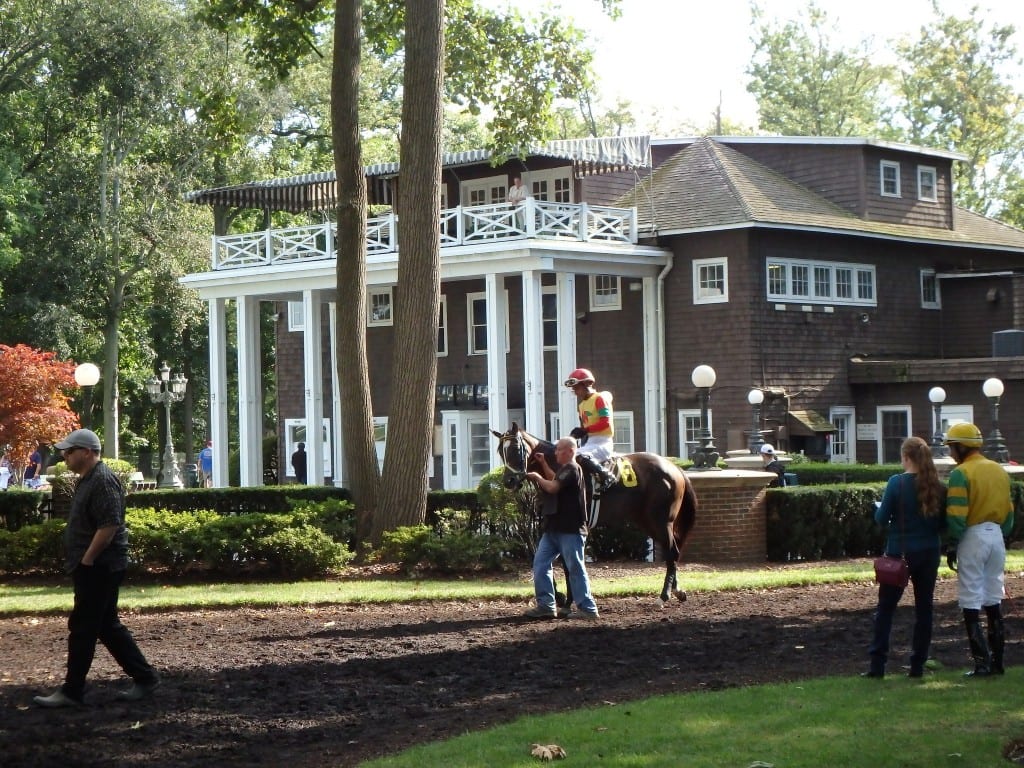 Photo by The Racing Biz.

Our In Focus Guide offers the most in-depth analysis and commentary on Delaware Park's opening day. And don't forget our free handicapping contest featuring Delaware!
RACE 1 – 1 mile, Clm. $4000 N2Y
#5 Bear Moon (8-1): Barely qualifies for the condition, as second win was smack-dab on the cutoff date; has won two straight but makes '18 debut here
#4 Kentucky Dancer (4-1): Looks to be main speed here, the one they'll have to catch
#7 Queen Esther (3-1): First off the claim for trainer Jamie Ness, frequently leading conditioner here; like to see solid rider Pedroza named
RACE 2 – 5 1/2 furlongs, Clm. $6250
#2 Dog Soldier (9-5): Dropped to easier spot to score going away last out; bested similar three back, and Cintron gets up for winning barn
#6 Pachi Cruze (6-1): Takes a slight step up in class here; has plenty of excuses for what would otherwise appear to be in-and-out form; Gonzalez to leg up go-to rider in Torres
#3 I Wanda Win (3-1): Toss the turf try, and this guy certainly fits with the likes of these; enters off win in off-the-turf tilt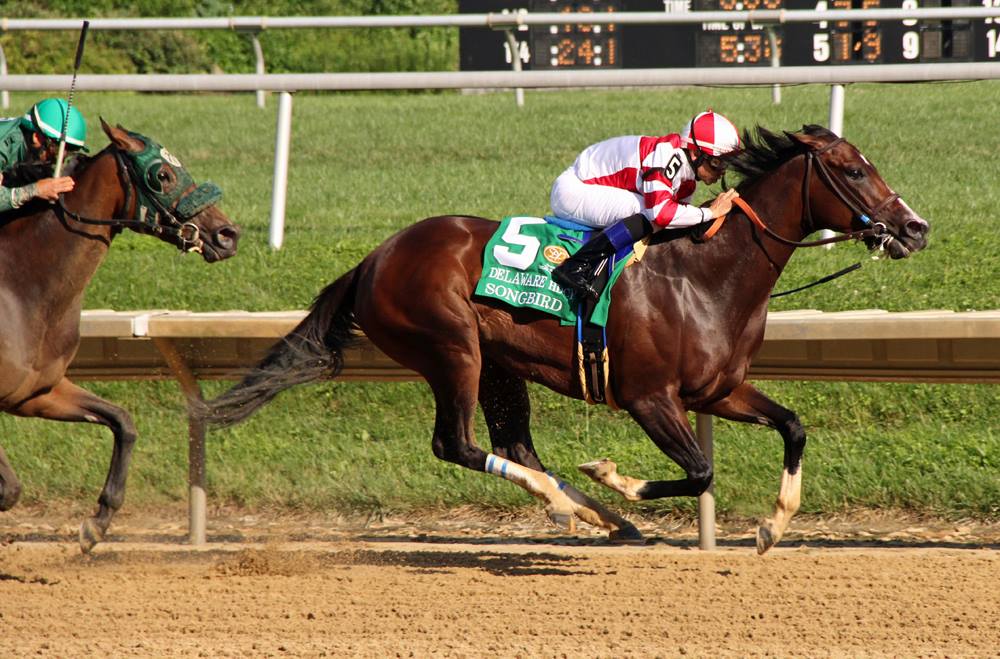 RACE 3 – 5 1/2 furlongs, MCL $5,000
#8 Buy for Less (6-5): Looks like a race where we'll have to eat the chalk; trainer Jacobson's patience has expired, as he ships in this nine-time loser in search of easy pickings
#3 Classy Bows (8-1): Decent work since last when well-beaten versus slightly better; trainer Gorham and jock Marin have done well together, and this miss can still improve
#5 Whimsical Delight (15-1): Shows a couple of OK works in preparation for second career start, first in 10 months; gets Lasix for first time, and improved effort would make her the equal of most of these
RACE 4 — 6 furlongs, Clm. $5,000 N2L
#5 Coveralls (6-1): Drops after middling effort when well-backed against better; lightly raced and can compete with these
#1 Adios Rose (3-1): Decent effort in last at slightly higher level, and others from that race ran well in follow-ups
#4 Important (8-1): Drops off a credible try at higher level; second off a six-month break, and can improve here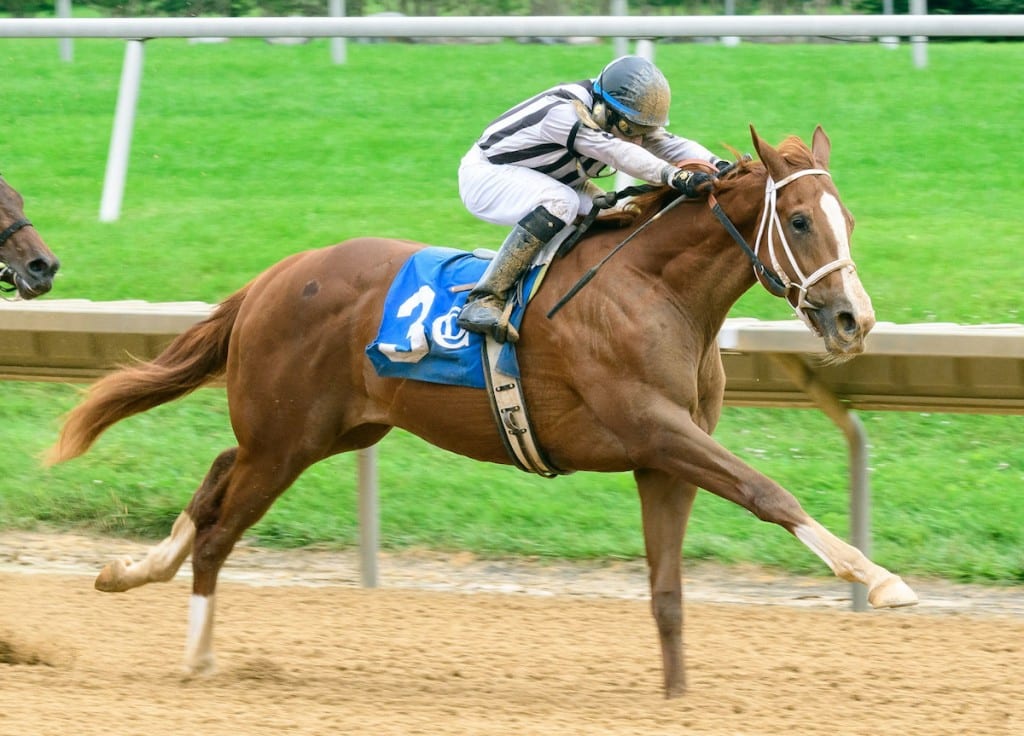 Whereshetoldmetogo. Photo by HoofprintsInc.com.
RACE 5 – About 5 furlongs (turf), Clm. $8,000
Political Farce (12-1) –

Closing sort makes 2018 bow in this event; rider Pino adept with late runners, will hope for zippy pace to tee up his late kick

Economic Data (20-1)

— Hasn't won a race since 2015, and an end to that trend would be a surprise here

Asset Allocation (12-1)

— Lightly raced Tiz Wonderful gelding makes 2018 debut here; has run well over the Delaware lawn but both grass wins at a mile or beyond; only showing two works, and you have to wonder if this is more a tuneup to stretch out

Small Giant (20-1) —

10-year-old hasn't won a race since 2014

Kitchen Police (10-1) —

Winless in seven career turf tries; makes 2018 bow here after concluding '17 with a pretty good try against slightly lesser on the main track

Racy (8-1) —

Veteran enjoyed a productive '17, never worse than second in five starts; has shown the ability to fire fresh before, his last three season-starters being a win and two seconds; major knock against him is that he doesn't win much, just seven times in 71 starts

Starship Thor (12-1) —

After a solid campaign, it kinda went south for this guy in his last two starts of '17 after the Jesus Cruz claim;  if he can get back to his better form here in season debut, he's a major player, even more attractive if you get something like the morning line

Make My Saturday (6-1)

— Lake trainee drops in half pricewise after two disappointing efforts to start the year; a return to better efforts puts him in the mix, and in his third off a layoff, that's not out of the question; two-back heat was against a solid group

Speedy Mexican (15-1) —

Would be turf debut for 5yo Girolamo gelding; he'll need to improve to compete with these, and breeding doesn't necessarily suggest that's likely; sibs are winless on turf, and sire's best success has been with main track runners

(AE) Fearthefalcon (5-1) —

Made a huge jump in his second start of '17, will need to repeat that here

(AE) Uncle Leo (8-1) —

Ran off several big races last summer before going off form, drops from allowance company

(AE) Smart and Tough (20-1) —

Looks to be in pretty deep here

(AE) Swagger (5-2) —

Competed against better prior to getting freshening; working fast for a barn that wins a ton

(AE) Old Sport (12-1) —

Unlikely to drawn in if the race remains on turf
Race 5 Picks
#8 Make My Saturday (6-1) — Could be main speed here
#6 Racy (8-1) — Can fire fresh
#7 Starship Thor (12-1) — Return to better form puts him squarely in the mix
RACE 6 — 5 1/2 furlongs, MCL $5,000
Personal Server (7-2) —

Drops to the bottom for second career start off a rough debut on the turf; fitness shouldn't be an issue on the cutback

Kitty McSwindle (6-1)

— NJ-bred hasn't shown much in three tries to date

Rosetta Red (9-2) —

Maryland-bred figures to have plenty to do late, and short sprint distance may not be ideal; best dirt try fits here

Doxa (10-1) —

Good news: she hasn't raced yet, so she could have some talent, and her works are good enough. Bad news: 5yo mare making her career debut is the first runner by a sire who was winless in his racing career, and is also the first foal out of an unraced mare. Your guess is as good as mine

Red Rukus (8-1)

— Gets a bit of a freshening after improved second effort, but showing just one sluggish work since; trainer Doran does well enough (6-for-40) off similar layoffs

Issue a Warrant (9-2)—

Expecting improved effort back on the main track and at a shorter sprint distance; nothing wrong with three-back try against a runner who repeated

Maryland's Miracle (5-2)

— Showed little on debut; trainer McMahon just 2-for-39 with runners making second career start in MCL company

On Shore Leave (15-1) — Best speed fig in five dirt tries is a 6
Race 6 Picks
#6 Issue a Warrant (9-2) — Gets back to suitable trip
#1 Personal Server (7-2) — Just second career start
#3 Rosetta Red (9-2) — Second off a layoff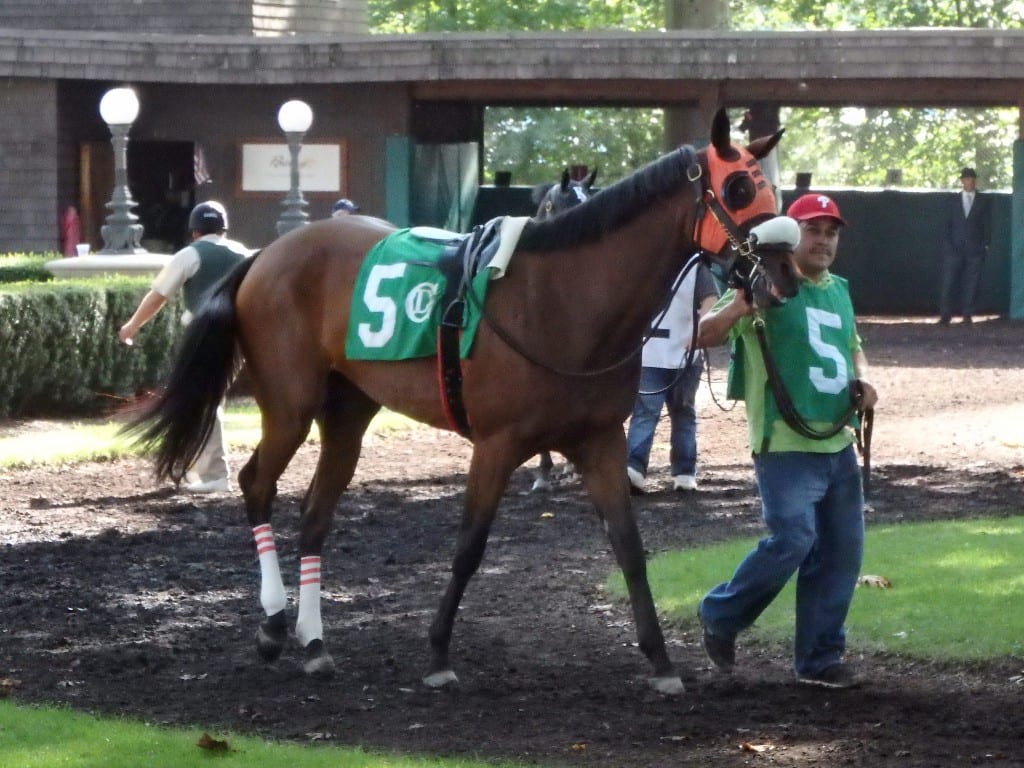 RACE 7 – About 7 1/2 furlongs (turf), Maiden Special Weight
Vera Verdi (15-1) —

Training forwardly, but her five sibs to race have combined for just one win

Tiz a Ghostzapper (20-1)

— Best bet might be if this one comes off the grass, as career-best effort was a runner-up try versus lesser on the main track

(MTO) Lady Breanna (15-1)

— Needs the surface switch to draw in; despite terrible debut, note that this runner was bet down to favoritism, comes from a hard-hitting barn, and attracts top rider Cintron

Frippery (4-1)

— Half to G1 winner Furthest Land and other solid runners and comes from a barn that can get 'em ready to win first out of the box (19% in MSW debuts); is showing a ton of works, which makes you wonder if she's been a bit slow coming to hand

Aspening (6-1)

— Training forwardly during brief freshening; backed out readily in lone two-turn try; good efforts in first pair of races

Screen Image (10-1)

— Useful debut for Sheppard trainee last September; gets Lasix for first time here

Ballerina Kitten (15-1)

— Trainer Epley is 0-for-9 with horses debuting in MSW company in the last five years; all of dam's wins were on the main track

Silla Manila (9-2)

— Top pair from last turf try both won their follow-ups; running style suggests added ground may help

(MTO) Lusitania (15-1)

— Interesting to see Irish-bred entered as MTO; decent effort last out on the lawn, and May 22 main-track work was fine

Conquest Valkyrie (15-1)

— 5yo makes just her third career start, first since '16; inclined to take a wait-and-see attitude on this one

Charming Emmy (20-1)

— Finished a couple lengths behind #6 in here in lone prior turf try; Vargas in the irons a plus, though wide post a concern

(AE) Agreeable (7-2) —

First time on the green for a filly whose dam was a turf stake winner; improved effort a distinct possibility

(AE) Benevida (10-1) —

First time on the turf for a filly whose dirt form is so-so

(AE) Isoclone (12-1) —

Return to grass looks like a positive, but Lonhro filly unlikely to draw in
RACE 7 PICKS
#4 Frippery (8-1) — Well-bred runner from a top win-early barn
#6 Screen Image (10-1) — Adds Lasix after respectable debut
#8 Silla Manila (9-2) — May be closer to the early action with added ground
RACE 8 – 1 mile, Starter Allowance $40,000 N1X/N3L
Josey Wales (4-1) –

Ritchey trainee jumped up to beat state-bred allowance types last out at PEN, rallying from well back; but that was six months back and runners from that event are 0-for-6 in their follow-ups

Bannon (10-1) –

Even effort last out in first turf try, switches back to the main track where he owns two wins; Vargas in the irons a plus

Nico Bree N Teej (3-1) –

Claudio Gonzalez trainee went off form his last couple before getting a freshening; spitting out sharp works in preparation for return and may find easier company to his liking

Klaatu (8-1) –

Rule gelding is a couple of stinkers removed from his better efforts, which would put  him in the mix here; Preciado set to leg up a 7-pound apprentice

Irish Major (6-1) —

First time in the Bennett barn and just fourth on the main track for this hard-hitting Henrythenavigator gelding, who's finished in the money six straight

People's Champ (8-1) —

Toss the turf try, and this guy fits here; note stellar strike rate for trainer McMahon teamed up with rider Rodriguez (24 percent at a big flat-bet profit)

G Zap (2-1) —

Well-bred, lightly raced sort offers plenty to like — good figs, lightly raced, a solid barn and a talented rider — but he's gonna have a lot, a lot to do when the field hits the quarter-pole
RACE 8 PICKS
#3 Nico Bree N Teej (3-1) — Sharp works and easier company may presage a return to better form
#7 G Zap (2-1) — Will be powering home late — too late?
#6 People's Champ (8-1) — Jock-trainer combo tough to ignore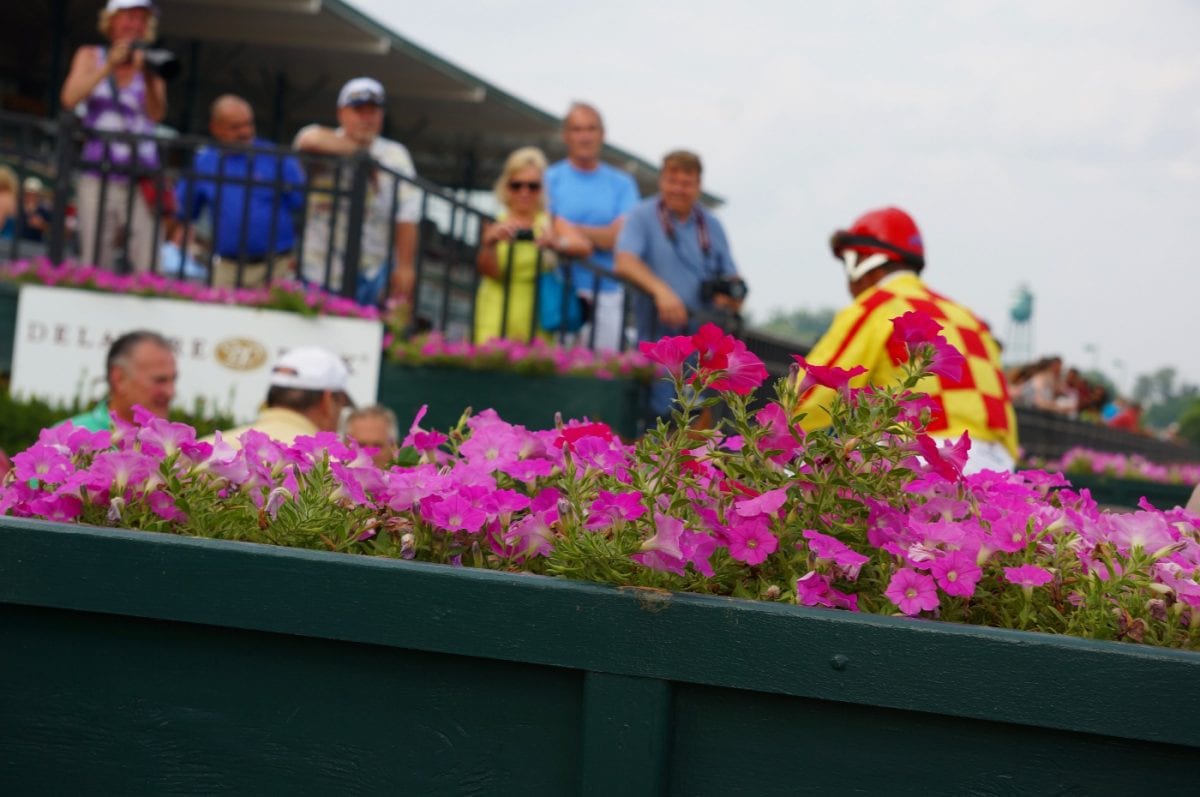 Photo by Vas.
ARABIAN WATCH
Arabian handicapping is provided by our friends at Arabian Finish Line
The first race of the 2018 Delaware Park meet is a $20,000 claiming race for fillies and mares 4-years-old and up going 5 1/2 furlongs.
RV Roulette is making her first start since 2016, and her first ever trip over the Delaware Park track. Similarly, Pick Me hasn't run since September, 2015 at Delaware Park. Likely they will need this race to find their previous form.
This will be the first start of the year for the rest of the field. Miss Paradise, owned and trained by Mark Powell, finished her season last year in fine form with two wins and and a second from four starts. Quarter Moon Ranch's Risky Red will often finish in the top three, and Fiftyshadess Of Bay, ridden by Darley-winning jockey Keibar Coa, is the lightest raced of the field, making only five starts over the last two years, but she has never finished worse than fifth. The well-traveled TM Maddamee may not get the win, but she is often in the money.