Delaware Park: Sports betting coming soon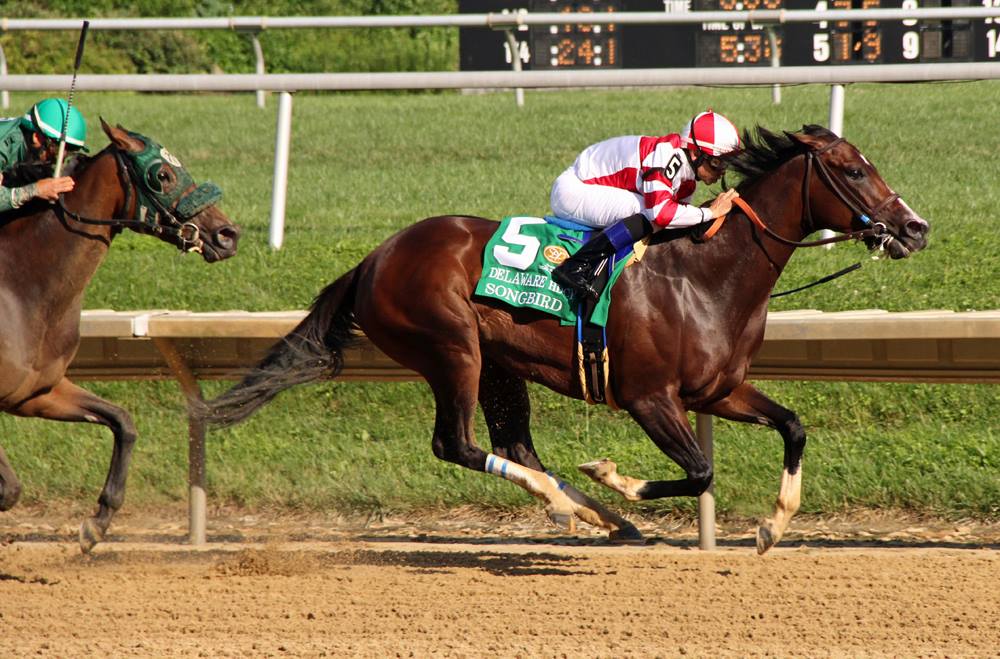 Songbird won the 2017 Delaware Handicap. Photo by The Racing Biz.
by Doug McCoy
Legalized sports betting, the return of two fan favorites to the jockey colony and a spirited battle for leading trainer are just a few of the things fans can look forward to this season as Delaware Park kicks off its 81st season of racing on May 30.
The recent decision by the U.S. Supreme Court on a case involving Monmouth Park has essentially cleared the way for legalized sports betting throughout the U.S. While a number of states have little or no experience in the area, Delaware Park has been offering betting on National Football League games through parlay cards for several years as one of four states exempted in the Professional and Amateur Sports Protection Act of 1992.
A recent opinion by the Delaware Attorney General stated it is legal to conduct sports betting in the state, and Delaware Park has already begun preparations to offer the service to its fans.
"Following Monday's ruling by the U.S. Supreme Court and consultation with the Delaware Attorney General's Office, we are confident that Delaware has the legal and regulatory authority to authorize sports gaming in Delaware," state Finance Secretary Rick Geisenberger said in a statement May 17. "The Delaware Lottery has had plans in place for months, and we will begin training lottery and casino staff early next week. We will continue to provide public updates as we prepare to launch full-scale sports gaming in Delaware next month."
"We've begun training with our mutuel clerks, and we expect to be ready to offer sports betting early in June," Bill Fasy, president of Delaware Park, said earlier this week.
Fasy reports horsemen will receive the same percentages on revenue derived from sports betting it has been getting through the parlay cards.
The top exec at Delaware Park said he doesn't share the feeling of many that sports betting will be a major revenue source, noting, "Single-game wagering is tougher than a lot of people think. Of course, we're hopeful sports betting will result in an upswing in business, but only time will tell what the impact will be."
While on the one hand the addition of single game and other bets should help, Delaware will also face increased competition from other states now empowered to offer sports betting – notably, in the first instance, New Jersey and Pennsylvania.
On the racing scene the jockey colony will get a boost from two fan favorites who are returning to the track that played an instrumental part in their respective careers.
Mario Pino, who is less than 200 wins shy of 7,000 lifetime victories, will be returning to Stanton. It was also at Delaware Park that Pino and trainer Larry Jones hooked up in 2006 with a speedy and talented colt named Hard Spun. Hard Spun broke his maiden under Pino at Delaware Park that year and went on to run second in the 2007 Kentucky Derby, third in the Preakness and second in the Breeders' Cup Classic.
Pino is 56, an age where most jockeys have long since retired, but he points out his yearly schedule has a lot to do with his longevity and good health.
"I usually take four or five months off every year during the winter to recharge the batteries both mentally and physically," he explained. "Then about a month before I plan on starting back full time I turn things up a notch."
Among the riders Pino will compete with is Jeremy Rose, whose career kicked off at Delaware Park in 2000 when he won his first race aboard Dalys Princess and for 10 years he was regarded as one of the top riders in the country while based in Delaware. He won the Eclipse Award as the nation's Outstanding Apprentice in 2001 and in 2005 won the Preakness and Belmont Stakes aboard Afleet Alex.
Like many in America, Rose became addicted to pain-killers after first being prescribed the medication to treat injuries suffered while riding. For several years his career nosedived. He eventually wound up riding mostly at Penn National.
Now engaged, his desire to be a good husband to his fiancée, Brittney Nicole, and father to her daughter made him face his personal issues and straighten his life out. He recently reunited with John "Kid" Breeden, who was his agent during his most successful years.
"I had been trying to get together with him (Breeden) for a couple of years but the timing wasn't right," Rose explained. "I have a lot of fond memories of Delaware Park."
Rose was leading rider at the oval in 2001 and 2007, and while the 39-year-old admits getting back to the very top might be a stretch, he added, "Any part would be nice."
Jamie Ness and Scott Lake finished in a tie for leading trainer last season and both are back with solid strings, but they may get a challenge for the top spot from Gerald Bennett. Bennett recently won his third straight training title at Tampa Bay Downs and returns to Delaware Park with 50 head. He won 22 races here in 2016 to finish fourth in the standings and returns with a strong mix of seasoned older horses and promising youngsters.