Leatherman: Pimlico barn offers close-up look at history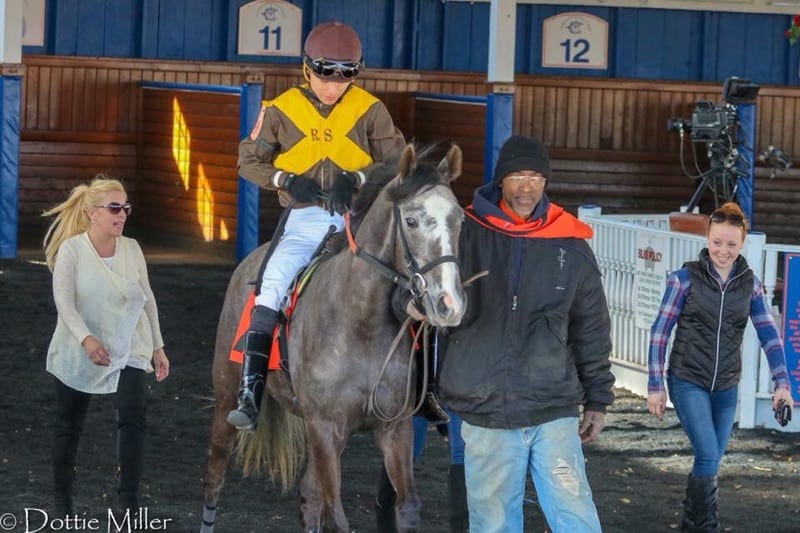 by Frank Vespe
On the Thursday following the Preakness – the first post-Middle Jewel day of live racing at Pimlico Race Course – a small smattering of fans and bettors stuck around to watch the nightcap. A group of jockeys, and a trainer or two, walked across the main track after the last race to test the turf course, to see if it might be ready for Friday racing.
It was hard to believe, standing before the vast empty grandstand, that just a few days earlier, every seat, every nook, and every cranny of Old Hilltop had had an occupant.
"Things come down so quickly," said Faith Leatherman, a trainer who'd saddled the nightcap's fifth-place finisher, A Simple Challenge. "The party's over, so – bam!"
Leatherman is well – perhaps uniquely – positioned to observe both the onset and the ending of the Preakness party.
Like a number of other trainers, she's stabled at Pimlico. She's the only local trainer, however, to be based on the front side, which is where Pimlico's stakes barns are located. She's just a couple of doors down from where Justify spent his Preakness, from where runners trained by Pletcher and Asmussen and Baffert and others bedded down. From where history waited to take place.
"There's just a ton of history here," Leatherman said. "I love Pimlico. I don't want to leave."
Yet for a week, sometimes two, each year, Leatherman is almost like an intruder in her own home. The powerful out-of-town operations arrive, trailed by first the racing press and then the mainstream media. The television trucks arrive, and crews began to create their sets. Golf carts buzz about the grounds.
The facility that Leatherman describes as "like your own private training center" turns, for a brief window of time, into a whirlwind, the very center of the racing world, and no one's focus is on the 25 horses Leatherman trains out of Barn A.
But she's not complaining.
"We open up our barn for the sunrise tours, and we have for the last two years," Leatherman said. "We're very happy to be on this side of the track."
The sunrise tours invite the public to tour Pimlico and to learn a bit about the network of interconnected strands that comprises the sport. Being a part of the sunrise tours affords Leatherman, a mom whose two teen daughters, Brooke and Taylor, both aspire to be jockeys, a chance to share the sport of Thoroughbred racing with a new generation.
"When the tours come through, it's people that have no idea what you do and they're fascinated," she explained. "We can share a little bit of history and a little bit of what we do. And the kids — they come in and they're just, eyes wide open."
Sharing the front side with the game's top operations also gives Leatherman a chance to see how they operate and pick up a trick or two. Valuable for anyone, that's perhaps especially important for someone who came to the sport relatively late in life. Her Maryland farm, in the family since 1945, was a dairy farm until she and her husband Brad began taking in layups, foaling mares, and the like in 2000.
"I can't obviously go over and stand in the stakes barn, but I watch training in the morning," Leatherman said. "I'm a believer that you're never too old to learn. I didn't even know that I would be doing this 20 years ago. When it's just us in the mornings, it's really cool to be around those guys in their natural world, and of course you pick up things, and I would be silly not to."
Of course, the presence of the game's titans also provides Leatherman, who's been training at the track, she said, for about two years with modest success, a little something to dream on.
"There's such beautiful horse flesh, and you think, 'Will I ever?'" she said. "We always joke around – 'Is that our Oaks horse?' You always set that goal, at least I do, to have a really good horse. It's the excitement of that ride."
In the meantime, though, there's the daily reality of her operation, the two dozen horses that depend on her for food, for water, for exercise. Leatherman trained her string normally through the Thursday before the Preakness, but then gave them off until the Monday following.
The weather – the week's worth of rain that turned Pimlico into a sodden, muddy mess – played the major role in that decision. But something else factored in, as well.
"I don't want my horses to do anything to mess up the stakes horses before the big races," she allowed. "This is their time to shine, and it's a big deal. Maybe one day we'll be there."
Come the weekend, Leatherman and her husband watched from the box seats overlooking the Pimlico finish line as Justify outslugged his rivals to win the Preakness, earn the Woodlawn Vase, and etch his name into racing's history books, perhaps to be writ even larger if he takes the Belmont in a couple of weeks.
Many in the media, perhaps many in attendance, too, focused much attention on the state of Pimlico's physical plant: the water leaking into the facility, the paint peeling throughout, the labyrinthine passages. A facility long past its better days.
Not Leatherman, though.
"When I look at Pimlico now, I don't look at a dump," she said. "I think there's history here, and I think that when you walk in you can just imagine in your mind years ago. I can be inside of Pimlico, and I can look across the grandstand and I can easily see someone in garb from years and years and years ago making a bet or watching their horses work in the morning. I picture that when I am here."
How much sway nostalgia will have over Pimlico's ultimate fate remains to be seen. The track's future lies in the hands of the political process now, the Maryland Stadium Authority in the midst of a study to determine whether and how Pimlico could be remade into a venue equal to the task of hosting the second-biggest racing day in the country – and who would pay for that transformation.
Meanwhile, in Barn A, which has plenty of its own history – having housed, at one point, Leatherman said, the operation of Hall of Famer Henry S. Clark, as well as that of Dickie Small, among others – Faith Leatherman and her family and staff have the chance, each year, to be up close and personal and to watch while history brews and bubbles before bursting forth on the third Saturday in May.
"We had a grand time – we really did. It was the first Preakness for my husband, which was cool to see," she recalled a few days later. "I can't say I'm happy to see [the Preakness horses] go. I'm happy it quiets down a little. We're just privileged to be here and amongst it all."