Million-dollar horse lights up Fasig-Tipton sale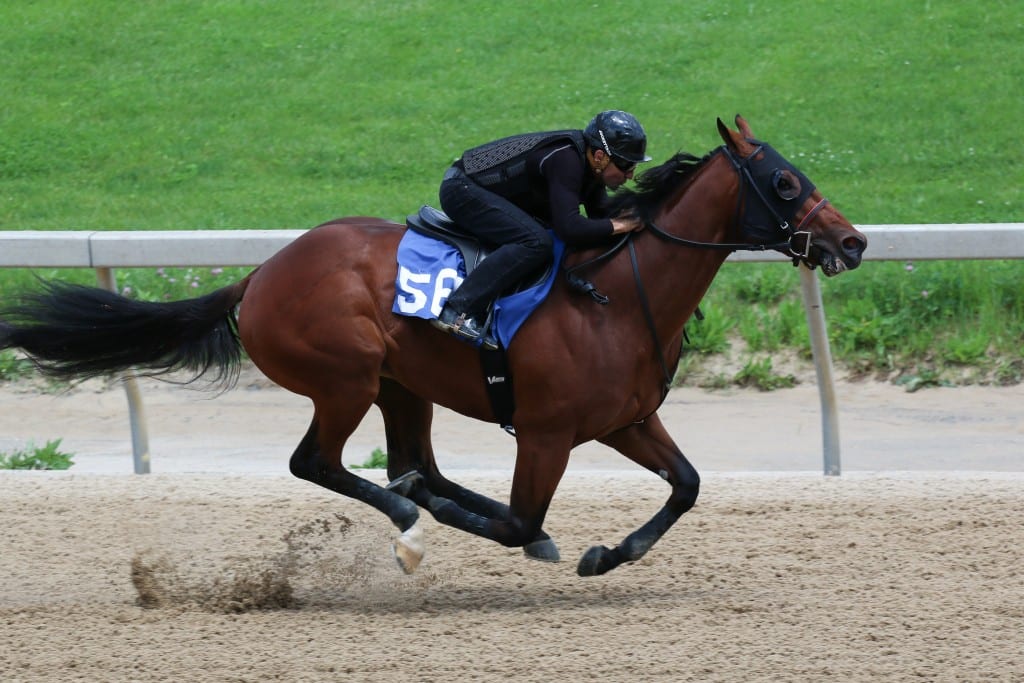 A Union Rags colt brought $925,000 after breezing the fastest eighth of a mile at the sale. Photo by George Adams/Housatonic Bloodstock.
by Frank Vespe
"You never know when lightning is going to strike in this business," said consignor Bobby Dodd late in Tuesday's second and final session of the Fasig-Tipton Midlantic sale of two-year-olds in training. "That's why we do it."
Lightning struck in Timonium twice in the space of four hips on Tuesday.
First came Michael Lund Peterson's $925,000 purchase of Hip 561, a Union Rags colt consigned by Dodd.
That was the sale-topper for all of about 10 minutes — until Dennis O'Neill spent $1.2 million on behalf of a new owner he declined to name to purchase Hip 565, a Medaglia d'Oro colt.
"Our consignors have gotten so confident in bringing these types of horses to this marketplace," said Fasig-Tipton Midlantic sales director Paget Bennett. "They've been rewarded in the past and are confident enough to keep doing it year after year."
Those two, arriving late in the day, helped propel the second day to nearly $12.6 million in gross sales. Overall the two-day event generated total sales of $24,660,500.
The Medaglia d'Oro colt is the first foal out of the graded stakes-winning Tapit mare Tapicat. The bay colt, a March baby, breezed an eighth of a mile in 10 1/5 seconds.
"We were hoping to buy a Derby horse, and we hope this is the one," O'Neill said.
Coming on the heels of the sale of the Union Rags colt, it marked an extraordinary few minutes in Timonium.
That Union Rags colt, named Tangled Union, is out of the winning Tale of the Cat mare Tanglewood Tale. He recorded the fastest breeze of any horse in the sale, zipping an eighth in 10 seconds flat.
"He's a nice horse," Dodd said. "Everything went right, and it ended right."
Dodd called the colt's breeze "unbelievable. " It came as part of a sequence that challenged buyers, consignors, and the sales company, as rains throughout the week left the track sloppy and forced Thursday's breeze show to be moved to Sunday.
With the late-day fireworks, this year's sale drew nearly even with the record-setting 2017 version. Last year's event generated gross sales of over $25.2 million, about 1.5 percent higher than the just-completed sale, with last year's average about 2.3 percent higher than this year's $74,680. This year's median, of $38,000, exceeded last year's $33,000.
The buy-back rate increased this year. Of the 430 hips to go through the sales ring, 97, or 22.6 percent, did not find a new home. Last year's buyback rate was 19.9 percent.
The Tuesday morning scratch of Hip 538, a Tapit colt who'd breezed in 10 1/5 seconds and was generating buzz throughout the sales grounds complicated matters.
"He was a lovely, lovely colt," Bennett said. "You knew it was going to create some excitement."
Observers of the market said it had the same strengths — and weaknesses — prevalent here and nationally: plenty of money for top horses but a scramble in other market segments.
"As always, the cream goes to the top," said David Hayden.
Hayden, a Maryland breeder, bred Hip 427, a Bodemeister colt out of the stakes-winning Pure Prize mare Plum. The bay colt, consigned by Cary Frommer as agent, fetched a top bid of $300,000 from Steve Young as agent. That made him the top Maryland-bred in the sale.
"Plum gets absolutely spectacular foals," Hayden said "She's a beautiful mare herself."
Consignor Kip Elser, of Kirkwood Stables, agreed with Hayden regarding the overall market.
"Same as everywhere else," he commented. "There's money at the top. It's tough in the middle and lower ends."
Elser consigned Hip 278, a Mucho Macho Man colt that brought a winning bid of $625,000, fourth highest of any horse at the sale. Michael Lund Peterson also picked him up.
"He's a nice horse," Elser said."He performed spectacularly on the racetrack, was up to expectations on the shank and with the vet."
Hayden's and Elser's horses were among 13 that sold for at least $300,000.