Fasig-Tipton: Opening session "solid" as More Than Ready colt stars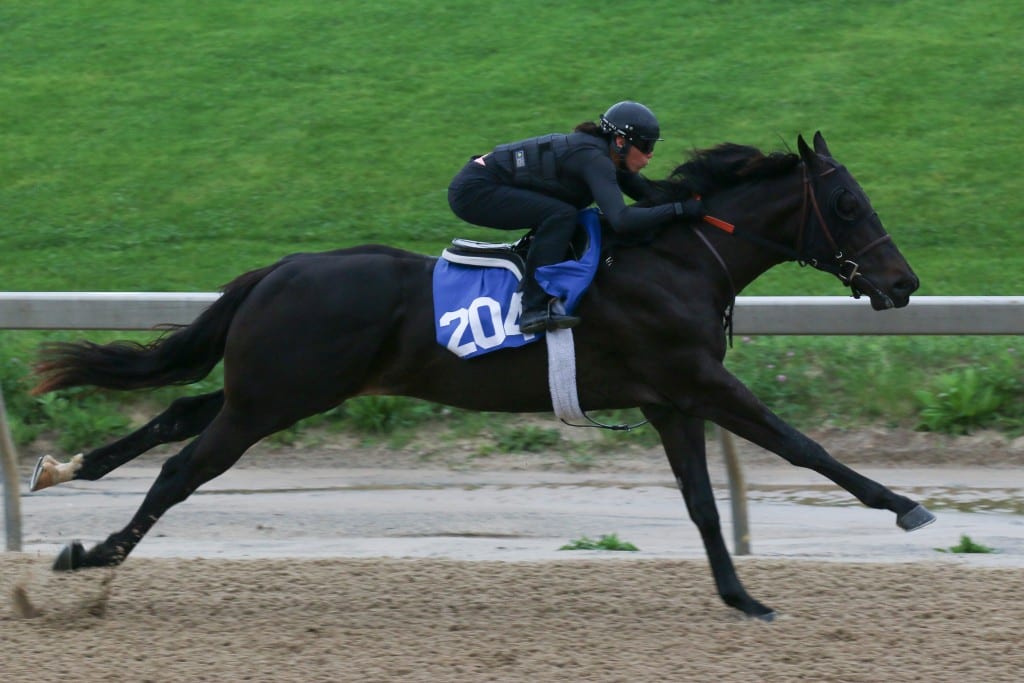 A More Than Ready colt topped day one of the two-day Fasig-Tipton Midlantic two-year-old sale, fetching a winning bid of $750,000. Photo by George Adams/Housatonic Bloodstock.
by Frank Vespe
The Fasig-Tipton Midlantic sale of two-year-olds in training drew as big a crowd to the sales pavilion Monday for the first of two days as anyone could remember.
And the crowd brought some money with them.
By day's end, some $12 million worth of horses had changed hands — 172 hips in all.
That roster was led by Hip 204, a More Than Ready colt out of the multiple-graded stakes-winning Unbridled's Song mare Embur's Song. The colt, whose female family is dotted with black type runners, among them the Preakness winner Exaggerator, fetched a top bid of $750,000 after breezing an eighth of a mile in 10 1/5 seconds.
Hip 204 was consigned by Hartley/de Renzo and purchased by Ed Savant, Jr.
Hip 204 was one of five horses on opening day to sell for at least $300,000. He was followed by a Mucho Macho Man colt who brought a winning bid of $625,000 after working a quarter-mile in 21 1/5 seconds. Consigned by Kirkwood Stables as agent, he was purchased by Michael Lund Peterson.
The others were a Bernardini filly who went for $325,000 and an Uncle Mo filly and a Maclean's Music colt, each of whom brought $300,000.
The top seller bred in the Mid-Atlantic was Hip 152, an Uncle Mo filly bred in Virginia. Out of the placed Unbridled's Song made Claire's Song, she brought a top bid of $250,000 from Mike Ryan as agent. She was consigned by Sequel Bloodstock.
All were among the baker's dozen of horses — 13 — who fetched winning bids of $200,000 or more.
The sale overall posted numbers that were substantially similar to those on day one of a year ago. Last year's event generated record gross sales of more than $25 million over two days.
"A solid opening session," Fasig-Tipton president Boyd Browning called it.
The day-one gross sales of $12,066,000 were up 4.6 percent from the opening session of last year's sale. The average was down a bit, from $71,219 to $70,151, and the median also fell, from $40,000 in last year's opener to $36,000 today.
The buyback rate declined, meaning that more horses left with new owners. All told, 51 horses did not find a new owner, versus 172 that did, resulting in a buyback rate of 22.9 percent. That compared favorably with day one of last year, which saw a buyback rate of 25 percent.
The horses are cataloged and sold in alphabetical order by the name of their dam, meaning when the good horses sell is essentially random. A year ago the second session was substantially stronger than the first, and Browning said he had heard "chatter" that something similar could happen Tuesday.
At the same time, he pointed out, "We finished really strong" in Monday's first session. The sale's top three sellers all came in the last 100 hips to go through the ring.
Hips 301-600 will be sold tomorrow at the Timonium sales pavilion, starting at 2:00 p.m.