Fasig-Tipton: Delay a complication, but catalog looks strong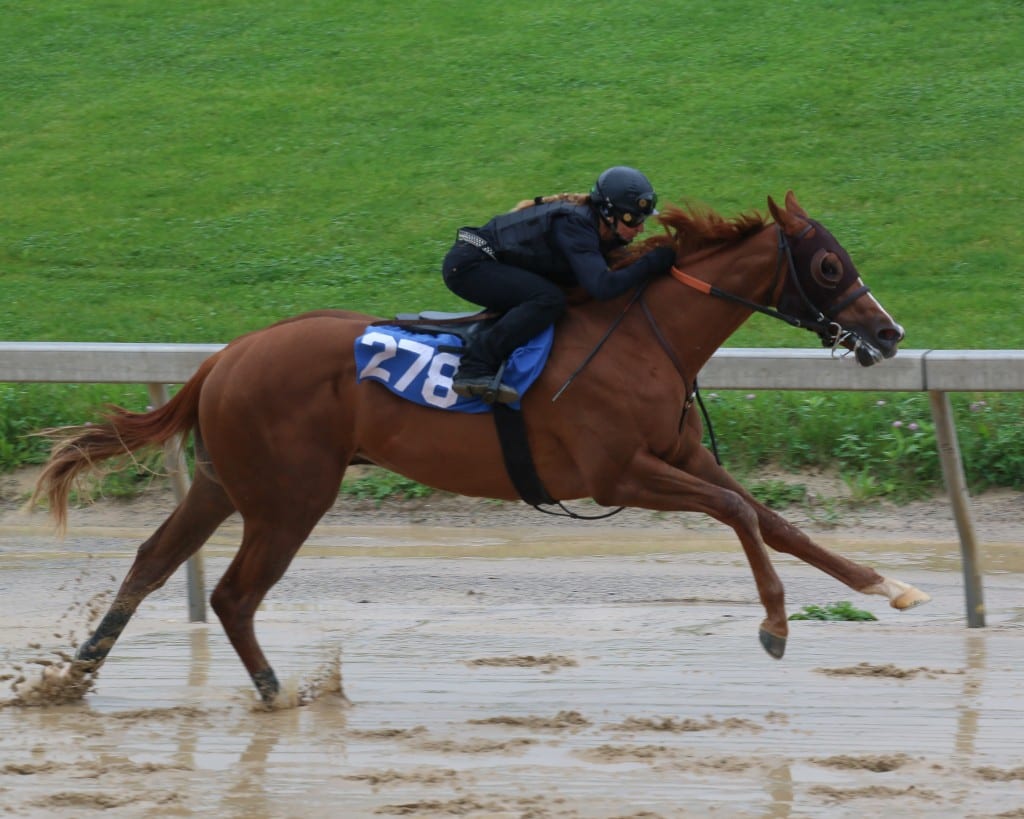 Hip 278, a colt by Mucho Macho Man, worked the fastest quarter-mile of any horse in the Fasig-Tipton sale, breezing in 21 1/5 seconds. Photo by George Adams.
by Linda Dougherty
The Preakness Stakes may be over, but the business of horses continues at the Timonium Fairgrounds, where Fasig-Tipton Midlantic presents its 2-year-olds in training sale May 21 and 22, commencing at 2 pm each day. The sale had originally been set to start at 11 am.
The 2-year-olds in training sale attracts both locally-based horsemen and those who may have come to town for the Preakness festivities at Pimlico. It's been the source of many top horses, with the catalog cover featuring three graduates that won Grade 1 events within the last year – Army Mule (Carter Handicap), Bowies Hero (Kilroe Mile) and Lady Ivanka (Spinaway Stakes). Some 600 hips were cataloged for this year's sale.
Because of the week-long rain that has plagued the mid-Atlantic region, Fasig-Tipton rescheduled the third session of the under tack show from Thursday, May 17 to Sunday, May 20, citing the safety of horses and riders as its prime concern.
It presents a challenge to consignors and buyers, considering it cuts down on the amount of time buyers will have to inspect horses that work on Sunday. As a result, it prompted Fasig-Tipton to move back the sale's start time three hours each day.
"Pushing back the start time of both sale sessions to 2 pm will ensure that buyers will have ample time to complete their pre-sale inspections and evaluations," said Fasig-Tipton President Boyd Browning in a statement.
"What a monkey wrench the rescheduled day threw into our plans," said consignor Clovis Crane, whose base of operation is in Lebanon, Pa. "If it was only one day, it would have been okay, but three days … boy, oh boy, it's tough. It's going to cost us more money because our stable ponies and riders have to be here longer, and we should be showing horses on Sunday and we can't, because buyers want to see how a horse breezes before looking at them."
Of his 2-year-olds, Crane said that he was bullish about Hip 207, a Pennsylvania-bred Lookin at Lucky colt that worked an eighth in 10.3. The colt is out of Essential Rose, by Bernardini, and he's a half-brother to Rose's Vision, a stakes-placed earner of $104,508.
Also, Crane said he loved the way Hip 350, a Maryland-bred filly by the late Tritap, worked, timed in 10.2. Named Kelly's Boat, she's a half-sister to Dancing With Maude, a stakes-placed earner of $110,936.
"This is a beautiful filly who will grow up and mature into a tremendous racehorse. She's really neat," said Crane.
Crane said one of the standouts of his consignment, an Uncle Mo filly (Hip 499), has yet to work, along with five others.
"I expect big things from her," said Crane. The filly, named Ginger Mo, is out of the Southern Halo mare Seraphic Too, and is half-sister to two stakes winners.
Cary Frommer, who sold a Ghostzapper colt that brought $800,000, the third-highest price at last year's sale, said she understood why Fasig-Tipton rescheduled the last day of the under tack show, but hoped it wouldn't have an effect on buyers.
"I like when things follow a schedule," said Frommer, "and it might not take much to affect the outcome of the sale. That being said, I think Fasig-Tipton ultimately made the right decision."
Frommer has two Maryland-breds in her consignment this year – Hip 427, a Bodemeister colt bred by Dark Hollow Farm, and Hip 144, a Tritap filly that she bred herself.
The Bodemeister colt is out of Plum, a Pure Prize mare that captured the Maryland Juvenile Filly Championship during her racing career,
Frommer's Tritap filly, who worked an eighth of a mile in 10.1, is out of the winning Cuvee mare Cheers Darling. Her second dam is stakes-winning Bragadocious, who is a half-sister to graded stakes winner Stonehouse ($632,347) and multiple stakes winner Cashmere Miss ($321,873).
In addition to the Tritap filly, Frommer also bred Cheers Darling and Bragadocious. She foals her Maryland-breds at Dr. Tom Bowman's Roland Farm in Warwick.
While the sale offers horses with top Kentucky bloodlines, it also catalogues those bred in the mid-Atlantic region, and thus eligible for its rich state-bred programs. Army Mule is a perfect example of this – sired by a horse that stands in Maryland (Friesan Fire, who holds court at Country Life Farm), and bred by Jim McGreevey's Hope Hill Farm, located in Oxford, Pa.
f you're looking for the next Army Mule, who commanded a lofty $825,000 pricetag in 2016, Hip 92 is a Pennsylvania-bred colt sired by Friesan Fire out of the winning Forestry mare Avani Force, a full brother to multiple winner Friesani, offered by Grassroots Training & Sales, LLC of Ocala.
The colt was co-bred by Beatrice Patterson and Vicky Schowe, who sold him at the Fasig-Tipton Midlantic yearling sale for $20,000 to Grassroots. He worked an eighth of a mile in 10.2, and adding to the appeal is that he's Maryland Million and Delaware certified.
"I love him," said Patterson, whose husband Duncan is the chairman of the Delaware Thoroughbred Racing Commission. "He's my type of horse – a big, sturdy colt."
Patterson said the colt was foaled at Rick and Dixie Abbott's Charlton farm in Cochranville, and after weaning was raised on her Rockland Hill Farm near Wilmington, De.
"We still have his dam, Avani Force," said Patterson. "She has a yearling filly by El Padrino, and had a colt by Bullsbay this spring. She's been bred back to Uncle Lino (who stands at Northview-Pa)."
The mid-Atlantic region was well represented in the catalogue. There were 36 Maryland-breds catalogued, 34 Pennsylvania-breds, seven Virginia-breds, two New Jersey-breds, and two West Virginia-breds.