In the stands and infield, "the Preakness goes on"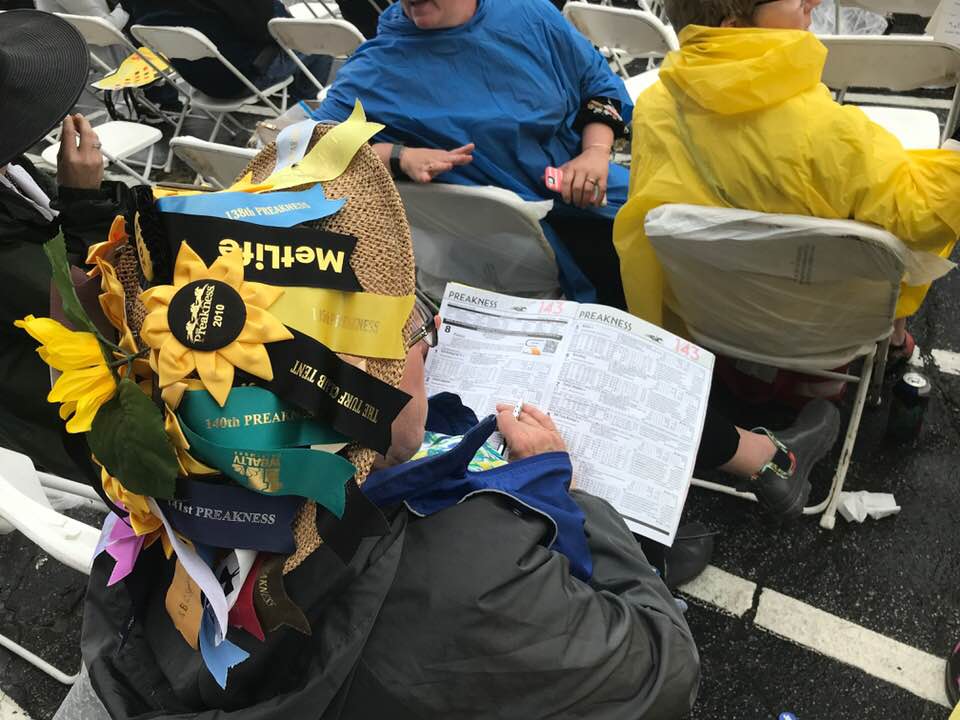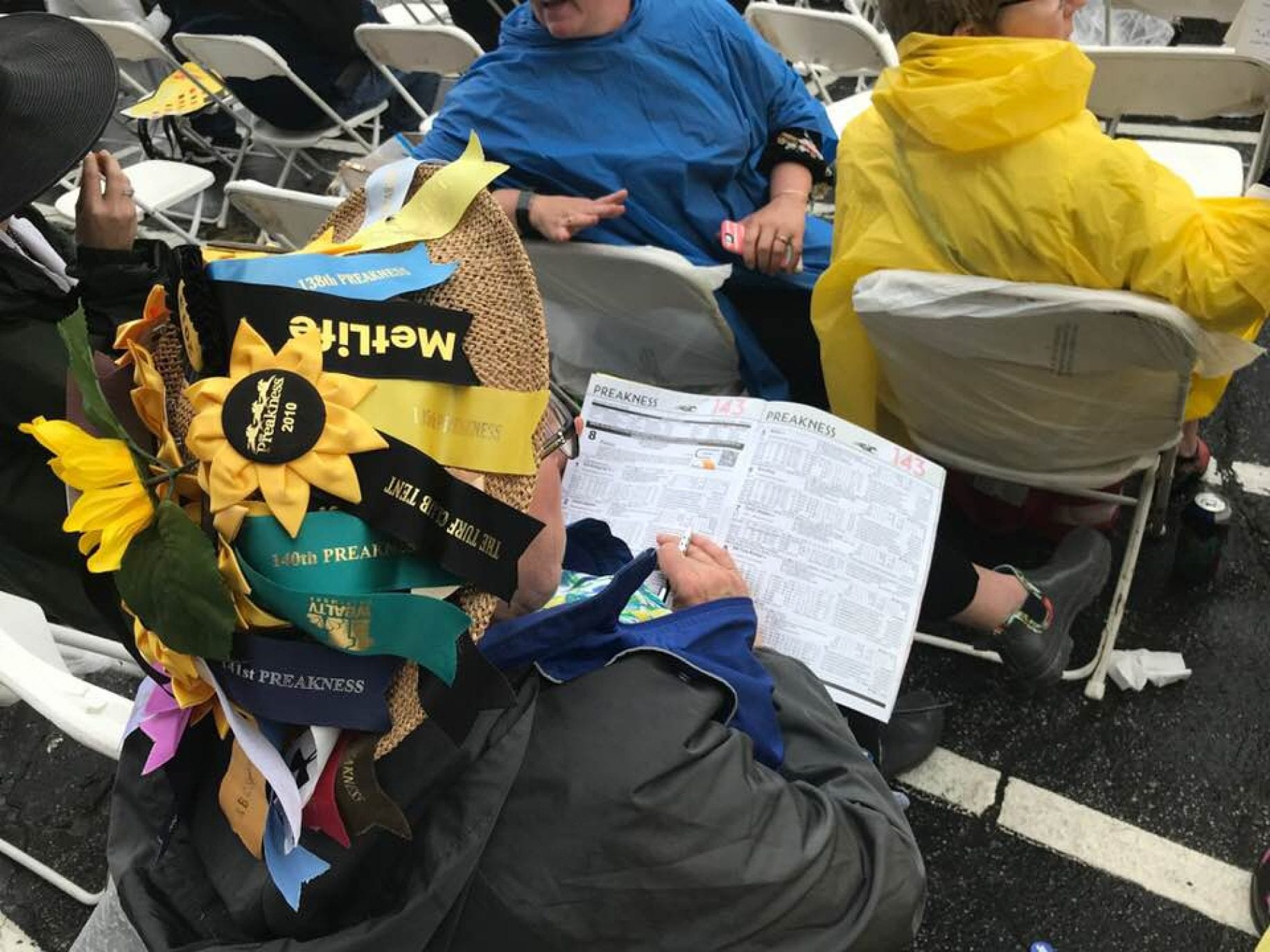 by Nick Hahn
A stroll through the Pimlico grandstand mid-Saturday afternoon generated well-wishes and no ill-will about the early cold and persistent rain surrounding this year's Preakness.
Sitting on the apron near the sixteenth pole was Patty Robrecht of Leonardtown, Maryland who believes she last saw the sun on Tuesday, some five days before the Preakness. Robrecht has spent Preakness weekend with her circle of friends each year since 1996.
"It's invigorating. We love it. All of us come every year cause it's so much fun" said Robrecht pointing to her hat covered in annual Preakness ribbons. "We feel the closeness of all the people that are here. The rain doesn't bother us, we've had a ball."
Working up the grandstand apron, well dressed Shawn Kitwene and his entourage paused to allow pictures. Few may have noticed that he missed last year's edition after making the past six or seven years in a row, yet the other spectators taking pictures were glad they decided to come back.
"The Pimlico races every year seem to be in the rain. We've grown accustomed to whatever happens. It's part of nature so either you have to adjust or not be here. The Preakness goes on," said Kitwene explaining that there are only two seasons in his native Grenada, wet and dry.
Maury and Valerie Ore were sitting in an original section of grandstand in their first Preakness. After attending the Derby last year, the Hilton Head couple decided to complete the Triple Crown circuit in consecutive years. This year it's the Preakness, and next year they'll go to the Belmont Stakes.
"It's cool, now that the rain has stopped," observed Maury as the fog rolled in.
Valerie is from Baltimore but never made the Preakness in her time in Maryland. Since they are waiting to make the Belmont Stakes next year, they are "seeking others" instead of Justify to win the Triple Crown. They want to be in New York when the next Triple Crown is won.
It was at the exit of the infield tunnel where Meg Brown of Winston-Salem, North Carolina and Beth White of Tampa, Florida had just returned from taking their friend Laura Hull on her first infield tour. Hull was speechless from seeing a lot of mud but apparently must have seen more than that.
"I didn't go far enough to get my first infield story. Perhaps next year I'll be braver," said Hull.
The three wives had left their husbands in the infield to smoke cigars after their annual infield pilgrimage intended to generate their infield stories.
"Last year, one of the husbands who is very short went and this woman thought he was a jockey and decided to jump on him and ride him in the infield," explained Brown.
Last I checked jockeys ride horses, not vice-versa, but facts could ruin this memorable infield experience.