Asmussen, Motion enjoy boffo Preakness day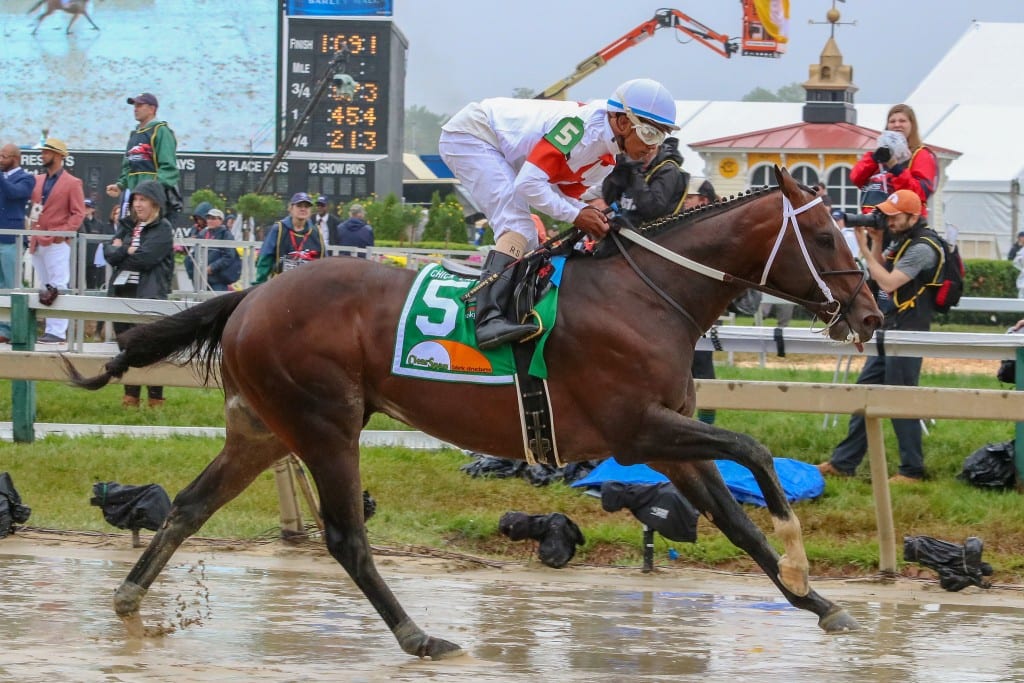 Mitole won the Chick Lang Stakes. Photo by Dottie Miller.
by Frank Vespe
"You can run on Derby weekend, or you can run on Preakness weekend," trainer Graham Motion said in the Pimlico winner's circle following Ultra Brat's devastating 10-length victory in the Grade 3 Gallorette, the only race that remained on the soft turf on the Preakness undercard. "It's the same kind of races and we point to these races."
With, it must be said, no small amount of success. In addition to Ultra Brat, another Motion trainee, Irish War Cry, swept to a dominant win in the Grade 3 Pimlico Special on Friday's card. He also had a maiden winner in Galileo's Melody and three additional stakes-placed horses.
Motion wasn't the only trainer to come to Old Hilltop this weekend loaded for bear. Steve Asmussen brought a bevy of runners from his clicking-on-all-cylinders barn to Pimlico and — with the Preakness still to come — won four stakes, including the Grade 3 Maryland Sprint Stakes, with Switzerland, and the Chick Lang Stakes with the ultra-impressive three-year-old Mitole.
"Oaklawn Park is a big part of what we do and the Racing Festival of the South being five weeks before Preakness weekend, there is a lot of similar races," Asmussen explained. "I believe of the 12 that we run this week, 10 of them's last start was at Oaklawn. So the timing of it, and we feel that there's a similarity in surfaces."
Mitole, the Asmussen-trained sophomore son of Eskendereya, was one of the weekend's most impressive winners, powering to a six-length triumph in the Chick Lang Stakes in a sharp 1:09.29 for six furlongs on a main track that was sloppy and sealed.
"He's fast – wow," Asmussen exclaimed after the race. "He's a special horse. His confidence level's gotten better, just the way he comes into a race and acts during it."
It was Mitole's third straight win and fourth in seven starts overall. He's owned by William and Corinne Heiligbrodt. Asmussen said his concerns don't focus much on Mitole's opponents.
"I'm worried about a horses that's as fast as him," the Hall of Fame trainer said. "It's a little harder to keep one around that goes fast. All of it's about him all the time."
He said Mitole's next start would likely come in the Grade 2, seven-furlong Woody Stephens Stakes at Belmont Park on June 9, on the Belmont Stakes undercard. After that could be a campaign towards the Breeders' Cup.
Asmussen's other stakes winners on the day came for Woodford Racing, whose Switzerland was an easy winner in the Grade 3 Maryland Sprint, and for Winchell Thoroughbreds, whose Tap Daddy took the off-the-turf James W. Murphy Stakes.
And for good measure, his longshot Preakness entrant, Tenfold, finished third in a stellar effort.
For Motion, meanwhile, his weekend was defined by two horses who overcame disappointing last-out efforts to win graded stakes at Old Hilltop.
On Friday, it was the multiple Grade 2 winner Irish War Cry who cruised to a win in the Grade 3 Pimlico Special, erasing the memory of his dismal effort in the Grade 2 Hardacre Mile at Gulfstream Park.
"It was such a relief to see [in the afternoon] what he shows in the morning," Motion said. "He's as good a horse  as I've ever trained."
Then came Ultra Brat's obliteration of the field in the Gallorette. In her prior start, she had been beaten 13 lengths in the Grade 1 Jenny Wiley at Keeneland. Today's win was her second in graded company, and it came after jockey Jose Ortiz steered her close to the early pace over a boggy and slow-playing surface.
"Fitness becomes an advantage when it's this soft," Motion explained, referencing the her start in the Jenny Wiley. "I hoped she would handle it, and Jose does a great job — I have so much confidence on him."
Motion professed not to know what's next for Ultra Brat — "I tend not to look too far ahead," he said — but she certainly won like a horse perhaps poised to move forward.
Or, perhaps, simply a horse showing up in the spot she'd been pointed to.